Food For Thought
Epilogue Kitchen restaurant educates while feeding patrons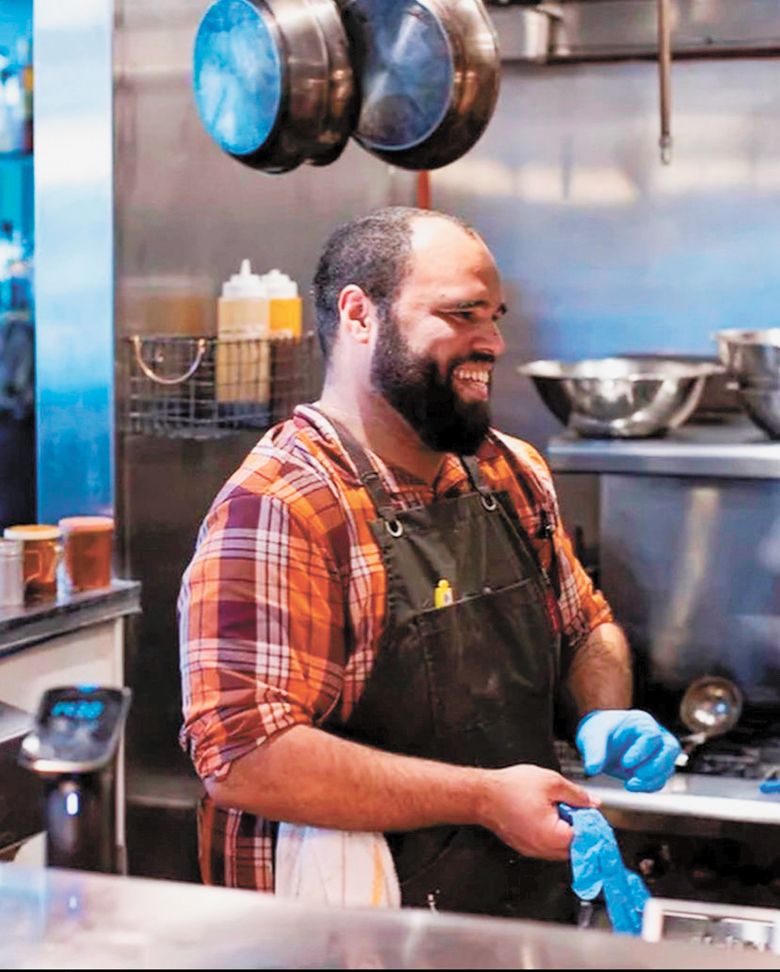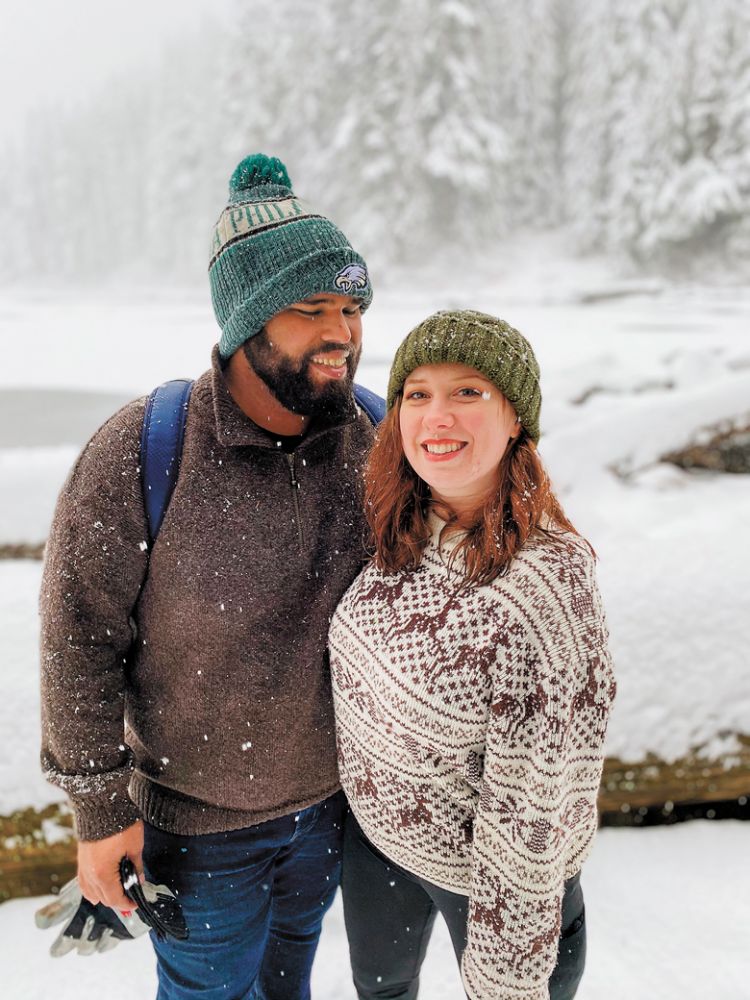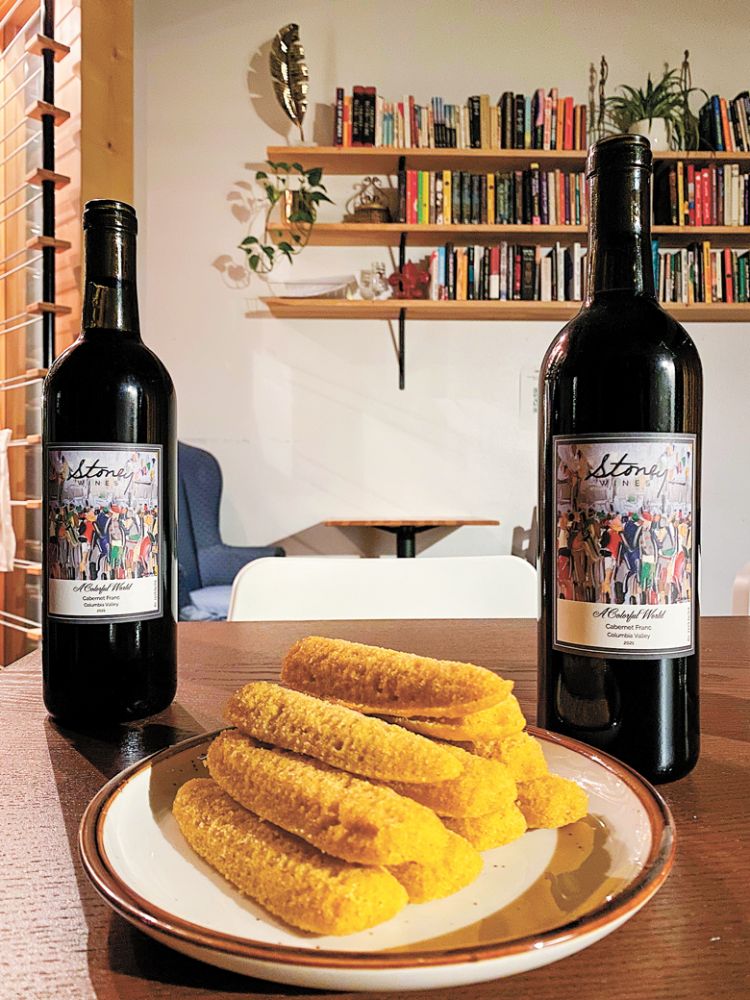 By Gail Oberst
What happens when you take a chef raised near the Mason-Dixon Line, transplant him in Wisconsin, educate him in Vermont, then brush him with a little North Carolina spice before rooting him in the Northwest? He becomes a semi-finalist two years in a row for a James Beard award, the Oscars for restaurateurs, that's what. And also, this happens: he establishes the label-defying Epilogue Kitchen and Cocktails in Salem. Is there Southern soul food? Is there a touch of Amish Country simplicity? Is there some Philly cuisine? Are the ingredients farm-fresh Northwest? Is the vibe a little bit Madison dive bar? Might you get your duck confit in a basket, as if this were a food truck? Is there an extensive wine list available to pair with your collard greens or chicken and waffles?
Yes, to all of the above.
"I'm bordering on postmodern," said chef Jonathan Jones, referring to the Salem restaurant he owns with his partner– in life and in business– Maura Ryan. "Our food, atmosphere, drinks are intended to be a reflection of us. It reflects our personalities," he said.
Born into one of two "English" households in a Lancaster County Amish country town, Jones grew up with cousins, parents and grandparents who cooked. "I shadowed them, helped them. There wasn't a day when food wasn't the focal point."
Although his birthplace was the border of the Mason-Dixon Line, Jones stops at the word "from." "Southeast Penn has its own culinary identity," he said. Sticky buns, shoefly pie, ribs and barbecue are all part of his earliest food memories. But, at 13 years old, his family moved to Wisconsin and grew to love and adopt Madison foods from its variety of restaurants and bars.
On a school bus in Wisconsin he met Maura. The pair eventually escaped the North– landing in North Carolina before traveling to Salem 11 years ago. At first, they operated a food truck and worked at Cristom Vineyards, in Salem's Eola-Amity Hills, where they established friendships with winemakers and growers.
They hadn't intended to stay in Salem, Jones said.
"We were looking for a place to start a business, be a part of the community. It's still a very difficult city to make work, but we've started to believe in it," he said.
What seems to be working is Jones' eclectic blend of the places and people he comes "from."
For example, Epilogue Kitchen's unique literary moniker is a nod to its library room, which includes over 300 books by Black authors. A long table in the Library of Black Excellence is also the setting for exclusive Chef Tastings, a six-course meal with optional wine pairings limited to 15 people. The prix fixe meal begins at 6 p.m. and lasts up to three hours, with Jones preparing, plating, serving and discussing each course. One of the two meals each month is vegan and gluten-free. A recent dinner featured Stoney Wines, owned by one of Oregon's first Black winemakers. For example, served at this summer's tasting were cedar cone and orange-cured walleye, cherry smoked duck breast, wild rice and mushroom arancini with Manchego.
"The door will close and you'll be surrounded by wine made by Black winemakers, books by Black authors and a Black chef. I want it to be a mentally stimulating space. It's really a lot of fun," Jones said.
Can't attend the tastings? No worries. Many of the dishes sampled will be on the seasonal fall menu, Jones said. Epilogue Kitchen's regular dining menu change depending on Jones' whims, the seasons and the friends who drop by. When Briel's Barbecue popped up in Salem, their pulled pork appeared on Epilogue's menu for the next few days. Smash Burgers, Chix Un Waffles, crab cakes and dozens of unique cocktails make for unusual bedfellows with carrot tartare and the Roots and Trees salad.
An online search for Epilogue Kitchen's menu may send you to a link with an option to be an anti-racist. There, you can browse a reading list suggesting books for children and adults who want to create local change for a better world.
In addition to anti-racists, wine aficionados will find an exciting home at Epilogue Kitchen. Jones' wine list is lengthy and growing longer, but he is most proud of the 35 or so wines by the glass. These are especially popular with younger patrons who want to sample wines they may not be able to afford by the bottle.
Making quality food and drinks accessible also inspired Jones to offer Thursday discounts to educators and students.
"Or, just come and sit in the library and have a glass of wine," he said.
Jonathan's Cornbread Recipe
Ingredients:
4 cups medium-coarse grind cornmeal
1 tsp baking soda
4 tsp baking powder
1 tsp coarse kosher salt
1 tbsp granulated sugar
4 eggs
3 cups buttermilk
1 cup melted butter
1/4 cup corn oil
Directions:
1. Preheat oven to 400 degrees.
2. Oil cast iron pan, preferably corn molds. place empty on a sheet pan in the preheating oven. This recipe yields 1 10" skillet, or 20 individual corn molds.
3. While pan is heating, mix dry ingredients.
4. In separate bowl, whisk together wet ingredients until thoroughly incorporated.
5. Add wet to dry, stir just to combine.
6. If using skillet, empty entire contents into very hot skillet and bake for 9-11 minutes, until puffy, golden brown, and edges have pulled away from pan. If using corn molds, empty batter into a piping bag and pipe into individual molds. Bake 9-11 minutes.
7. Let both cool in the skillet, then gently turn out onto cooling rack. Eat same day, or freeze and reheat with butter in a skillet on the stovetop.
Jones includes this family recipe that is not the conventional cakey style. This cornbread is drier, mildly sweet, gluten-free and made with buttermilk. Pair with pork chops or other barbecued meats.
Wine and cornbread? Absolutely, said Jones. With this cornbread, drink the Stoney Cabernet Franc, Bryn Mawr sparkling rosé, or Cho Wines' Concidre,
a co-fermented grape and apple wine.