Vine-Minded
Jessica Cortell adds wine collection to growing list of accomplishments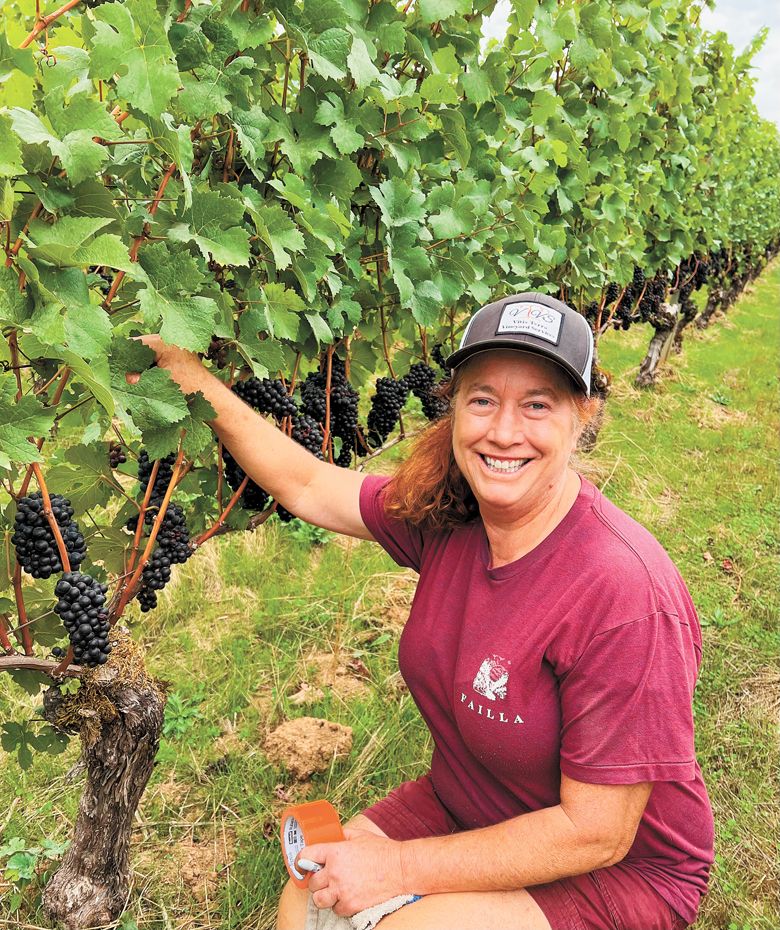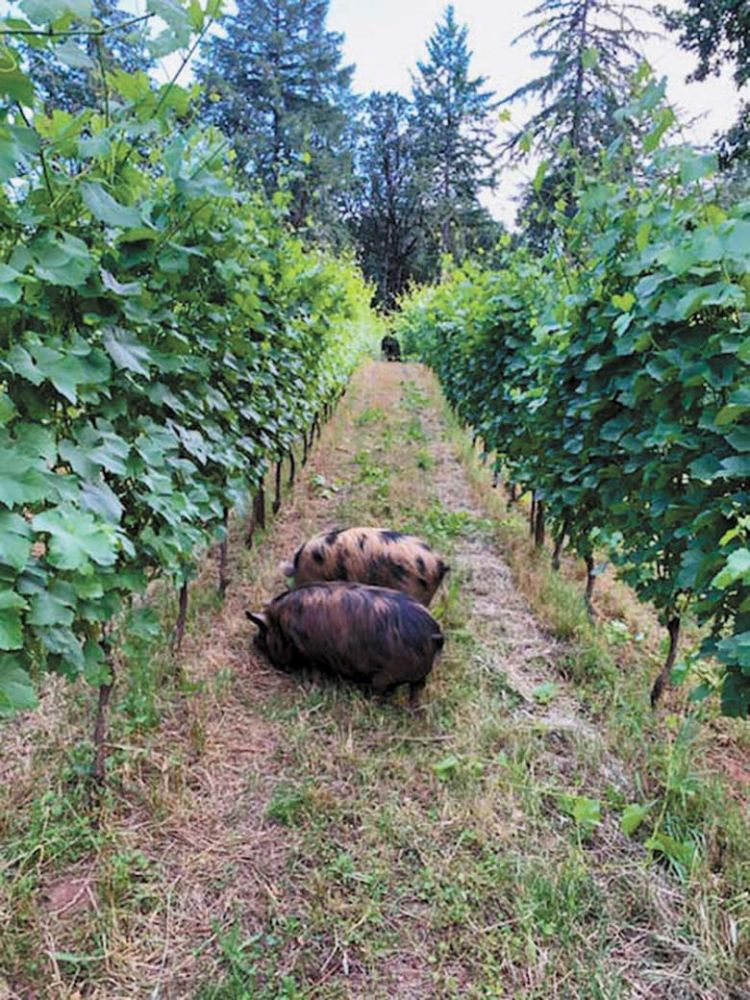 By Sarah Murdoch
Jessica Cortell is truly living her best life. The founder and owner of Vitis Terra Vineyard Services, Cortell has contracts managing 1,000 primarily organic acres in the Willamette Valley. She's a rockstar vineyard manager to notable winemakers in the Oregon wine pantheon— among them Evening Land Vineyards, Hazelfern Cellars, Cramoisi Vineyard, Antica Terra. Her Kunekune pigs and piglets graze the vineyards. She raced mountain bikes professionally for a decade, then moved to yoga practice for 10 years and earned her real estate license.
Now, Cortell is on to a new pursuit. She started making commercial wines in 2020 and is releasing them to the public. Her wine label Cortell Collection, represents a compilation of wines from select vineyards.
Locating Jessica means you gotta find her. The journey brought me to a pick where she was managing a 40-person crew at Failla Wines' Patton Valley Estate Vineyard.
Who is this complex renaissance woman?
Cortell was born in Salem. When she was two years old, the family moved to a farm in Brookings where much of her idyllic childhood was spent climbing trees, "walking around looking at flowers, hiking through the woods, learning to identify native plants, eating wild berries and following rabbit trails with my sisters," she recalls.
They'd purposely try to become lost simply to see if they could make it back again. Cortell is one of five brothers and sisters, neatly arranged smack-dab in the middle of the lineup. She remembers building forts in trees surrounded by salty ocean air and climbing boulders the size of houses. Her family grew up without a TV.
Animals are a big part of Cortell's life. Her Kunekune pigs are Maori, from New Zealand. They have short snouts and don't root, but instead graze in her vineyards. "I want to breed shorter pigs so they can't reach the vines… which they find to be extra yummy about harvest time," she says, thoughtful but serious. She treasures frogs and birds and installed boxes to encourage fowl populations. Bird netting protects the grape crop in her vineyard.
While plenty of women manage vineyards these days, it's likely Cortell is the only one who founded a company, owns it and has three degrees. She attained B.A. and M.S. degrees in Horticulture and a Ph.D. in Food and Science Technology from Oregon State. Her field of study for her master's was Oregon's much-loved state berry, the Marionberry (also her favorite ice cream flavor). Her Ph.D. in Food Science and Technology was on investigating spatial variability in soils and how they impact vine vigor, fruit and wine chemistry.
Cortell own two vineyards: Carlile's Crest and Cortell Rose. Both her home and office are in Amity, in the Bank of Amity building (built in 1906). After leasing for nine years, in 2020, she bought the building, "right before the pandemic, the same time people stopped working from the office," she says with a wry smile. Today, Cortell, general manager Chris O'Connell, and Vitis Terra management staff operate in the space. In a couple years, she plans to remodel it into an educational tasting room for the Cortell Collection.
In 2020, grape buyers canceled their Cortell Rose Vineyard grape contracts after concerns about smoke impact. She began winemaking to find a way to use the grapes she grew. Making wine was always in the back of her mind but; when this happened, she thought "I guess now is the time!"
To mitigate smoke damage, she harvested the Pinot Noir grapes early that year. Cortell produced a beautiful white Pinot Noir by gently pressing the grapes to extract their clear juice. With its high acidity, she decided to pair it with fried pickles, a hit at her recent inaugural release party. It will be available soon in select local restaurants and wine shops.
For the 2023 vintage, she aimed for a white Pinot Noir similar to her 2020. Cortell collected Pinot Noir juice samples from three different clones: Dijon 777, 114 and 115. She tasted the juice from all three and immediately realized the juice of the 114 clone reminded her of the 2020 White Pinot. This was the same clone she used before. To confirm her decision, O'Connell blind-tasted all three and identified the 114 clone. This goes to show specific clones are critical.
So, which wine does this rockstar vineyard manager make?
Andrew Riechers, winemaker at Audeant Wines, helped craft the 2022 and 2023 Cortell Collection wines. Currently available are the 2020 White Pinot and two 2022 Gamay Noirs from the Cortell Rose Vineyard, plus 2021 Pinot Noir rosé and Pinot Noir from Carlile's Crest Vineyard. Cortell trusts Gamay's potential since Oregon also have lots of Pinot Noir. Both varieties are crisp, bright yet earthy, with high acid and versatile with food.
She is collaborating with Kenny and Allison McMahon of Arabilis Wines in producing traditional method sparkling wines using both Pinot Noir and Chardonnay. These, however, won't be released for several years.
Plans include a project with Antica Terra to create a blend solely from Carlile's Crest Vineyard under the Cortell Collection label.
Cortell planted additional Gamay Noir, Trousseau Noir, Sauvignon Blanc, Chardonnay, along with several unique Pinot Noir clones for future Cortell Collection. She welcomes the opportunity to experiment with other varieties as well.
"My goal is to act more like the director of the style than it is to do every single thing with winemaking," she said. "All my decisions affect the end product, but it doesn't mean I need to perform all the work in order to get it done. I strive to craft food-friendly wines that are fresh, bright, aromatic and possess abundant complexity and mouthfeel."
"I'm inspired by people pushing the limits of what they can do, those not letting their fears stop them and just getting out there and doing it."
What made her so fearless? "I think probably because I took yoga really seriously for a decade; it taught me to value the process and not just the end result. If we live in the moment and do our best all the time, we will have good results," she said.
"Usually, the results will be there if you focus and give your best effort. I tell my crew during harvest, 'Just do the best we can do, put in our best effort and that's all we can do.' If we return home saying we did our best, that's plenty. We're not always going to keep everybody happy, but if we did our best, then that's good. Too many people focus solely on the end result, and that's not a healthy focus."
"I have my real estate license, I'm teaching a class at Linfield, I was a professional mountain bike racer and at the same time one of the top racers in the Pacific Northwest. I'm always like this: doing six things at once," she said.
What's the future hold?
"My goal is to hire somebody in the Director of Operations-type position who can handle more of the day-to-day operations. That will free me up to focus on my clients. I want to spend additional time problem-solving," said Cortell.
For now, the rockstar of vineyard management does it all, living her best life and trying her hand at winemaking. The future for Cortell and her wine collection appears bright and, interestingly, so are her wines.