Acorn to Oak
Linfield raises the bar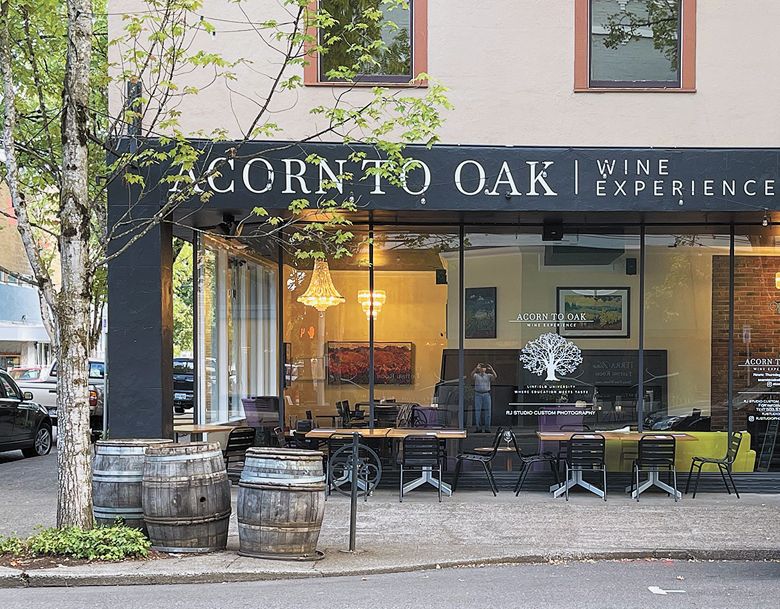 By Neal D. Hulkower
What represents the most important component in the wine industry? The wine buyer. While vineyard stewards, winegrowers and winemakers remain essential to producing the product, wine purchases fuel the business. The most profitable route is direct-to-consumer sales.
After an idea emerged from student focus groups hoping for real-world experience, the Department of Wine Studies at Linfield University opened Acorn to Oak Wine Experience, a McMinnville wine bar and learning lab.
Acorn's entire team, led by Direct-to-Consumer Sales Manager Paul Johnson (owner and winemaker at Satyr Fire), are Linfield undergraduates 21 years and older. They are: Victor Sandoval, a senior communications major from San Marino, California; James Litton, a senior marketing major from Portland; and Alyssa Sepulveda, a junior in the Wine Studies program from Turlock, California. Each is paid to perform all activities necessary to operate a tasting room, working 2 to 3 days, 15 to 30 hours weekly. Johnson plans to hire a couple more people in the fall. An accounting major is being sought to manage the books.
Sandoval's prior wine experience includes interning at this year's International Pinot Noir Celebration. Litton was hired as an entrepreneurial intern in May to assist in opening the Acorn to Oak. His market research involved visiting other tasting rooms on Third St. and preparing pricing outlines. He also collected data on wine clubs and other essential tasks. Sepulveda brings the most wine industry experience of the three. Since arriving in Oregon two years ago, she has interned at Chris James, worked at Argyle and Sokol Blosser, and is currently employed at Black Dog Vineyards. She hopes to own her own winery someday.
"Linfield's Oak & Vine Society is the origin point for this endeavor so all wines we serve are from a long list of wineries that support our wine program," Johnson said. The wines served at the bar are from all over the state. Johnson views the team as "stewards of the Oregon wine region."
The soft opening featured wines from Yamhill Valley Vineyards, Knudsen Vineyards, Johnson's Satyr Fire, Brooks Wines, Celestial Hill Vineyard, Varnum Vintners, Furioso Vineyards, Ricochet Wine Company, Björnson Vineyard and Bailey Family Wines.
Well-lit with plenty of windows, tasteful decor and furnishings, the comfortable location including seating for 38 inside and 30 more outdoors. In addition to tasting flights, guests can enjoy wines by the glass or bottle. Currently, they serve one charcuterie board but more food may be available in the future. Patrons can bring food from other establishments to accompany their wine. Bottles can be purchased to take home.
Winery takeovers are planned. "I already have several partners willing to commit," acknowledged Johnson. Expect visiting wineries on Friday evening or over the weekends.
A new wine club, open to the public, will announce its first allocation next spring. Oak & Vine Society members can join to receive additional perks. The team will select the wines. Shipment include bottles from several wineries.
From its inception, Acorn to Oak represents a venue where the Linfield community, beyond the Wine Studies Program, can find a role. The cheerful mural gracing the bar wall was painted by art major, Allison Hmura. A small gallery displays student art. "We're going to be constantly showcasing student artwork from Linfield, all for sale. Allison is curating the collection," Johnson noted. The Music Department will support events hosted in the space. Students with a poetic bent may express themselves on the menus.
Johnson revealed "we have also bonded a winery in Linfield's name. With an alternating proprietorship… it's operating at Celestial Hill Vineyard." The first wines produced will be Pinot Noir and Chardonnay. Wynne Peterson-Nedry oversees crush and fermentation with Johnson serving as consulting winemaker. "We don't yet know exactly how the wine will be branded but plan to use art on the labels selected from a student art competition," said Johnson.
Locating the Acorn to Oak Wine Experience in an off-campus commercial zone allows learning opportunities to extend beyond the Wine Studies program. Linfield is raising the bar above what other educational institutions offer.