Welcome Baco
French hybrid popularity increases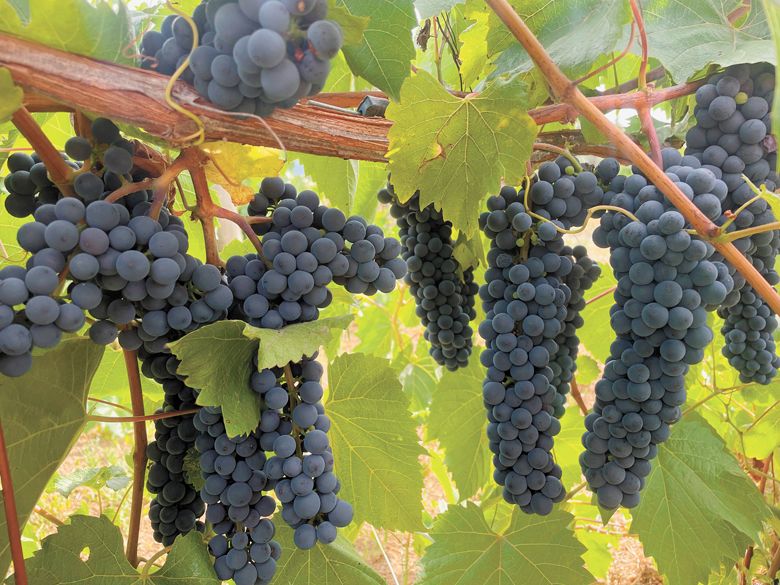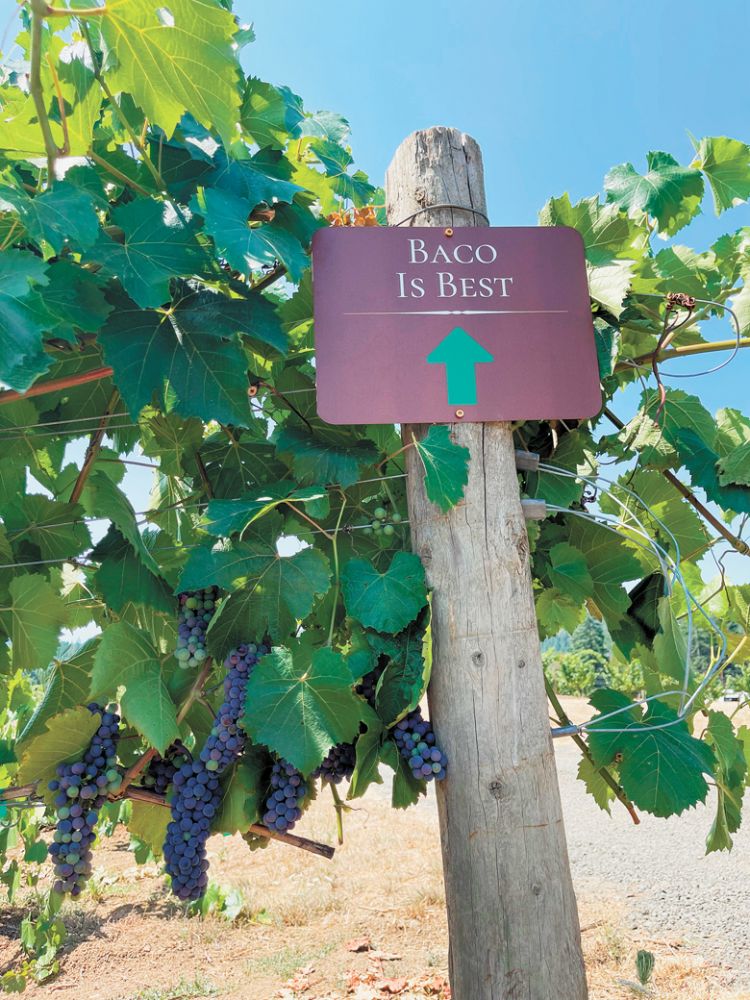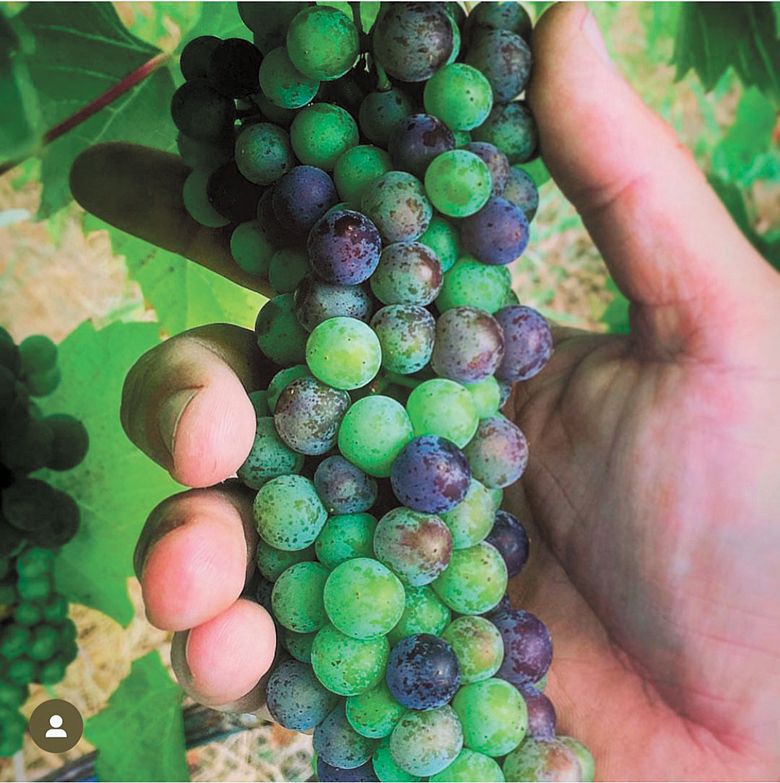 By Becky Garrison
Baco Noir, a little-known French hybrid grape, has emerged in recent years as one of the Umpqua Valley's finest red wine grapes. Described as an easier-to-grow alternative to Pinot Noir, wines made from Baco Noir grapes tend to be medium to full-bodied with fresh acidity and dark fruit flavor hinting of black pepper and tobacco. Some darker versions possess more savory notes.
This grape was created in the 1890s when phylloxera decimated Europe's vineyards. The native European grape vines (Vitas vinifera) had no inborn resistance to the microscopic louse that eats away at the roots of grapes. Slowly the vines started dying. Since American grapevines were resistant to phylloxera, researchers began experimenting with crossing varieties of American plants with Vitas vinifera in the hopes of creating phylloxera-resistant vines. In 1902, botanist Francois Baco (1865-1947) released a hybrid grapevine called Baco 1, known as Baco Noir. It was a cross between a Vitis riparia species indigenous to North America and Folle Blanche, a French white grape used for brandies from the districts Armagnac and Cognac.
Over time, the French chose to embrace American rootstock with grafted French varieties instead of the new Baco Noir hybrid. However, North America welcomed this hearty grapevine in cold-weather climates throughout Canada, New York and the Midwest.
In 1971, the unusual varietal first appeared here planted by Frenchman-turned-Oregonian Philippe Girardet of Girardet Vineyards & Winery in Roseburg. All their vines are farmed naturally without any pesticides and fertilized with locally sourced horse manure compost. They practice dry-farming to establish a deep root system and maintain smaller berry size. After harvest, the grapes are hand sorted, then de-stemmed into open-topped vats. Girardet hand-punches the grapes twice daily to gently begin the fermentation process. The resulting wine is lightly pressed and racked to barrel for aging.
In 1990, Girardet made history by bottling Baco Noir as a single varietal. Later, his son Marc, who had taken over as winemaker, released a 2007 Girardet Baco Noir recognized by Matt Kramer in The Oregonian as one of Oregon's best wines (May 31, 2009).
Kramer described this wine as "rich, lush, dry, and suffused with Baco Noir's signature scent and taste of blueberry and plum. Girardet Baco Noir 'Southern Oregon' 2007 is superb red wine: supple, smooth-textured, and with an uncommon refinement that makes it ideal for all sorts of red meats, salami, or even just a good liverwurst sandwich. It's a red wine that you shouldn't miss."
Tyler Bradley, winemaker at Bradley Vineyards in Elkton, credits Philippe as the reason Baco Noir is becoming popular in the Umpqua Valley. According to Bradley, Philippe persuaded his father to plant Baco Noir grapevines in Elkton, swearing they would produce a bold red in this region's cooler climate. His father planted one acre, and, as Bradley observes, "Philippe was 100 percent right. This grape ripened on schedule with the Pinot Noir." In addition to being resistant to phylloxera, Baco Noir grapevines are unaffected by powdery mildew, which Bradley notes remains a constant battle in their area. "Once established, it's a very self-sustaining vine that requires little, aside from some nutrients," he reflects.
Baco Noir is constantly a few brix higher than Pinot Noir, Bradley views this difference as crucial to achieving the jamminess his customers appreciate. As a wine, the acidity remains very high until about 26-27 brix, thus requiring a yeast with high alcohol tolerance in order to ferment to dry. Because Baco Noir grapes handle oak very well, Bradley has adjusted the amount of new oak. The winery once used 75-100 percent new barrels, but now stay in the 25-50 percent range, allowing more prominent black fruit characteristics.
After both Girardet and Bradley proved Baco Noir was a promising big red for the Umpqua Valley, Mike Landt of River's Edge Winery in Elkton recommended it to his neighbor. This planting resulted in a 2013 River's Edge Baco Noir.
The block of River's Edge Baco Noir is situated on land once used as a horse pasture. Because the soil is rich in nitrogen, the vines are more vigorous. A theory among some winemakers is that more meaty and savory qualities emerge with additional vine vigor. Bradley has observed distinct differences between the grapes grown at River's Edge Winery and Bradley Vineyards. Even though the sites are less than a mile apart and share a west-facing slope, fruit from River's Edge ferments far more quickly than grapes from Bradley Vineyards.
Around this same time, Melrose Vineyards in Roseburg began producing a Baco Noir. Interestingly, they were the first to experiment with fortified wine from Baco Noir grapes.
Like all the other Umpqua Valley winemakers, Stephen Williams, owner and vigneron of Trella Vineyards based in Rosenberg, discovered Baco Noir through Philippe at Girardet. According to Williams, Girardet's Baco Noir was his first-choice pizza wine for many years before he began making his own.
Trella's 2022 Pugilist Baco Noir uses fruit sourced from two vineyards located in Elkton: Anindor and Elk Valley. The term "pugilist" is a dated word for a fighter in a boxing match. Williams feels Baco Noir is a "punchy" red wine. He notes, "The fruit is very bold up front so you anticipate huge tannins… then BOOM, a big shot of glorious red fruits. It has a soft finish with low tannins that keep you coming back for another round." He finds that Pugilist is a very versatile food wine that competes against any opponent, as comfortable with pizza and wings as with a fancy dinner.