Choose Your Own Wine Adventure
Tour companies provide customized itineraries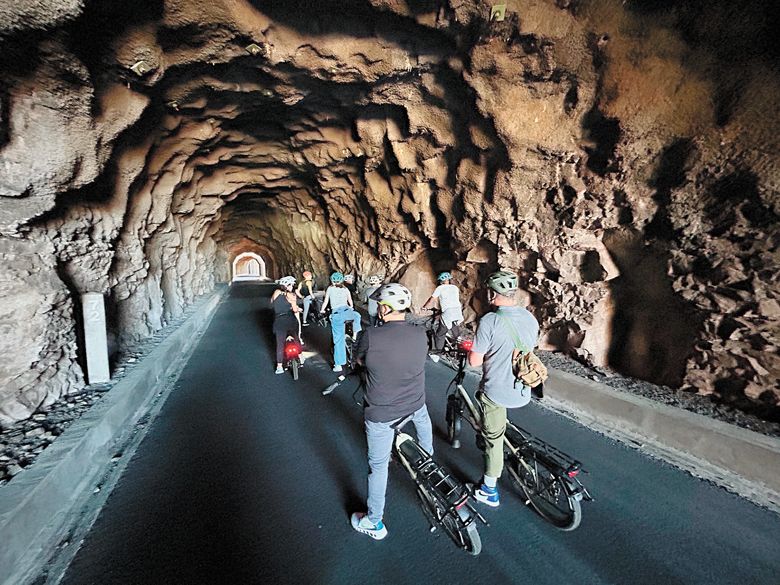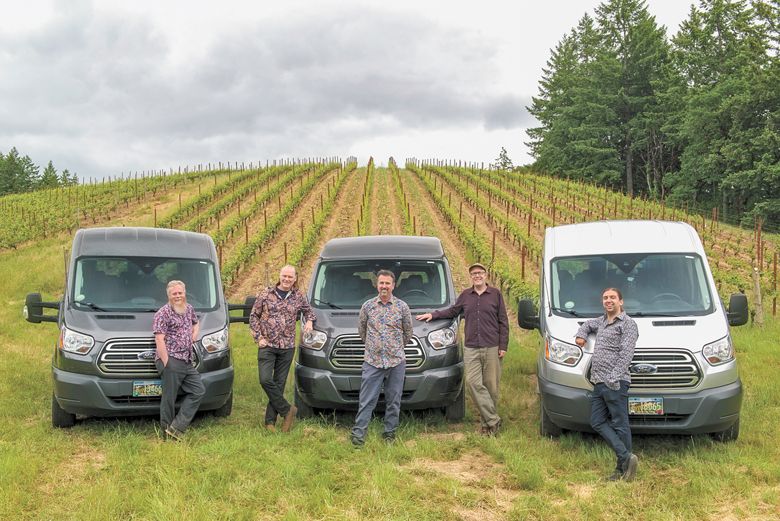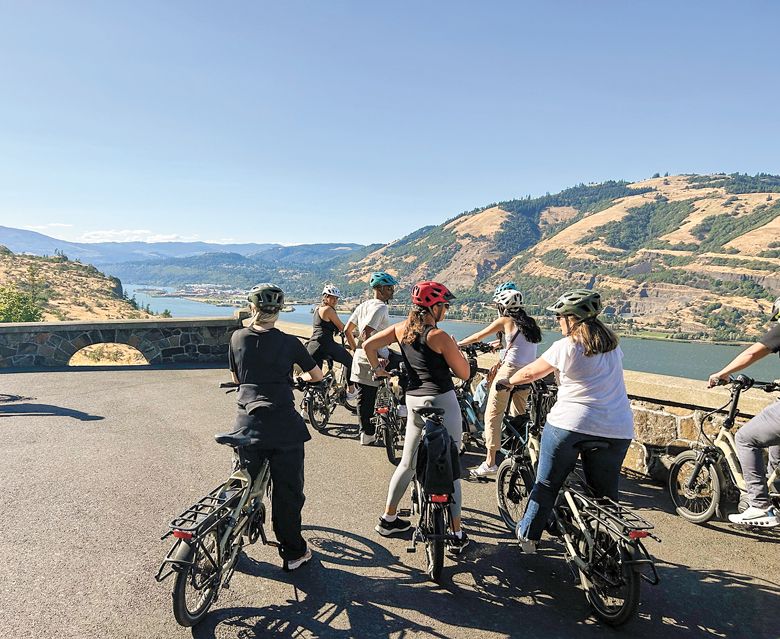 By Tamara Belgard Turner
From helicopter tours to horses to e-bikes, large tour groups to more customized experiences, in the wide world of wine tours, there truly is something for everyone.
Most of us have arrived at a winery only to encounter a tour bus. Immediately, our heart sinks slightly. Will the visit be compromised by the takeover of a large group of rowdy bachelorettes taking selfies, ruining the ambiance for everyone? (Ok, I may have even been that culprit once or twice…)
Yet, all over Oregon, businesses delivering thoughtfully curated wine tours proliferate. And for good reason. Professional guides can book exclusive time with a winemaker or manage your entire day in wine country. They can host a unique adventure while also illuminating the region and arranging delicious local food.
Bespoke Hood River
Matt Sweeting, chief executive officer of MountNbarrelL, in Hood River, feels his company creates experiences, not tours. Combining premium elegance with adventure, every outing includes wine, biking and dining.
In its quest for quality over quantity, MountNbarrelL targets a niche market. "The Columbia Gorge is a growing region; I've heard people compare it to Napa in the 80s," Sweeting says. "The climate is unexpected and we create memorable experiences to match the extraordinary wines."
On an average day— which is really anything but normal— guests experience the exhilaration of riding e-bikes through the scenic Mosier Twin Tunnels overlooking the Gorge. Stops can include Cathedral Ridge Winery, Marchesi Vineyards & Winery and Grateful Winery, coupled with coffee along the way. The day can conclude with dinner on the waterfront.
Sweeting feels fortunate to partner with amazing Hood River wineries and restaurants. He shares places like Votrum and The Gorge White House, as well as Hiyu Wine Farm, where hyper-local and seasonal dishes are paired with each glass of wine.
Other intimate experiences include chef-hosted meals in the vineyard or private dinners at Marchesi where diners can feel as if they have been transported to Tuscany. Owner Franco Marchesi prepares a special Italian meal paired with his reserve wines. MountNbarrelL is developing excursions across the river in the Underwood and Lyle area, and working with KinectAir (the Uber of jets) to fly guests out from Portland or Napa, or the reverse, linking all three wine regions.
"It's so cool to see people falling in love with this place, the same as I have." Sweeting says. "You can too easily forget what a beautiful area you live in when it's always around you. I'm grateful people visit and remind me how lucky I am, and how I'm helping create a lifetime of memories… it all comes rushing back."
Unique and Intimate Willamette Valley
Equestrian Wine Tours delivers one of the most memorable tasting experiences in the Willamette Valley. It's hard to imagine pulling up to a winery on horseback, hitching your steed and then tasting wine, but that's exactly what you do. Jump in the saddle and head out on their Tennessee Walking Horses deep into the Red Hills of Dundee. You'll enjoy winding through the fields and vineyards, with stellar mountain and valley views throughout. Now that's the stuff of memories.
Jack Cranley, owner of Backcountry Wine Tours, has one request: "Please don't call me your 'driver'." He explains that's a pet peeve of his because he's not in this for the driving; that's just the incidental logistics. "More than navigating the roads, I'm here to demonstrate our culture," explains Cranley. "Share our community and how we care for each other and the land. It's about the people who toil, the product they create and the consumer."
From the beginning, even with the name "Backcountry," Cranley intended an alternative service to go the extra mile (both literally and figuratively), transporting his guests off the beaten path to the region's hidden gems.
Personalizing the itinerary remains central to their mission. "Obviously, every guest is an individual, and we strive to uncover exactly what each person is looking for and then do our best to deliver it," Cranley says. "We ask everyone to complete our intake questionnaire, designed to reveal their personality, wine preferences, expectations, budget, and hopes and dreams of the tour. "When we sit down to develop itineraries, we read through the answers and match guests' personalities with our hosts and the wineries they visit," explains Cranley. "Each and every tour is primed for success."
Cranley's goal is for every experience to feel authentic, unique and individually tailored. "Guests want an inspirational moment," says Cranley. "We've all seen the ads with the woman in a sundress holding her man's hand through a vineyard while carrying a glass of wine. I'm not saying it has to be that exact scenario, but people want to experience something special to tuck away in their memory. To go beyond the transactional nature of a tasting room visit."
He discovered guests also search for the soul of the place, what sets the region apart from others. "Many Americans use Napa as a measuring stick," says Cranley. "And I would say— very specifically— they are hoping that the Willamette Valley is different from Napa. Not because they dislike Napa, but rather don't want to see another place trying to mimic it. They want to understand what makes this area tick and how the locals view and experience it."
Charlie Garrell, owner and guide at Oregon Wine Guides, says his company supplies "wine edutainment." Sharing their passion for our land, wines and community spirit, he prides himself on creating a day of beauty, education and memories.
Featuring more than just door-to-door shuttle service, Garrell is a private dedicated host who curates tours tailored for each person. He acknowledges that a visit to the Valley is great, it's easy to walk into just about any winery and enjoy it. He strives to make the Oregon Wine Guides' experience exceptional.
Like Backcountry Tours, Garrell matches the itinerary to the goals of his guests. He says, "Some visitors are new to the Willamette Valley, others are chasing the best food and wine experiences, whatever their goals, I try to be matchmaker and customize each tour." He considers what the brands are doing and stands out, understanding the wines and experience at each location. Garrell chooses based on the best possible experience wineries offer. This can include walks in the vineyard, cellar tours or four-course lunches with the winemaker.
Though some guests hear about Willamette Valley wines from their local sommelier or publications, most don't really know what we offer. This is where Garrell shines, connecting what the guest seeks with what's available.
Southern
Oregon Charm
Tracy Hurst at Bravo Outings explains, "In Southern Oregon, people don't realize how much there is here. But we have similar activities to Portland and Bend, and then some." On any given day, Hurst might arrange for guests to visit waterfalls, Crater Lake or even raft in the morning before wine tasting in the afternoon.
"People who contact Bravo are looking for more than just a driver," says Hurst. "They want someone familiar with the area." She explains there's a lot of history with the Rogue Indians and even World War II training camps in Southern Oregon. Her guests want someone not only familiar with wineries and winemakers but also the individuality of the Applegate Valley.
With distinct wine regions, Hurst gives guests abundant choices. Some people know where they want to go. For others, she customizes the experience, elevating it with barrel room tours or visits with winemakers, building upon their knowledge of wine. "Some people are very novice. We then customize the tour so they aren't intimidated," says Hurst. "My passion for this area, combined with my travels and hiring guides, has helped refine Bravo's experience for people. When you love what you do, it shows."