Blaze a New Trail
Explore wineries in the Mount Hood Territory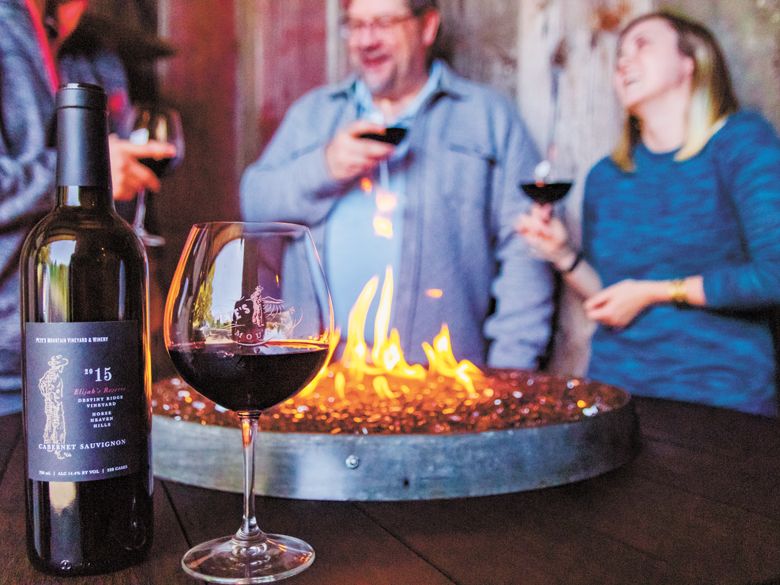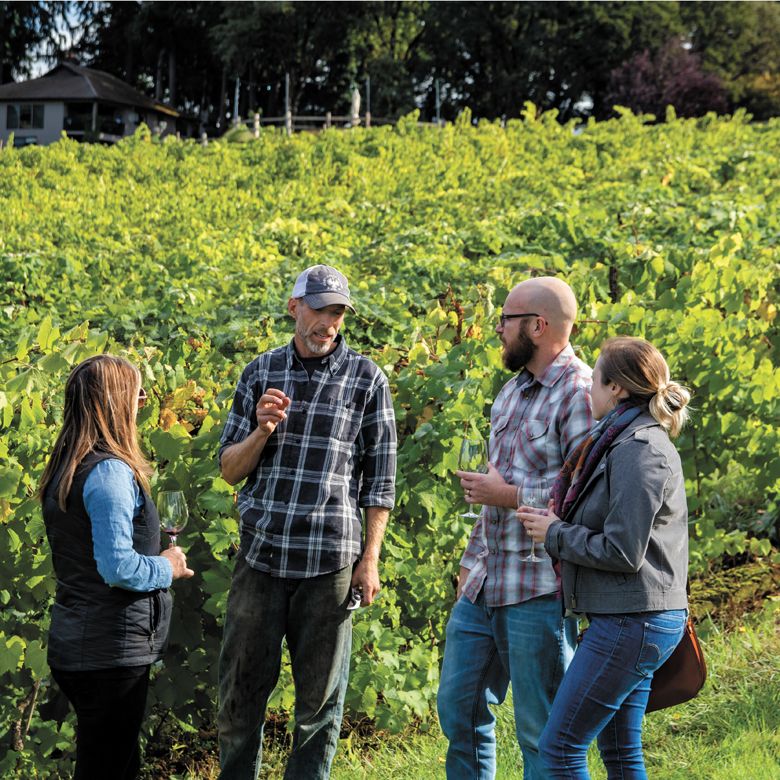 By Greg Norton
Flanked by the urban wineries of Portland and wine country roads of McMinnville lies an area "in-between." This northeast corner of the Willamette Valley, is dubbed the Mt. Hood Territory Wine Trail. A baker's dozen wineries partnered with Clackamas County Tourism on an effortless, high-tech way to discover their wines while reaping rewards along the way.
The Mt. Hood Wine Trail Mobile Passport is a free smartphone app with winery details and maps guiding users to nearby tasting rooms. After signing up at mthoodterritory.com/winetrail, the app uses your phone's location to verify visits to participating locations. Many extend special discounts to passport holders and points accumulate in the app with each visit. Accrued points can be redeemed for Mt. Hood Territory-branded rewards.
The passport, first began in 2017, was recently relaunched, providing a more intuitive user experience and new prize structure. Early indications confirm the effort to be a resounding success. During the first quarter after the app's overhaul, redemption rates increased more than four-fold compared to the same period last year, according to Mt. Hood Territory staff.
The current passport is valid until March 2024, when a winner will be randomly selected for the grand prize of a two-night stay on Mount Hood with activities valued over $500.
Fall is a perfect season to explore the wineries of Clackamas County. These small, family-operated wineries often have limited business hours so phone ahead or make an online reservation before heading out. Many offer spectacular views and some have tasting rooms adjacent to vineyards, full of harvest activity.
Casey Knopik of Mt. Hood Territory's marketing and communications staff noted, "our wineries are smaller, less crowded, and often you get to speak with the winemakers… who are able to share their passion." While Pinot Noir, Pinot Gris and Chardonnay dominate, other varietals can also be found. These could be unique wines from grapes grown on-site or made from fruit sourced from other parts of Oregon or Washington.
Beer, cider and spirit enthusiasts can download the Mt. Hood Territory Tap Trail Mobile Passport to guide them to the county's craft breweries, cideries and distilleries. As with the wine trail passport, participating locations feature discounts and visitors can accumulate points and redeem them for prizes.
Mt. Hood Territory is a brand of Clackamas County Tourism, the Destination Marketing Organization for Clackamas County. The agency's work is funded by the Transient Room Tax which is collected on all overnight stays in the county. Learn more about the two passports— and more— at www.mthoodterritory.com.

Mt. Hood Territory Wine Trail wineries:
Campbell Lane Winery, West Linn
Christopher Bridge Cellars, Oregon City
Forest Edge Vineyard, Beavercreek
Hanson Vineyards, Woodburn
King's Raven Winery, Oregon City
Pete's Mountain Vineyard & Winery, West Linn
St. Josef's Winery, Canby
Terra Vina Wines, Wilsonville
Tumwater Vineyard, West Linn
Twill Cellars, West Linn
Villa Catalana Cellars, Oregon City
Whiskey Hill Winery & Postlewait's Vineyards, Canby
Wooden Shoe Tulip Farm & Vineyard, Woodburn