Electric Avenues
Oregon's wine regions embracing EV charging stations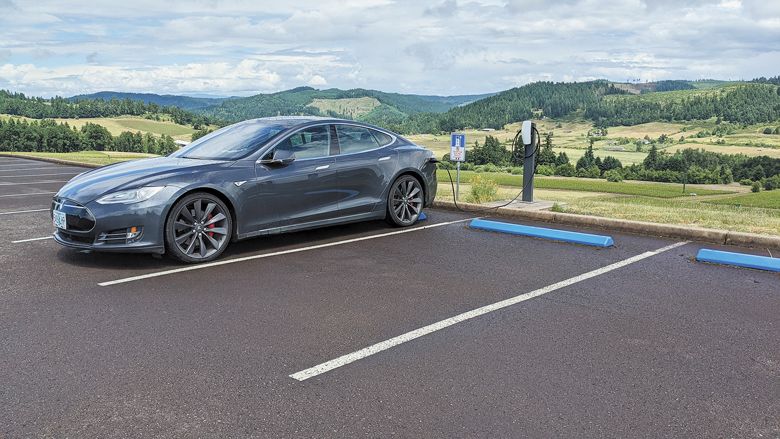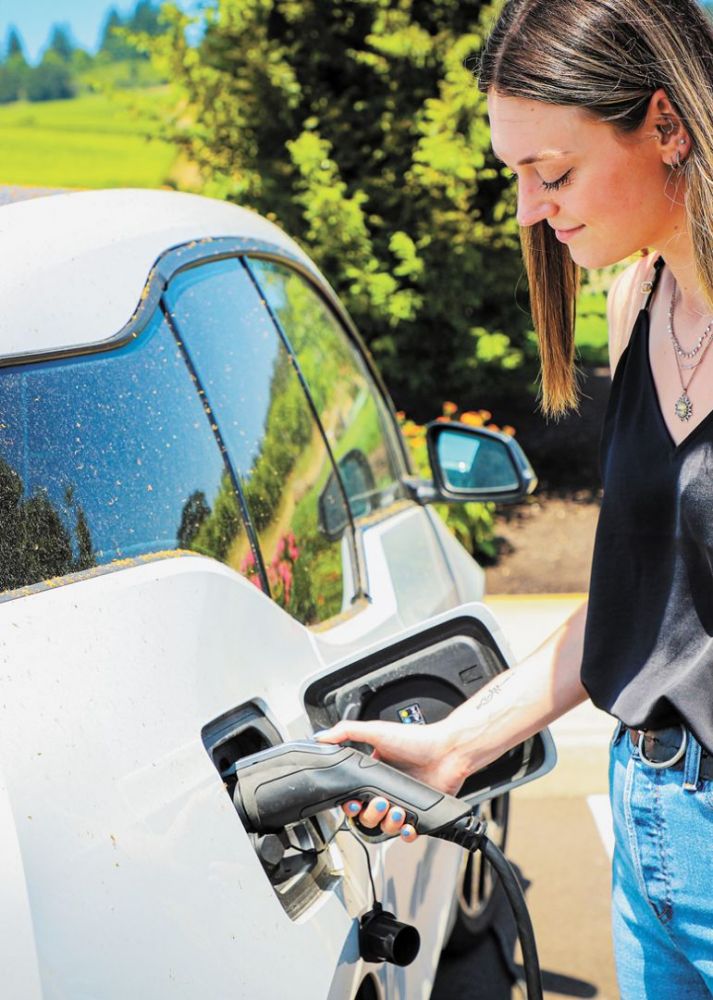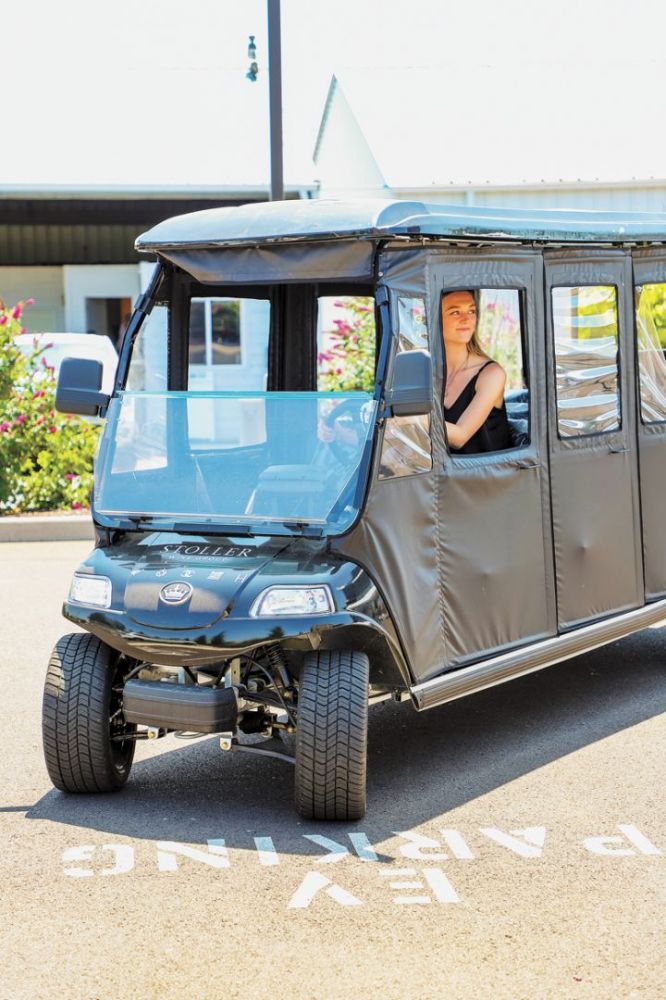 By Jessica Zimmer
Oregon wineries are adding on-site charging stations and electric vehicles, or EVs, into their guest welcoming and business strategies, with the state assisting by offering financing. As of December, 62,455 EVs are registered in the state, according to the Electric Vehicle Dashboard of the Oregon Department of Energy. The outlook for 2023 appears promising. On average, 1,000 EV registrations were recorded monthly in 2022, according to the Oregon Department of Transportation, or ODOT.
The benefits of using EVs in winery operations and welcoming guests traveling in Evs? A lower cost of maintenance and fuel. "Staff and guests also experience less pollution, cleaner roads and convenience in refueling," says Rodney Cluff, winery maintenance manager and automation systems integrator for King Estate Winery in Eugene. "Most EV owners rarely need to use fast chargers unless (they're) going on long road trips."
EV owners are responding enthusiastically, according to Phil Gorski, president of Tesla Owners Oregon. "We typically have at least one winery visit per summer. Oftentimes we will select which wineries to visit based on if (they have) charging availability. A handful we've been to in the past (were)...Stoller Family Estates, Sokol Blosser Winery, Résonance Wines, and Ponzi Vineyards," says Gorski.
Organized American Viticultural Areas, or AVAs, help by including the locations of wineries with charging stations on their property or situated nearby. The Yamhill-Carlton AVA in the northern Willamette Valley has created a webpage with such a list: www.yamhillcarlton.org/wineries/ev-charging-station. The Oregon Wine Board also offers a filtered search for wineries with charging stations under the features tab: www.oregonwine.org/wineries. Winegrowers' associations support EV use by sharing information about state and federal rebates and grants.
Ali Rodgers, executive director of the Umpqua Valley Winegrowers, recently sent a message to association members containing ODOT rebate information. "Even though there's a new Tesla charging station in Sutherlin, not too far away, we thought it would be more convenient for EV owners to charge their cars while visiting a local winery. That way they can taste wine…while taking an enjoyable break from their travels," says Rodgers.
ODOT is currently providing funding through its new Community Charging Rebates program, which began in June. The program reimburses up to 75 percent of Level 2 charging station projects at multi-family homes and publicly accessible parking areas.
"Wineries are great candidates for this rebate program…and 70 percent of the current round of funding is reserved for projects in rural or disadvantaged communities. The program website (www.oregon.gov/odot/climate/Pages/communitychargingrebates.aspx) has a helpful map. Many areas in both (the Umpqua and Willamette Valley) fit into either category. The program is accepting project applications through October 13," says Matt Noble, public affairs specialist for the Oregon Department of Public Transportation.
Wineries shipping their products locally or nationally may benefit from ODOT's application for new federal grants for EV charging infrastructure for larger vehicles, including delivery vans and semi-trucks. These grants are part of the Bipartisan Infrastructure Deal of 2021.
Noble reports the general availability of EV charging stations is "decent" for rural areas and poised to improve from public and private investment. Yet charger uptime, meaning how often a charger is in proper working order, remains a challenge in some areas.
"We've heard from private sector partners that getting critical parts to fix inoperable chargers can still take months. Many are short-handed on field service staff," says Noble.
One bright note regarding charging stations is that EVCS, a builder of EV charging networks, has nearly finished with a two-year upgrade of all 44 EV charging stations in Oregon. These stations are located along the West Coast Electric Highway, a network of 56 EVCS-owned DC fast charging and Level 2 chargers along West Coast corridors, including I-5. Several upgraded EVCS stations are in the Willamette and Umpqua valleys.
Early next year, the federal National Electric Vehicle Infrastructure, or NEVI, program will break ground. It plans to add EV fast charging stations along I-5 south of Eugene. In 2027, the NEVI program will fund EV fast chargers along Oregon Route 42.
In the first quarter of 2024, wineries and consumers may again be eligible to receive rebates through the Oregon Clean Vehicle Rebate Program for the purchase of EV passenger vehicles. The program is operated by the Oregon Department of Environmental Quality, or DEQ. It proved so popular that DEQ suspended rebates as of May 1. DEQ will announce when funding is available again.
DEQ could use insight from wine grape growers about how the rebate program for passenger vehicles has helped them. It reaches out to rural communities to better understand any barriers to EV adoption, according to Susan Mills, public affairs specialist for the Oregon Department of Environmental Quality.
Wineries can apply in early April 2024 to DEQ for Diesel Emissions Mitigations grants for medium and heavy-duty vehicles.
Wendy Lange, founder and managing partner of Lange Estate Winery & Vineyards in Dundee, is among the growers hoping to work with ODOT and DEQ to receive a rebate or grant. "We are currently on the waiting list for a Monarch EV vineyard tractor. (We plan) to replace any obsolete rolling stock with an electric option moving forward," says Lange. She's making the change because of EV vehicles' clean emissions, less noise and better performance. "What's not to love?" says Lange.
Janie Brooks Heuck, managing director of Brooks Wines in Amity, says when the winery must replace a tractor or ATV, it will switch to electrical. Brooks Wines currently has an EV charging station for customers.
Stoller Family Estate in Dayton has taken an additional step by using solar arrays on the wineries' south-facing roofs to generate power for the winery's charging stations. The winery currently has four North American Charging Standard plugs and five J1772s, universal connectors for EV charging. It has the capability to install another eight J1772s in the coming years.
"Our tasting room team has two EV golf carts for vineyard tours and shuttling guests around the campus. At least 10 employees own EVs, which they can charge for free at work," says Ryan Thornton, Stoller's facilities manager.
Stoller's future goals include expanding its power production and charging infrastructure.
"The faster we charge an EV, the more available power we need to have at any given moment. Or we can have brownouts and not be able to charge EVs.
Fortunately, we're nowhere near that stage just yet," says Thornton.