Vancouver Vibes
New waterfront community is home to many winery tasting rooms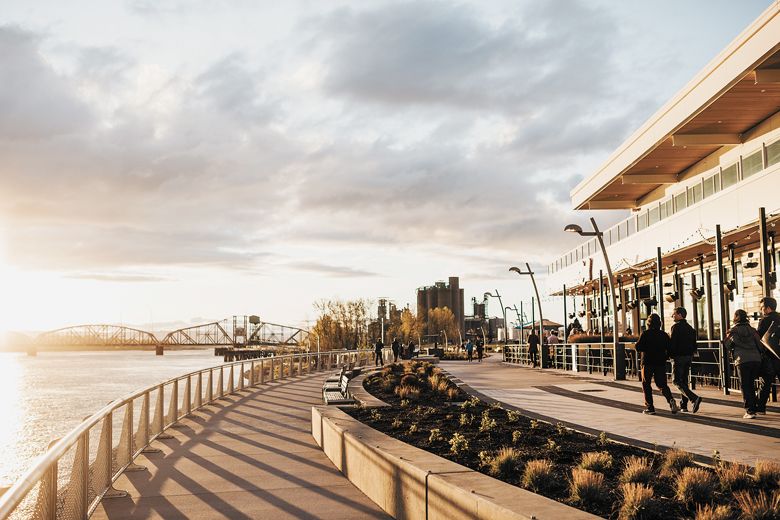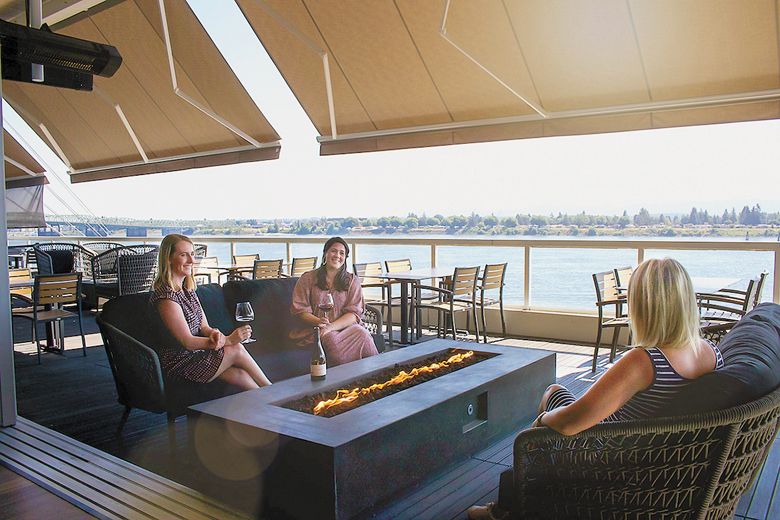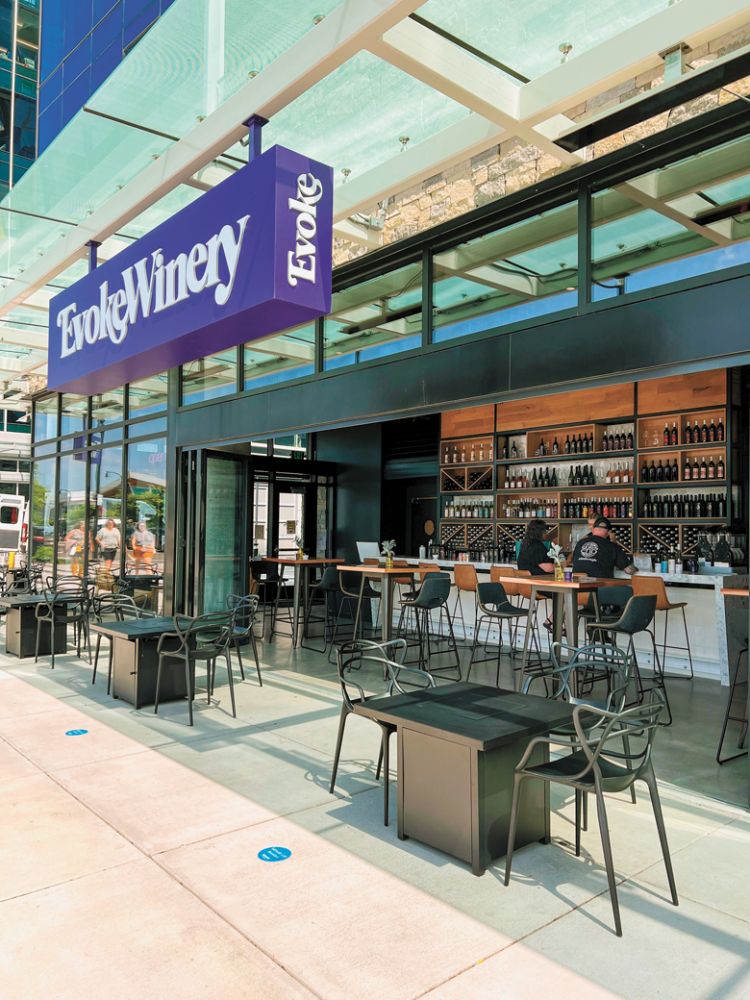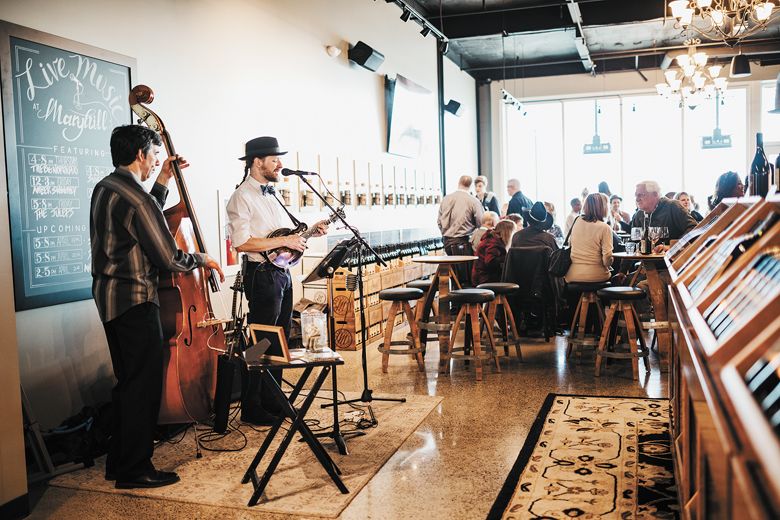 By Brooke Strickland
Hailed as one of the Pacific Northwest's newest destinations for summertime fun, the downtown Vancouver waterfront buzzes with activity. The area's breathtaking waterfront scenery, unique shops and hotels, lengthy walking trail with bridge views, and renowned restaurants attract people from all over the world. Anchored by the stunning Grant Street Pier, the waterfront is a brief 10 minutes north of Portland and home to multiple tasting rooms pouring Oregon and Washington wines.
Valo Cellars
Valo Cellars owner Michael Ruhland opened a wine tasting room in Montana before moving here to immerse himself in the Northwest wine scene. He learned from a friend about the growing downtown Vancouver waterfront and immediately wanted to become involved. Valo opened two years ago and wine lovers have since shown great interest in the wines carefully crafted by winemaker Matías Kúsulas. So far, Valo has expanded its wine club to more than 230 members.
"We're the new guy that's creating waves among the other wineries that have been in business longer," Ruhland confessed. "When I first moved here, I knew that Vancouver needed to let all of Portland know we exist. There is a great sense of community and we have a lot of loyal and returning guests. Many say that they can't find a wine they don't like. We create what we want to be and not what everyone else has already become."
Maryhill Winery
Five years ago, Maryhill Winery owner Craig Leuthold heard of the new Vancouver waterfront plans. After seeing the space, he felt it would be ideal for a satellite tasting room. In April 2019, Maryhill was the first winery to open a waterfront tasting room.
"We have always been well-recognized by residents of Clark County who visited our winery in Goldendale long before we opened the Vancouver tasting room," Leuthold said. "The reception we have received has certainly been the best part, as our wine club membership has grown exponentially. We have had a very positive response to the Vancouver tasting room… I think we've had a nice impact on both jobs and tourism. Our presence has led to seven other tasting rooms at the Vancouver waterfront– a sure sign of success."
Airfield Estates Winery
Lori Stevens, marketing director and owner of Walla Walla-based Airfield Estates Winery, explains how they have always had an interest in opening a tasting room in the Vancouver/Portland area. In 2019, after visiting Vancouver's waterfront area, she felt it was a spectacular location to showcase their estate-grown wines.
"We immediately saw the extraordinary potential of that development with all of the spaces for restaurants, shops, housing and hotels. Not to mention the beautiful riverfront landscape and walkways, and close proximity to Portland," Stevens said.
They officially opened in March 2020. Stevens describes how business started slowly because of pandemic shutdowns; they have recovered well, and currently employ eight people. Airfield Estates Winery includes a spacious patio as well as inside seating. They are well known for their refreshing frosé during summer months.
"We have had a very positive experience establishing our business in Clark County," she said. "We appreciate the support from the Vancouver Chamber of Commerce, the Southwest Washington Wine Association and neighboring businesses. We've enjoyed collaborating with the Clark County Food Bank on a variety of events. And the response from the people of Vancouver has been outstanding. Everyone's been very welcoming."
Brian Carter Cellars
Brian Carter moved to Washington in 1980 when there were only 16 wineries in the state. Since then, he has spurred growth in the industry and inspired New World representation in the European-style wines he creates. He didn't expect to become an expert in wine blending, but after encouraging growers to plant different varietals, he gained a tremendous amount of experience. With this knowledge, he created Brian Carter Cellars, and opened tasting rooms in Woodinville, Seattle and the downtown waterfront.
Willamette Valley Vineyards
Willamette Valley Vineyards celebrates its 40th year in business. It consistently has a great number of customers, owners and wine club members in the Vancouver area. It was a natural decision for the winery into expand to the downtown area.
"There is a mini-wine scene happening on the waterfront, and we are thrilled to represent Oregon wines and be part of that," said Carissa Cook, development director for Willamette Valley Vineyards.
The tasting room opened in August 2022, employs 32 people, and features not simply a diverse wine menu, but a full food menu starring Pacific Northwest specific cuisine. This summer, they are introducing a one-of-a-kind wine blending experience that enables customers to become winemakers for a day. Using a five-wine barrel display, they learn about blending and create a unique wine to take home.
"Clark County has been incredibly welcoming to us," Cook shared. "The community excitement and support has been remarkable. Everyone really comes together and is interested in helping one another grow their business. Vancouver has done a great job developing this new area that brings residents together and offers a space for small businesses to thrive and connect with the locals. There is a wonderful sense of community here."
Amavi Cellars and Pepper Bridge Winery
All Amavi Cellars wines are estate-grown, certified sustainable and from the Walla Walla Valley. Their estate vineyards; Seven Hills, Octave, Goff, Summit View and Pepper Bridge are farmed sustainably. With tasting rooms in Walla Walla, Woodinville and Vancouver, they regularly host events and feature wines from both Amavi Cellars and Pepper Bridge Winery.
Barnard Griffin Winery
Rob Griffin and Deborah Barnard started with a small truckload of borrowed fruit fermented in rented cellar space. In 2016, Griffin celebrated his 40th harvest and received recognition as the longest-tenured winemaker in the state's history. Four years later, they opened their first satellite tasting room on the downtown Vancouver waterfront. Along with a large indoor tasting room, there is an expansive outdoor seating area to welcome guests. Don't miss their gourmet vending machine filled with charcuterie, cheese and other snacks.
EVOKE Winery
EVOKE Winery originated in 2005. It is well known for evocative and suggestive wine labels with equally remarkable wines. They hope their wines evoke happiness and pleasant moments worthy of sharing. Peter Steinfeld, EVOKE's owner, recalls how he had been interested in a downtown waterfront location since learning about the plans for development in 2019. The winery officially opened their tasting room in April.
"We've always sourced grapes from Washington and Oregon," Steinfeld said. "I suppose by using Columbia Valley grapes, we were already part of the agricultural economy. We now have a tasting room on the Washington side to showcase them. Our visitors have the chance to experience what can be created from some of the best resources the Pacific Northwest has to offer— really good wine! Clark County is in its early stages of revitalization. Vancouver is beautiful, and many residents regularly enjoy the downtown waterfront. It's exciting to be a part of a location that is only getting better and more accessible."
Envisioning the future, Erica Lindemann, director of marketing for Visit Vancouver WA, is excited about how the waterfront and the new businesses continue to attract people to the area. According to a report by Tourism Economics, visitor volume in 2022 in Clark County increased nearly 25 percent from the previous year.
"This sort of Woodinville-type cluster of wine tasting rooms from renowned, well-known wineries has been a big part of our marketing campaigns and initiatives because it's unique to this region," she said. "Tourism does so much for the community's economic vitality, and the waterfront is a major part of the growth we've seen in Vancouver. I think the unique aspects of the waterfront, including the Grant Street Pier and having eight tasting rooms all within a few blocks, are distinguishing Vancouver as a great place to live and visit."