Better Together
Transforming white wine by blending varieties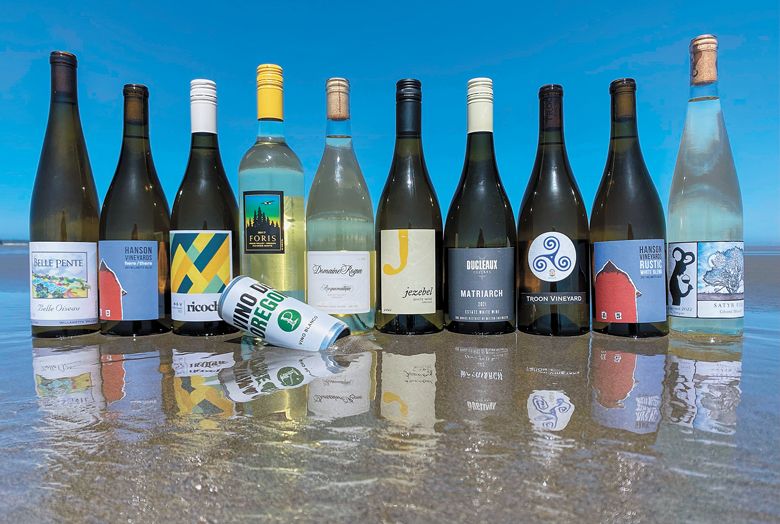 By Tamara Belgard Turner
After filling my glass with wine the color of sun- kissed golden wheat, the tasting room server mentioned it contained nine varieties of white grapes. I tried to guess which grapes, but couldn't determine a single variety.
Surprise washed over me as I thought, "What did they do, throw all their leftover juice together?" and "Ok, this wine is definitely quaffable, but it really doesn't excite me." More philosophically, I wondered, "How is it expressive of Oregon?" This particular wine is enormously successful as a widely distributed white blend with an attractive price point. I still question how it affected the sales of more thoughtfully-composed white wine blends Oregon has to offer.
Contrasting that experience, Dominio IV winemaker Patrick Reuter says, "Often, when the consumer tastes a compelling expression of a blended white wine, their reaction is often one of wonder and delight, followed by a smile and appreciation."
Oregon's white blends are gaining popularity with winemakers and consumers alike. Paul Johnson, winemaker at Satyr Fire Wines, believes "It's important to explore blends as well as terroir-specific wines. Blends allow the winemaker to strive for balance beyond what a single variety can offer. These can be some of the most unique and balanced wines and allow for more creative direction."
Winemaker and owner of Ricochet Wine Company, Erich Berg says, "While there are no original ideas, there are many original white blends, beyond the selection of grape varieties; there's the approach (co-ferment or blend later), the vessel (barrel, tank, concrete or amphora), skin contact or direct press. All of these variables can make for really distinct, fun, and perhaps even irreverent white wines. And, arguably, sophisticated, approachable and memorable wines."
White blends have not always been at the forefront of consumers' minds. Possibly because they're drinking single varietal wines like Chardonnay, Riesling and Sauvignon Blanc— grapes less frequently blended? Winemaker Nate Wall of Troon Vineyard says, "Most consumers seem to really like white blends when they taste them, so it's a matter of introducing wine drinkers to these wines, and the rationale behind them."
Making Intentional Wines
Brian O'Donnell, winegrower at Belle Pente says, "I believe we have one of the oldest white blends in the Valley." Belle Pente's Belle Oiseau is a traditional Edelzwicker blend (all noble Alsatian varietals: Riesling, Pinot Gris, Muscat, and occasionally some Gewürztraminer). "We don't use leftover juice, we actually do the opposite, create the blend first and bottle the 'leftovers' as single varietal wines," O'Donnell says.
For years, it remained the house wine for Portland's Little Bird Bistro (before it shuttered in late 2019), and made in collaboration with Andy Fortgang, 2019 Food & Wine Sommelier of the Year. As proof of its staying power, it's now the house white at the notable Portland restaurant Canard, co-owned by Fortgang.
Berg's "MRV" white blend uses Marsanne, Roussanne, and Viognier grapes picked the same day from Walla Walla Valley's Les Collines Vineyard. All the fruit is pressed together. The three varieties are blended before fermentation even begins, showcasing what Berg calls a time capsule or fingerprint of the vineyard. "I've been increasingly interested in making field blends rather than blending wine on the back end of the process," says Berg. "These particular varieties are historically blended, as they offer various characters that play off and complement one another, creating a wine with tension, layers and length."
Troon grows traditional grape varieties common to the Rhône region and Southwest France, where they have historically been blended. "We don't really have 'leftovers' here, as each block is earmarked for a particular wine. We find that blends can often have more depth and complexity than single varietal wines, plus they are fun to make," Wall says. "Blends allows us to emphasize a different aspect of our unique terroir, creating a fuller expression of place (the wall of sound from the orchestra versus the hauntingly beautiful solo)."
Additionally, Wall uses music as an enticing analogy to wine making: "Some grapes are like virtuoso musical soloists, while other varieties are meant to be in the orchestra. Several grapes can do both. For us, Vermentino can be like a talented violinist, capable of performing solo, but it also works really well in a blend (orchestra). Many of our grapes like being part of the orchestra."
Worth its Weight in Wine
The value remains for the consumer. "A good white blend is generally less expensive than a Chardonnay or a Riesling, and I find they often over-perform for the price," says Wall. "Our 'entry-level' Druid's White blend represents great value, especially being both Biodynamic and Regenerative Organic Certified."
Targeting a more youthful demographic, Berg says, "Younger drinkers are all about blends—red, white, pink and orange." He agrees white blends represent a great value, but acknowledges it depends on the price point. "It's true that many white blends are less expensive than their single-variety counterparts.
However, a $30 or $40 white blend (now quite common in Oregon) is not 'cheap.' Nor is it out of the boundaries of sensible pricing. People want good wine, and are willing to pay for it; yet shouldn't feel exploited. Will my MRV ever sell for $60, like a Chardonnay? No way. It's not the point of the wine."
It's not solely about value, but also the ethos of the wine. "White blends are everyday wines. They should be solid and sophisticated, but also priced in a way that invites folks to open a bottle, rather than wait until the 'perfect time.' That's the value. Open and crush it. Don't hesitate or overthink it," Berg recommends.
In general, the perception of white blends is changing for the better. "Blending gives the winemaker the final artisanal touch, or in the case of a co-fermented field blend, a way to produce something ostensibly unique," Berg says. "I am drinking more blends myself, perhaps to break out of my single-variety mindset. Even winemakers get bored with the status quo."
Aromatics and Grape Selection
While some might question whether blending grape varieties reduces the overall aromatics, Berg says no. "Aromatics are volatile compounds. If they're in the juice, they are in the blend. Interestingly, by adding additional non-aromatic-juice volume, you spread the love." In other words, he means the same level of aromatics, but simply more nuanced. "The thing that reduces aromatics is a hot, fast fermentation," explains Berg. "Volatile esters blow off. And, once you lose them, they are gone."
While it's true some varieties are more aromatic, blending does not necessarily lead to a reduction in aromatics. "A good example of this is putting an ice cube into whiskey," explains Wall. "As the ice slowly melts, the whiskey can become more aromatic, not less. Dilution of aromatics sometimes allows us to perceive more of them than when they are too concentrated. The same can be true of blending a particularly fragrant grape with a less aromatic one."
Blending varieties can actually improve the user experience. Winemaker Stephanie Pao of Foris Winery says, "Some of these varieties can be so perfumed and have such a strong identity, I personally might drink them in smaller quantities. A more harmonious blend can actually be more table-friendly."
Many opportunities exist for different grapes to work together and play off one another "I'm often trying to find facets that complement each other in the blending components," says Johnson. "Sometimes a wine with exuberant aromatics but a thin body will combine well with something that has more significant structure. Other times we are pairing up wines that have a similar skeleton of acidity but whose individual unique flavors and aromatics create an unexpected marriage."
Each grape brings unique characteristics to the blend. "Riesling, for example, can bring spicy aromatics, citrus notes and sharp acidity, while Chardonnay might add flesh to the bones and round out the body," says Johnson. He's found Pinot Gris a good base on which to build. It's a variety with a strong core, yet subtle nuances. Viognier might bring floral aromatics while Chenin Blanc might add honeycomb on the palate.
"We start with a Pinot Blanc base, and depending on the vintage, use Riesling for acidity and other elements for floral character and aromatics," explains Pao. "The different components naturally work well together. Muscat adds a distinctly floral character that is typically an accent component. Gewürztraminer functions similarly."
"White blends often create synergies that can transcend single varieties, full of surprise and delight," says Reuter. "But aromatic purity is a slippery slope that can lead one down the path of generic white wine, with pleasant but basically non-expressive aromas." Reuter believes that inspiring wines create multiple layers, crystalline acidity, sumptuous texture and thoughtful structure. It should take a person on many aromatic adventures.
Are White Wine Blends Meant to be Aged?
The answer: not so simple. Just like red blends, or single varietal wines, some are meant to be aged, while others should be enjoyed now. "For me, white wines (including blends) that are ageable require balance," states Berg. "The benefit of a blend is that the winemaker can ensure the wine has tension, layers and structure, and most importantly, acidity."
So, will Berg's new "MRV" age gracefully over time? He thinks so. "It has structure due to skin-contact, pre-pressing and has great acidity, which protects the wine from spoilage. It also has a good amount of fruit." Because all wines lose fruit over time, those with a fuller fruit profile tend to have more to offer in their maturity. "Now, do I want people to sit on my Rhône-style white blend for a decade? No. It's designed to drink in its youth. It's screw-capped, and I use very little sulfur. This wine is already popping. It will age, but it also is ready to play today."
In the Applegate Valley, Wall says, "We are blessed with a wide diurnal temperature shift (50+ degrees on some days), ensuring ripeness during daytime heat but cool evenings retain the grapes' natural acids. As long as our blends have that requisite acidity, they can age."
Sam Parra, owner of PARRA Wine Company, makes a canned blend of 80 percent Chardonnay and 20 percent Pinot Gris that should be enjoyed in its youth. PARRA Wine Company is the sole domestic, Latino-owned wine brand currently canning wine. He says, "The price of glass keeps rising, consumers want more eco-friendly packaging, plus the can category is gaining popularity."
Food Pairing
Parra's canned wine is delicious with spicy noodle dishes like Thai or Vietnamese food and, of course, spicy, savory tacos. Pao agrees. She says, "Blends are natural pairings with all types of ethnic foods. These wines add brightness, such as citrus and floral components, that complement a food's herbal qualities. In Alsace, aromatic whites are traditionally paired with heartier foods such as sausages, choucroute, and tartiflette (essentially local cheeses and potatoes)."
Try Ricochet's "MRV" with spicy foods, but also light salads, Thai and Mediterranean cuisine, shrimp street tacos, or gnocchi in a sage-butter sauce. "It also goes well with itself!," Johnson exclaims. "Sunshine and a glass of MRV seem to be perfectly paired."
Johnson enjoys pairing white wine with all sorts of food. "I make wines with crystalline acidity and ethereal floral, fruity, and herbaceous qualities that pair well with seafood and poultry. Fried foods, like fried chicken or fish-and-chips, are ideal with Riesling-based blends. I love having my wine alongside oysters, scallops, pheasant, cauliflower, chickpeas, and pork. That said, I'm not afraid to sit down with white wine in my glass as I enjoy a juicy burger or barbecue."
Use your imagination when pairing white blends with food. They're best served slightly chilled to enjoy the aromatics; don't be afraid to take them out of the fridge and let them stand for 30 minutes before serving.