Belly Up to these Wine Bars
Four new community-focused spaces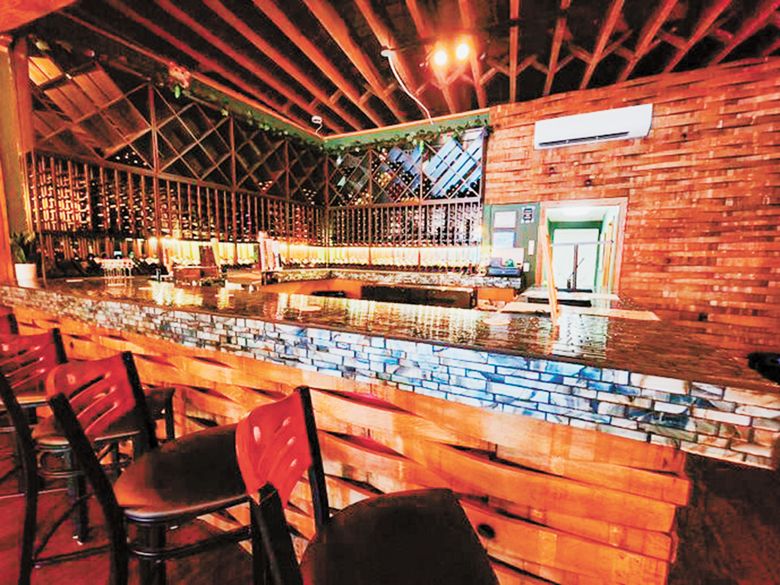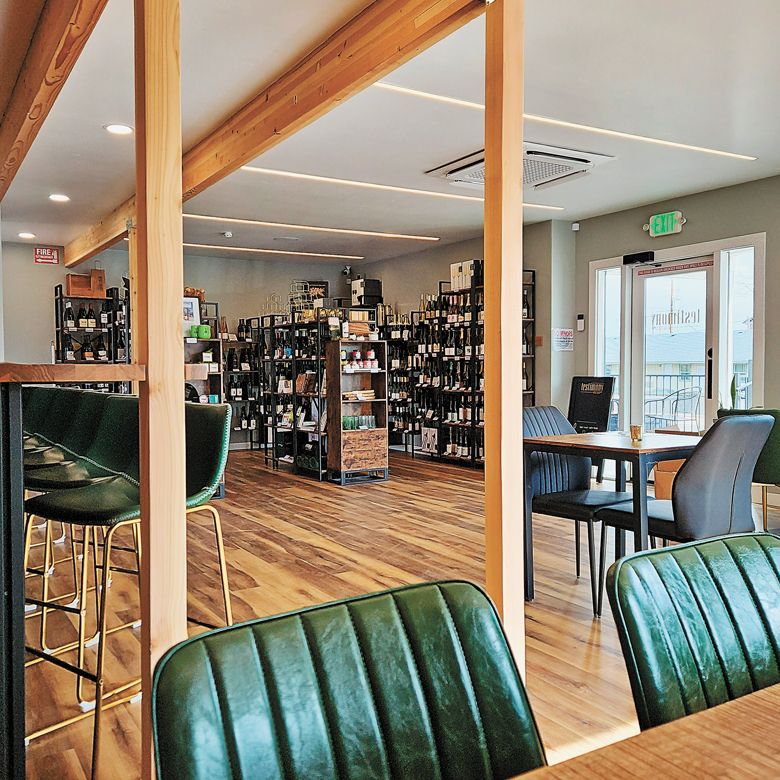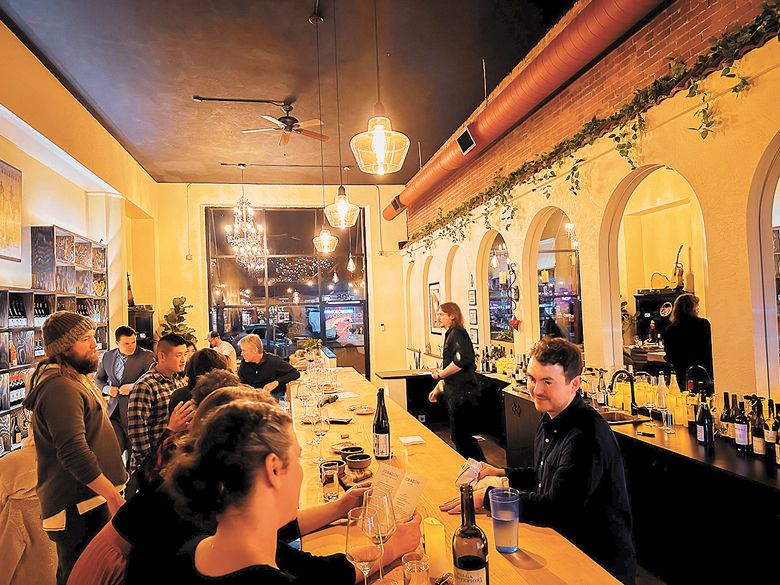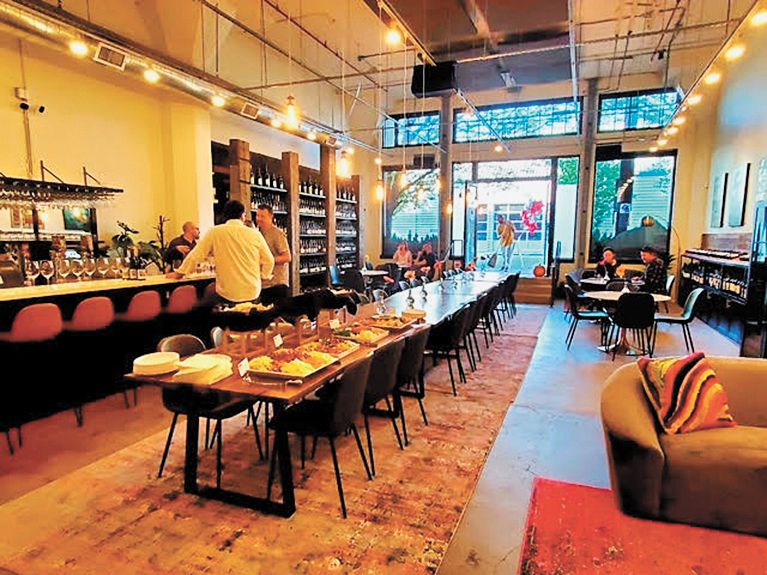 By Brooke Strickland
Wine bars are emerging all around Oregon. Their menus and interior designs appear as unique as the owners who decided to take the business plunge. Furthermore, the community they are building inside the walls assumes a flavor of their own.
Testimony Wine Bar, 307 N.W. Sixth St., Redmond
The story of Testimony Wine Bar began more than five years ago, when Kari Nelson dreamed of opening her own wine bar. When the pandemic hit, she felt a strong calling to finally act on this dream.
"Our world seemed to be getting more divided," she explained. "I wanted to focus on building community by creating a space that was all about small community. I wanted to create an atmosphere that made everyone feel comfortable, seen and heard."
What better way to accomplish that goal than to bring people together over a good glass of wine?
Nelson's business journey started while working full-time at a local hospital. She found a building constructed in 1932 that expresses the unique history of Redmond. Located on the main thoroughfare, Testimony Wine Bar opened in February.
Testimony Wine Bar features smaller production Oregon and Washington winemakers, along with some imported wines from other countries. Visitors enjoy small bites paired with a by-the-glass featuring more than 20 wines. There is also a monthly flight option and, on the way out, guests can peruse the bottle shop for wine and other gift items. Further, there is an event space hosting live music, winemaker dinners, guest winemaker samplings and sip 'n' paint classes.
Since opening day, the response from locals and visitors alike has been incredibly positive. Nelson looks forward to building and strengthening relationships with her customers.
She said, "The common statement is, 'this place has the best vibe and your staff are amazing'…and guests are obsessed with our flight presentation. I look forward to creating deeper ties with our community, being able to give back to vital charities, building business relationships with winemakers and developing a team of wine experts." Nelson continues, "This business is very special. From building and construction to regular patronage, prayers and love…many people from both my personal life and professional networks feel a deep connection and support it. I am exciting to see where things go."
Old Zen Wine Bar, 1115 Edgewater St. N.W., Salem
Nathan Dean, a retired Air Force Non-Commissioned Officer, or NCO, and his wife have lived and traveled throughout the world. Before moving to Oregon, they've sipped French wine in Paris cafés, explored Germany's riverbanks tasting the country's wine and discovered vineyards along the East Coast of the United States. When they settled in West Salem, they recognized a need for an area wine bar.
"We are in the heart of wine country— and in the state capital— yet there were no wine bars highlighting the amazing wines Oregon produces," he said. "We decided to open a wine bar focused exclusively on Oregon-made wine using Oregon-grown grapes. We are trying to bring the vineyard experience to Salem without leaving town."
Old Zen Wine Bar opened for business last December. So far, they've gathered a loyal following. With a lounge-style atmosphere and live music on Sundays, customers have responded positively to staying open later (10 p.m. on weekdays and 11 p.m. on weekends), along with the opportunity to sample wines without traveling a long distance.
Looking forward, Dean is excited about continuing to be a wine matchmaker– introducing local winemakers to customers who become enamored with their unique creations.
He said, "As our business grows, we look forward to meeting more of these smaller producers creating amazing wines but with limited recognition. We love featuring them and helping people fall in love with their wines. Enthusiasts then share that information with their friends and family, ultimately helping these lesser-known winemakers gain notoriety."
Corazón, 208 S.W. Second St., Corvallis
Nick Cheatham founded Corazón with his family, friends, the community and the experiences of winegrowers and winemakers in mind. He strives to remove any pretentiousness and invites people of all kinds to experience the joy of opening a new bottle from a unique region of the world.
The wine bar introduces enthusiasts to wines from Mexico, small producers in the Pacific Northwest and Spain. The overall goal is to bring attention to the Latin culture and community in the Northwest. The Spanish and Mexican architecture of its downtown Corvallis building makes it the ideal home.
Cheatham managed a vineyard and worked eight vintages before embarking on this latest venture. So far, business has been steady.
"It's been very rewarding to see everyone's reaction to the way we renovated the space. We continue to receive feedback from guests letting us know how much they felt this was needed in downtown Corvallis," he said. "I look forward to expanding our offerings as a wine bar and launching our wine club and rewards program. We plan to host new and fun events with the goal of better supporting our employees, vintners and the Corvallis community. I am striving to raise awareness too of often overlooked vineyard stewards.
Corazón features a small tapas menu and holds a Winemaker Wednesday series welcoming local winemakers to the space to showcase their wines.
Cheatham said, "We're creating a community here at Corazón, and it's so awesome to see this vision become a reality."
Backcountry Wine Tasting Room, 2505 S.E. Eleventh Avenue, Suite 117, Portland
Backcountry Wine Tasting Room represents the culmination of a dozen years in the Oregon wine industry for Jack Cranley. After launching Backcountry Wine Tours in 2011, he compiled a list of professional goals: build a successful tour company, establish a bottle shop, start a wine club and open an event space and wine bar. Today, he's accomplished it all.
His wine club boasts about 250 members. When his online bottle shop and other businesses required additional office space and showroom capabilities, he started envisioning the ideal location. After riding out the ups and downs of the pandemic, Cranley found the perfect spot to consolidate his ideas under one roof: the historic Ford Building in Southeast Portland.
The Backcountry Wine Tasting Room, which opened last October, features exclusively local wines. Inside, guests can sit at the 32-seat communal table down the center of the space, encouraging people to comingle and share their wine and conversation with someone new.
"That sense of community is my highest hope, and it seems to happen naturally in this space," explained Cranley. "I have strived to create a comprehensive selection of offerings that showcases every facet of what Pacific Northwest wines are all about. You'll find everything from world-famous Willamette Valley Pinot Noirs to the Bordeaux and Rhone-style wines of the Columbia and Walla Walla Valleys, plus a broad selection of white wines, rosés, sparkling wines and esoteric reds from across the region. And because of my uniquely deep connections to the people and places, I have a special knack for helping individuals find the perfect wine for their palate or mood."
Looking ahead, Backcountry Wine Tasting Room plans to host additional meet-the-winemaker events, along with educational seminars and thematic tastings.
Cranley feels excited to offer winemaker dinners and pop-up markets, too.
Cranley said, "I have traveled the world over, and never have I experienced a place with a more concentrated community of inspiring and creative souls as exists in the wine industry of the Pacific Northwest. I love this place, it is my forever home… coming up in the wine industry of Oregon has truly taught me the concept of 'a rising tide lifts all boats', and I can't wait to do my part to lift us all up, as we continue to merge into the world's stage of fine wine, in our own unique Oregonian way."