Graduation Day Cuatro
Celebrating AHIVOY's recent cohort of graduates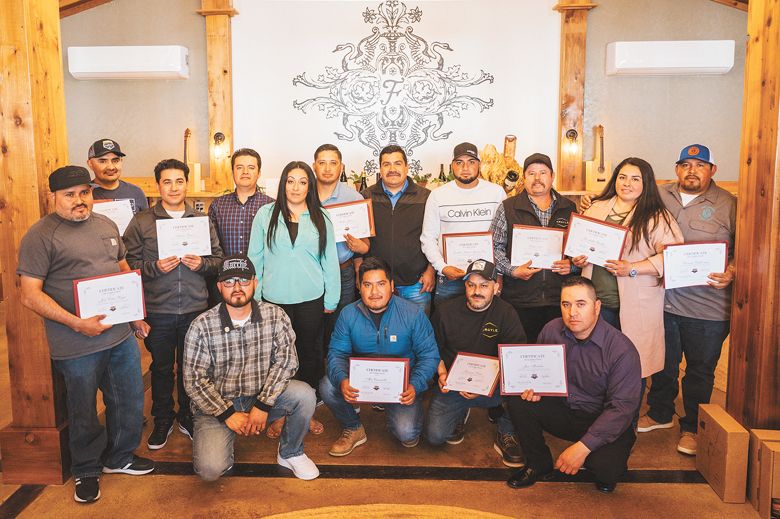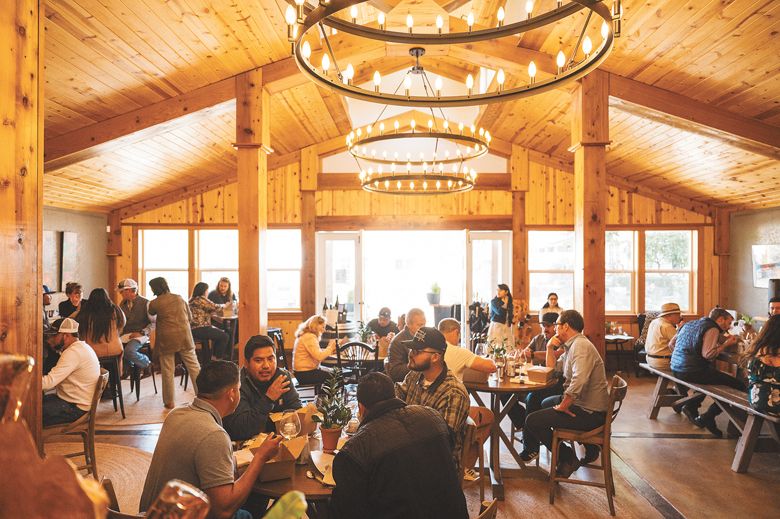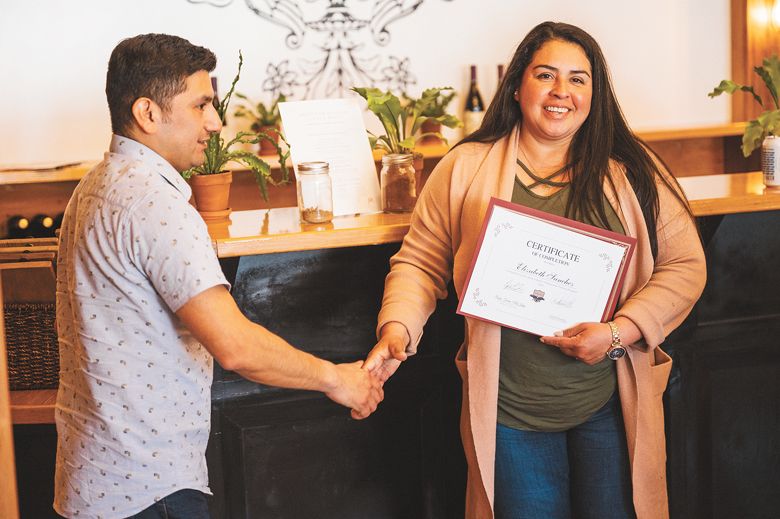 By Greg Norton
"You want to know your role… 'why am I doing this?'" said Miguel López, owner of Red Dirt Vineyard Management. "When somebody turns around and says: 'here are the whys,' you're like, okay, cool, I can do that."
The goal of increasing knowledge and understanding of Oregon's vineyard stewards led to Asociación Hispana de la Industria del Vino en Oregon y Comunidad / Hispanic Association of the Wine Industry in Oregon and the Community, commonly referred to as AHIVOY. The organization was created by López, along with Sofía Torres-McKay, the late Jesús Guillén and his spouse, Yuliana Cisneros-Guillén. Their fourth cohort, comprised of 15 participants, celebrated their graduation on April 26, hosted by Four Graces Winery. About 40 friends and supporters gathered for the occasion, enhanced by Four Graces' wines and lunch from Vindulge and Pix Pâtisserie.
AHIVOY is a nonprofit organization led by a volunteer board that recruits experienced wine industry professionals as instructors. Chemeketa Community College and Linfield University also provide support.
The vineyard stewards spent 17 weeks learning what happens after the grapes they nurture are harvested. Their bilingual curriculum included instruction in vineyard management, winemaking, marketing, distribution and tasting room hospitality. Held during the winter, when vineyard work slows, employers recommended students and subsidized the time they spent learning.
The program's goal of fostering a broader knowledge of Oregon's wine industry exists alongside the hope that– in the process– vineyard stewards will better understand how to develop their own careers. Now, with over 50 individuals completing the AHIVOY curriculum, that dream is being realized.
Alejandro Avalos participated in the inaugural AHIVOY cohort in 2019. He already had 10 years of vineyard experience. He credits the program with introducing him to new people in the wine community and showing him that "there's a lot more out there… additional opportunities and growth." He now oversees a crew of 14, working on over 500 acres, in his role as regional manager for Results Partners– a leading Pacific Northwest vineyard management company. Endorsing the program's value, Results Partners sent four students to this year's class.
Cohort member, José Ortiz, reflected on the benefit of forming a community where everyone grows together. He looks forward to exploring the ways his professional connections will continue after this year's class disbands. "I can call my friends and explain, 'I have this kind of problem,' and we can help each other," he said.
During the celebration, López presented graduates with a certificate of completion and a wine gift from Argyle Winery. With each, he reflected on their growth and obvious potential during the class sessions. "You are the future of the Valley," he said. "I'm really excited to see you continue to grow."
Translated by Wendi Ayala
"Quieres saber cuál es tu papel… '¿Por qué estoy haciendo esto?," dijo Miguel López, dueño de Red Dirt Vineyard Management. "Cuando alguien se da la vuelta y dice: 'aquí están los porqués', dices, está bien, genial, puedo hacer eso".
El objetivo de aumentar el conocimiento y entendimiento de los trabajadores de viñedos de Oregon, llevó a la creación de la Asociación Hispana de la Industria del Vino en Oregon y Comunidad / Hispanic Association of the Wine Industry in Oregon and the Community, comúnmente conocida como AHIVOY. La organización fue creada por López, junto con Sofía
Torres-McKay, Jesús Guillén, que en paz descaze y su esposa, Yuliana Cisneros-Guillén. Su cuarta clase, formada por 15 participantes, celebró su graduación el 26 de abril, organizada por Four Graces Winery. Alrededor de 40 amigos y colaboradores se reunieron para la ocasión, que fue enriquecida por los vinos de Four Graces y el almuerzo de Vindulge y Pix Pâtisserie.
AHIVOY es una organización sin fines de lucro dirigida por un grupo de voluntarios que recluta a profesionales y expertos de la industria del vino como instructores. Chemeketa Community College y Linfield University también brindan apoyo.
Los trabajadores de viñedos pasaron 17 semanas aprendiendo lo que sucede después de que se cosechan las uvas que ellos cultivan. Su plan de estudios bilingüe incluye instrucciones en manejo de viñedos, vinificación, mercadeo, distribución y hospitalidad en la sala de catas. Realizado durante el invierno, cuando el trabajo de la viña disminuye, los empleadores recomendaron a los estudiantes y subsidiaron el tiempo que dedicaron a aprender.
El objetivo del programa de fomentar un conocimiento más amplio de la industria del vino de Oregón existe junto con la esperanza de que, en el proceso, los trabajadores de viñedos comprendan mejor cómo desarrollar sus propias carreras. Ahora, con más de 50 personas que han completado el plan de estudios de AHIVOY, ese sueño se está haciendo realidad.
Alejandro Avalos participó en la primera clase de AHIVOY en 2019. Ya tenía 10 años de experiencia en los viñedos. Él le da crédito al programa por presentarle a nuevas personas en la comunidad del vino y mostrarle que "hay mucho más por ahí... oportunidades adicionales y crecimiento". Ahora supervisa un equipo de 14 personas que trabajan en más de 500 acres, en su rol de gerente regional de Results Partners, una empresa líder en administración de viñedos del Pacífico Noroeste. Respaldando el valor del programa, Results Partners envió a cuatro estudiantes a la clase de este año.
El integrante de esta clase, José Ortiz, reflexionó sobre el beneficio de formar una comunidad donde todos crezcan juntos. Espera explorar las formas en que sus conexiones profesionales continuarán después de que la clase de este año se termine "Puedo llamar a mis amigos y explicarles: 'Tengo este tipo de problema', y podemos ayudarnos unos a otros," dijo.
Durante la celebración, López entregó a los graduados un certificado de reconocimiento y un vino de regalo de Argyle Winery. Con cada uno, reflexionó sobre su crecimiento y potencial evidente durante las sesiones de clase.