Open that Bottle
Exploring older vintages of Oregon wines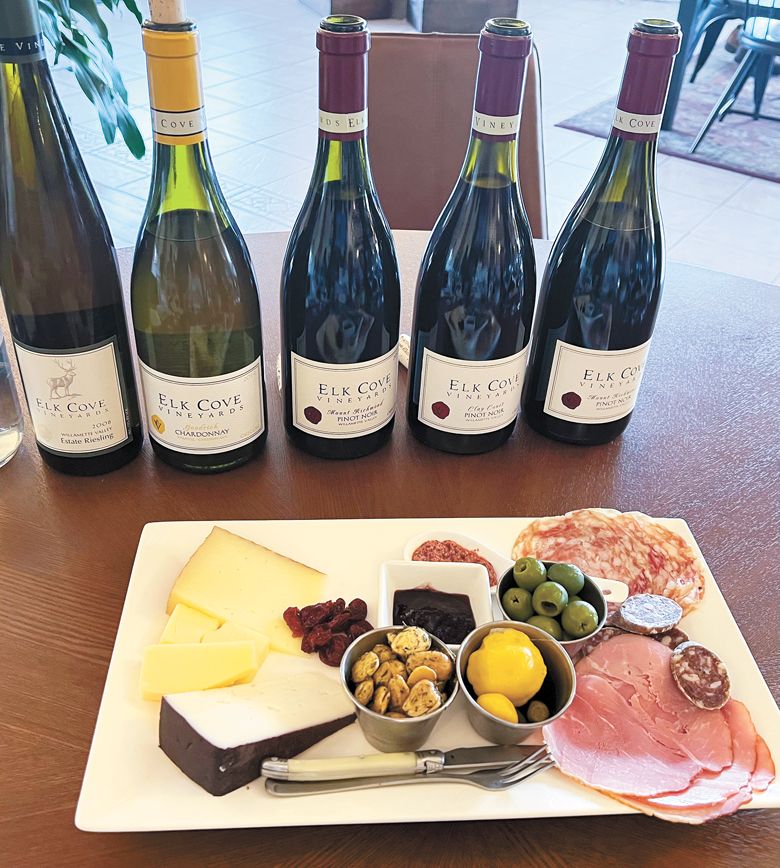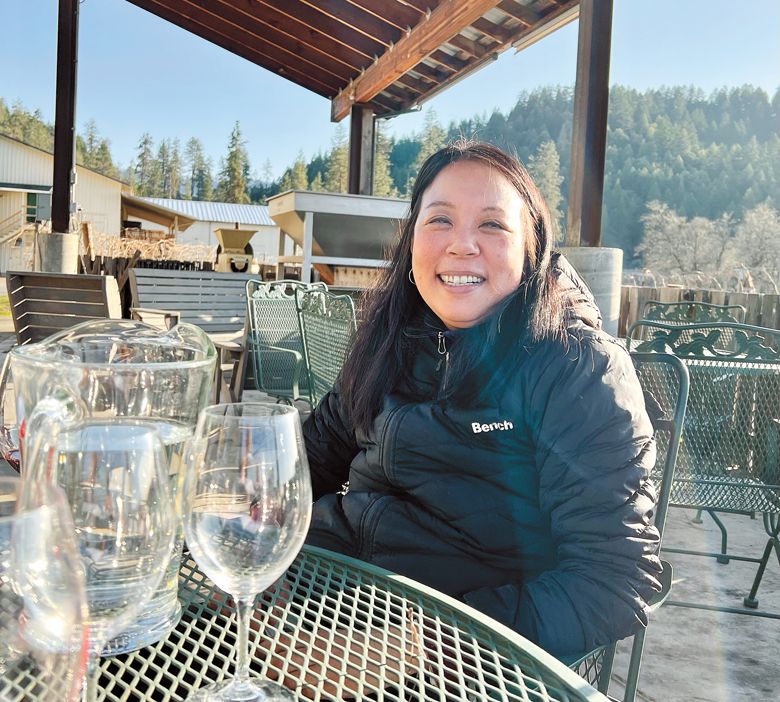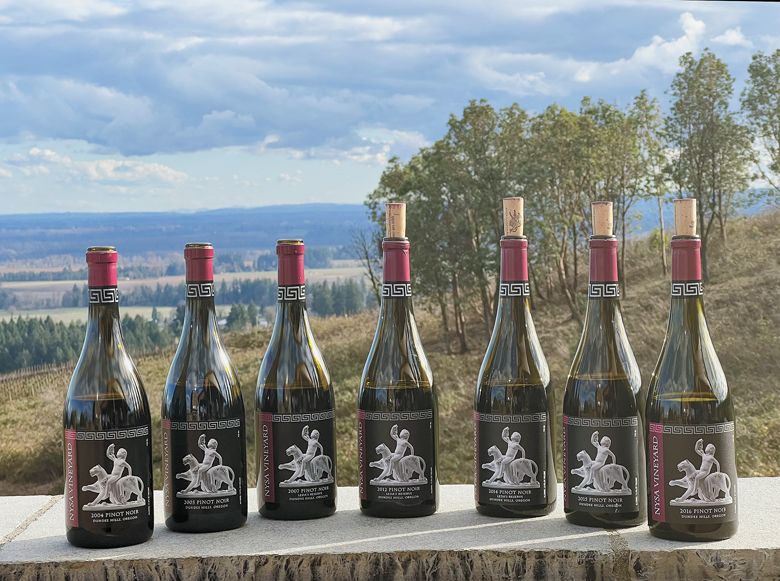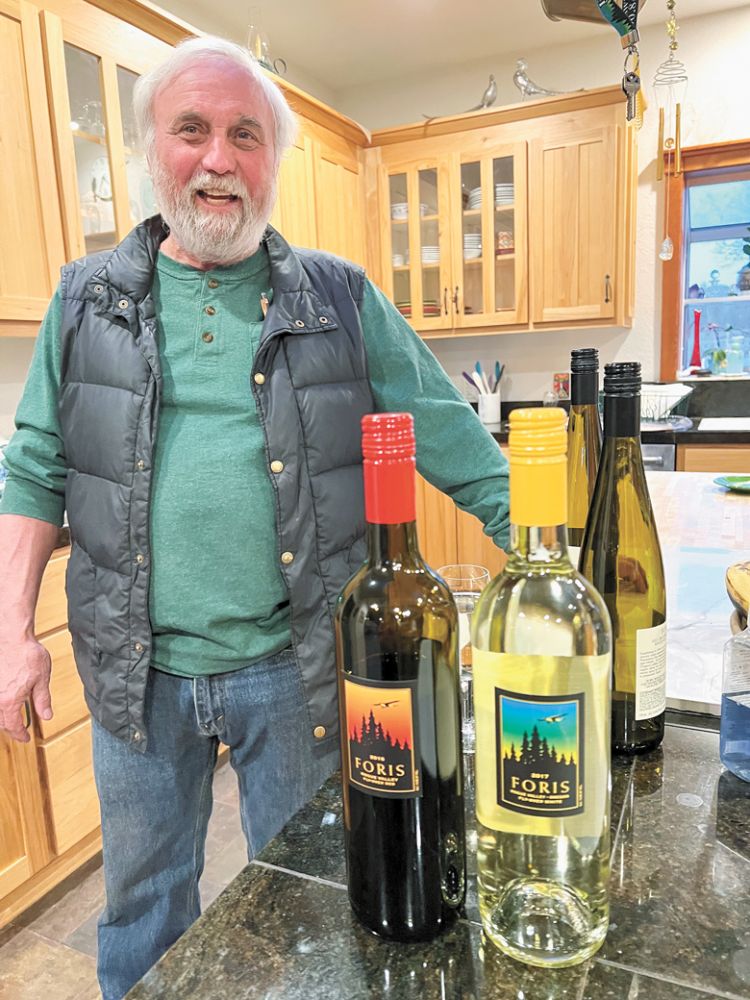 By Sarah Murdoch
Twenty-three years ago, Dorothy J. Gaiter and husband John Brecher, American journalists, authors and wine critics created Open That Bottle Night. This annual tradition held the third Saturday each February encourages us to enjoy wines we're saving in the cellar now, before it's too late.
In a 2014 Oregon Wine Press interview, Gaiter threw down the gauntlet with Oregon library Pinot Noir, asked, "We were eager to know: How is quality holding up?"
After conducting multiple tastings, the 2023 co-emcee for the International Pinot Noir Celebration concluded, "We are delighted to report that Oregon Pinot continues its upward trajectory. The difference in the wines over the years is remarkable…these are wines that speak softly to the more romantic parts of our being…"
Almost a decade later, I joined a merry band of tasters to assess Oregon's ageability by visiting wineries and tasting library wines on Open That Bottle Night.
We all realize how February in Oregon can be dreary. But by opening a few special bottles, bleak transforms into bright and funky becomes fun.
Nysa Vineyard
One of the best kept secrets in the Willamette Valley is Nysa Vineyard, founded in 1990 by charismatic Michael Mega, at a time when Oregon was home to a mere 330 vineyards (compared to today's 1,411).
Nysa's annual case production is fewer than 1,000. Straight off Highway 99 W, up to the summit of a Dundee hill, Nysa's 20 acres under vine have produced gorgeous wines for decades.
Mega has sourced grapes to the Valley's rock stars: Harry Peterson-Nedry (Ribbon Ridge Winery and Ridgecrest Vineyard, formerly Chehalem), Kelley Fox (Kelley Fox Wines), Josh Bergström (Bergström Wines), 00 Wines (when under Mike Etzel Jr.), along with LAVINEA, Torii Mor Winery & Vineyard, and White Rose Estate Winery and Vineyard, among others. Today, Willful Wines, Audeant Wines, White Walnut Estate and Nicolas-Jay all purchase Pinot Noir grapes from Nysa.
Mega is a futurist, always planning, whose favorite Greek proverb is: "A society grows great when old men plant trees in whose shade they shall never sit."
He holds his Pinot Noir for seven years— the 2016 vintage is hitting shelves now. On the horizon is a 2017 Sparkling Blanc de Noir. How interesting that a man with an Ancient Greece obsession is also a planner, buying 42 acres in the Willamette Valley 33 years ago.
Our merry band of tasters felt blessed with copious Pinot Noir from 2015, 2016, 2012 and 2014, presented in that order. Big, beautiful flavors with great acidity and vibrancy, the wines ranged between 14.4 to 13.9 percent alcohol.
We were then greeted with three more: 2004, 2005 and a bad-ass 2007 Leda's Reserve, named after Michael's daughter. Leda is truly an honor to her name and happens to be her favorite wine.
Elk Cove Vineyards
Storied Elk Cove Vineyards comprises 400 acres of oak savannah, forests and Roosevelt elk roaming among the vines.
Elk Cove's rich history began in 1974 when Pat and Joe Campbell planted five acres each of Pinot Noir and Chardonnay grapes. The Campbells still live at their Clay Court and Five Mountain estate vineyards.
Riesling makes a great litmus test— its high acidity and naturally low pH contribute to its ageability. The 2008 Riesling didn't disappoint. The flinty minerality was an amazing complement to honeyed sweetness, opening into a well-rounded, aged wine.
Elk Cove also showed off its 2014 Chardonnay from the Goodrich Vineyard. Interestingly, the winery, after a two-decade hiatus from making Chardonnay, finished strong with the 2014.
The 2012 Mount Richmond Pinot Noir radiated gorgeous salinity, as did the 2010 Clay Court Pinot Noir, which at the time was the coolest growing season in 30 years (now 40), according to the Willamette Valley Wineries Association vintage report. These represent great, food-friendly wines.
We concluded our tasting with a stunning 2005 Mount Richmond Vineyard Pinot Noir with 13.5 percent alcohol. A dry winter, cool, wet spring, followed by a warm summer, created beautiful structure. "People have been talking about this vintage for nearly 18 years," noted Shane Farnor, tasting room manager. Second-generation winemaker, Adam Campbell, quoted in 2005, believed this vintage had great aging potential.
Hazelfern Cellars
Hazelfern, a newer Willamette Valley winery, introduced their first commercial vintage in 2014. Winemaker Bryan Laing arranged a fascinating vertical Pinot Noir tasting from four of their earliest vintages with grapes grown at La Chenaie Vineyard. At 550 feet, the Eola-Amity Hills vineyard has 360-degree views. It's heavily affected by the cool oceanic winds blowing through the Van Duzer gap, results in grapes with thicker skins, leading to well-structured tannins and naturally bright acidity.
The 2015 comes from the Willamette Valley's warmest vintage on record. The wine was beautiful and didn't break down with age. Texturally perfect, its slight brininess really shined through.
Beautiful texture— a signature of Hazelfern wines— continued with the 2016, only much silkier. Laing noted it was his personal favorite.
In 2018, for the first time, Hazelfern added about 15-20 percent whole cluster to the ferment. This is an excellent everyday drinking wine. The grape stems contributed nice, textured tannins.
The 2019, lighter in color, featured 60 percent whole cluster. Slightly more age will propel this to the top of Laing's list.
The grand finale: their 2021 Hazelfern Vineyard estate Pinot Noir. It's no surprise this wine is an official selection of the 2023 International Pinot Noir Celebration, held in July.
J.K. Carriere Wines
No stranger to lively get-togethers, J.K. Carriere threw a festive library wine bash for club members, complete with homemade soup. What a stunning display of wines from 2003 and beyond.
Coincidentally, my first Open That Bottle Night celebration, a decade ago at a friend's house, included owners Jim and Allison Prosser.
The 2012 Lucidité Chardonnay, which translates as lucid, understandable and clear, sparkled bright like a diamond. Prosser noted this 2012 "got to a really good drinking place." The 2016 Laurelwood District Gemini Vineyard Pinot Noir showed luscious strawberry notes. Five years on, the 2016 Vespidae, the winery's core offering, had reached a beautifully expressive place. Whereas, the best description of their top tier Pinot Noir, 2016 Cuvée Lola, is flat-out beautiful.
Continuing down the older wine trail, J.K. Carriere treated us to a 2007 Willamette Valley Pinot, then 2005 and 2003 Anderson Family Vineyard Dundee Hills Pinot Noir. The 2005 hit the high note. A slightly cooler year, but still a perfect window of winemaking with tons of acidity and umami mushroom notes.
J.K. Carriere Pinot Noirs are silky and sublime, and sitting with Prosser at a bustling club event added to the adventure. There were only 100 people making wine in Oregon when Prosser started in 1999; now there are more than 1,000. "As a winemaker, you hope to see how you've gotten better at your craft, if only to become more subtle," he mused about library tastings.
Foris Vineyards and Winery
Foris is located in Southern Oregon's Illinois Valley, mere miles north of the California border. The 255-acre property is comprised of five ranches, ten ponds and five dogs. Some buildings, including the main house and tasting room, were built by founder and raconteur Ted Gerber. He bought the land— a parcel at a time— starting in 1971. Winemaker Stephanie Pao creates 20,000 cases of wine annually.
Sitting with Pao on a sunny winter day, she poured a Pinot Noir vertical and added two favorites— Tempranillo and Malbec. Beginning with the 2013 Cedar Ranch Pinot Noir, the newest of the Pinot ranches, had a hint of raspberry pie on the nose. We moved into a beautifully constructed 2014 Pinot Noir with a concentration wonderfully welcome, the berry compote flavors shining through with balance and beauty.
Because of its proximity to the ocean, it's a colder site and bud break happens later. There's more snowfall, making it nearly impossible to ripen Cabernet Franc and Syrah. The steep mountains shape the flavor of the wines, said Pao, adding, "Ted selected really good-draining soil sites."
The 2016 Pinot Noir felt more concentrated, with gorgeous fruit. We next sampled 2019, when Pao's winemaking really took center stage. A colder year, this Pinot displays classic Oregon Pinot Noir. With red fruit and a clean flavor, it energized me, making me feel alive.
At dinner, we were enthralled a Foris Vineyards library Riesling, which paired gorgeously with shrimp and linguine in a cream sauce.
You don't have to wait for Open That Bottle Night to taste library wines— simply request older vintages at tasting rooms. Sampling these wines allows one to visit past weather patterns, and learn more about soil, labor conditions— every aspect that affects terroir.
Alternatively, ask your local wine shop. Our band of merry tasters included Erin Palmer, founder of The Wine Cellar in Portland, who confirmed we're on-trend. "Many of my customers want library wines to mark important dates, anniversaries, wedding years. In the past, only a few Oregon wines were age-worthy, but now so very many are." Erin sees library wines appropriately priced near $140.
As to Oregon wines' ageability, I agree with Gaiter, who in 2014 concluded on Oregon Pinot Noir: "The wines have not only a purity of fruit but a purity of vision that is very attractive."
To think we have all that here in Oregon is very attractive, indeed.