For the Win
Industry professionals recognized by their peers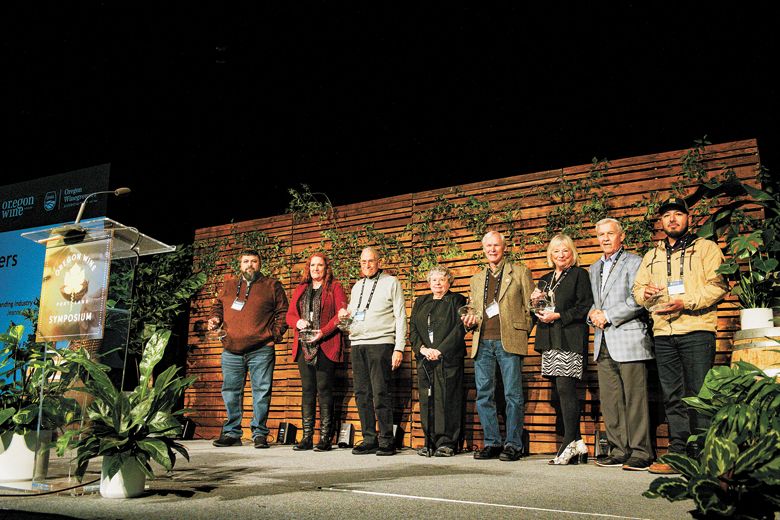 By Jade Helm
Each year industry members are peer-nominated for the Oregon Wine Industry Awards, with winners recognized at the annual Oregon Wine Symposium each February. This year's recipients included scientists, a compliance guru, a pioneer in biodynamic farming and a person whose entire career focused on one famed vineyard. Learn more about their stories and contributions.
Lucky Work
"It has been a 40-year adventure for us," said Robin Pfeiffer of Pfeiffer Vineyards in the southern Willamette Valley. He and Danuta Pfeiffer, his wife and business partner, received the 2023 Lifetime Achievement Award. The Lifetime Achievement Award recognizes individuals whose extraordinary dedication, inspiration and advocacy for the Oregon wine community span a personal lifetime. Nominated by their longtime winemaker, Bill Kremer, the award was presented by Ed King, CEO and co-founder of King Estate.
Robin, a pioneer, first joined vine to earth in 1983 on the family sheep farm where he grew up. He managed the vineyard while Danuta ran the tasting room. King described the growth of the Oregon Wine industry from virtually unknown in 1983 to significant global recognition today. "This was a steep learning curve scaled only by hard work, experimentation, constant learning and some more hard work. The Pfeiffers exemplify wine growers who climbed that mountain," said King.
The Pfeiffers figured prominently in forming the Lower Long Tom, one of the state's newest American Viticultural Areas, or AVAs, in Oregon. "I've enjoyed helping and mentoring other growers in the southern Willamette Valley," remarked Robin. Their wine made history for the region when a Pfeiffer Vineyards 2006 Pinot Noir was served at a private, pre-inaugural dinner for Barack Obama.
The Pfeiffers count themselves lucky– especially if luck means endless wet, muddy long days. Robin Pfeiffer fondly recalls the early days of pruning with the winter sun on his back. Among their greatest joys has been sharing Oregon wine with fellow wine lovers, living among the vines and now continuing as ambassadors of Oregon wine on their world travels. "We want to thank our loyal guests, friends and community for their support and love. It's been an E-ticket ride!"
Holistic Innovation
At the intersection of two careers Dr. Robert Gross made his largest impact on wine growing in Oregon. A love of Pinot Noir drew Gross from New York to the Willamette Valley. Here he began his medical career and established roots– vine and family. When the Beaverton horse farm, (where his wife had ridden as a child) became available for sale, their path beckoned. In 1978, Cooper Mountain Vineyards was born just as a "very young Willamette Valley wine industry was emerging from the soils of our state," poetically described by daughter, Barbara Gross. This was not where his pioneering spirit ended. A psychiatrist, Robert Gross became interested in incorporating Eastern and alternative holistic medicine with his Western medical practice. Returning to school, he earned a degree in acupuncture and homeopathy. Robert had always embraced integrated farming practices, and the changes in his practice encompassed other living organisms in his life– the vines and land. In 1995, Cooper Mountain Vineyards was certified organic by Oregon Tilth. Then, in 1999, Robert was the first to introduce biodynamic wine growing to Oregon, earning recognition from Demeter, the largest international certification organization. "In the early days of biodynamics in Oregon, Bob Gross was an inspiration through example and education to all of us who were interested but had yet to start implementing biodynamic practices in our vineyards," recalled Rudy Marchesi, partner at Montinore Estate.
Today, the family owns and operates seven vineyards, over 200 acres of vines, all farmed organically and biodynamically. Barbara presented the 2023 Founders Award to her father, thanking him "for teaching her how to do the right thing and for leading the Oregon wine industry to this place." The Founders Award recognizes individuals whose pioneering, groundbreaking work has deeply influenced and advanced the interests of Oregon winegrowers and winemakers, fostering statewide collaboration. "It is an honor to receive the award, and it is very gratifying and delightful to see that biodynamic winegrowing has expanded and continues to expand in the Oregon wine industry and among the community," stated Robert.
Research and Robots
In 2006, a dynamic scientific couple arrived in Oregon and the wine industry hasn't been quite the same since. The Drs. Beck (David and Jeanne) contribute a combined 80+ years in scientific research, a drive for volunteerism, and, fortunately, a focus on the science of grape growing. "Jeanne and David are pillars of the Oregon wine industry, helping to drive science and innovation that have brought tremendous benefit to all. They are generous with their time and expertise, operate a meticulous vineyard producing wonderful fruit and wine, and are the consummate scientist team…," said Dr. Greg Jones, CEO of Abacela.
David Beck is a leader on the advisory council to Linfield University's Wine Studies Program. He also devotes his valuable time in the university's vineyard– maintaining and teaching. Jeanne Beck has developed an ongoing collaboration with Linfield faculty on the study of vineyard microorganisms. The Becks are working with students in the Department of Engineering and Computer Science at George Fox University on a robot that can supplement the work in the vineyard. Hundreds of students visit their Crawford Beck Vineyard in Eola-Amity Hills to learn about the connection between science and viticulture.
"The Becks not only grow grapes, they are helping to grow the next generation of wine researchers and wine industry professionals." (Excerpt from a letter written by Dr. Miles K. Davis, president, Linfield University.)
David Beck has served on the Oregon Wine Board as treasurer, vice president, and chairperson and as president and vice president of the Oregon Winegrowers Association. The Becks formed strong relationships with the American Vineyard Foundation and other funding agencies to supplement Oregon's grape taxes with hundreds of thousands of incremental capital from out of state. Bill Sweat, founder of Winderlea Vineyard & Winery, nominated and presented the Becks with the Outstanding Industry Leadership Award. Said Sweat, "In so many respects, they represent the best of our Oregon winegrowing community." The Outstanding Industry Leadership Award recognizes individuals whose exemplary commitment and innovative leadership have contributed significantly to the advancement of the Oregon wine industry.
Wow! Jeanne and I are more than delighted to receive this recognition from our industry. For the past 17 years, Oregon's wine industry has been the home of [our] scientific inclinations and a target for our dedication to continuing the growth and improvement of the enterprise began in Oregon by giants before us, such as David Adelsheim, Harry Peterson Nedry, Dick Erath, among many others," exclaimed David.
Continuing Education
Alejandro Avalos began working in vineyard management a dozen years ago at Montinore Estate, focused on biodynamic farming. Avalos said, "I am really grateful to the Marchesi family at Montinore for their encouragement to continue learning." He completed the AHIVOY Wine Industry Training Program, a nonprofit organization that strengthens Oregon's wine community by empowering vineyard stewards through education. Avalos learned about opportunities in winemaking, sales, and marketing and has long-term plans for a small, family wine label. Other educational endeavors included an online training with Dr. Patricia Skinkis, with the Department of Agricultural Sciences, Oregon State University.
Avalos feels proud to be a vineyard manager with Results Partners, known as the largest and most comprehensive vineyard development company in the Pacific Northwest. "Alejandro came on board at Results Partners in January 2022 to fill a regional vineyard manager role and has done so smoothly and successfully. He has shown to be highly motivated, along with growing his viticultural background," shared Alex Cabrera, director of vineyard operations at Results Partners.
"[This opportunity] gave me more windows to learn different ways of farming." His favorite and most challenging aspect of the job is the variation in the growing season and harvest. "You never know what the weather will be each year, but it is always satisfying to see the results of hard work at harvest." He also enjoys adding to the success of the team by sharing his knowledge and experience to the crew.
DeAnna Ornelas, president of AHIVOY, nominated Avalos. She presented the Vineyard Excellence Award. "Alejandro is a shining example of Oregon wine industry excellence as someone who continues to lead by example and pay it forward at every turn," said Ornelas.
The Vineyard Excellence Award recognizes vineyard employees who demonstrate outstanding collaborative support under the supervision of vineyard directors and viticulturists. These employees exemplify remarkable technical knowledge, professionalism and an outstanding work ethic.
Growing with the Vines
When Tim Ramey, owner and operator of Zenith Vineyard, requested support for his nomination of Pedro Martinez for the Vineyard Excellence Award, letters and accolades poured in. "Pedro has been a valued and important part of our operation since we started and since we acquired [Zenith Vineyard] 20 years ago," said Ramey. Martinez's handprint on that valued vineyard started even earlier. Martinez has spent his adult career growing with the vines, beginning at Zenith under the former name, O'Connor Vineyard. Former owner Pat O'Connor recalled, "Pedro began to work for me over 30 years ago as a very young man, eager to find a place for himself in the agricultural field. I could not have asked for a more dedicated person who quickly grew his understanding of the unique demands of a vineyard operation." Ramey called Martinez, "An excellent farmer, great mechanic, and an incredible motivator and leader of people."
Indeed, a former member of the Zenith Vineyard crew spoke fondly of the seven years he worked with Martinez. "I owe my personal development [while working at Zenith Vineyard] to the nurturing of Pedro's charismatic disposition. He elevates everybody toward a common goal. Through Pedro's efforts, there continues to be great growth in personal development of the individual worker, which is only matched with the development in quality of a growing vineyard," shared Moises Angulo.
Zenith Vineyard's partners and customers recognize Martinez's contribution. Neil Bernardi, vice president and general manager of the Duckhorn Portfolio, said, "Zenith Vineyards is one of the keystone vineyards in the Eola-Amity sub-appellation and is a source of some of the best quality fruit in the area. Pedro's hard work, expertise, and lifetime of effort have contributed greatly to its success." Martinez is grateful to the Oregon Wine Board for this recognition, and to Zenith Vineyard for the opportunity to work.
Small Corner, Huge Impact
On winning the Industry Partner Award, Jackie Crawford, managing member of Red Hills Compliance Services, shared, "I was a bit shocked at first… I think that sometimes my corner of the "world" seems pretty small and I don't realize how many people have walked with me on this journey."
While working at Oregon Wine Services & Storage, Crawford realized the Oregon wine industry needed an experienced, independent and local compliance service provider to help members of the industry navigate the complex network of laws, requirements and restrictions around the country. In August 2016, she started Red Hills Compliance Services. She also co-owns Red Hills Cellars and Jaxon Vineyards.
Crawford may be the only one who describes her corner as "small." "Jackie is a true gem! She is such a wealth of information and is always willing to spend time answering questions or explaining the best way to do something," enthused Meg Ordaz, director of consumer sales at Troon Vineyard.
Paul Beck, direct sales manager at Winter's Hill Estate, nominated Crawford and outlines wine shipping compliance: "Shipping alcohol in the U.S.A. is like dealing with 50 separate countries… Jackie has spent years assisting us [Winter's Hill Estate] and many others in the industry and I am ever so thankful for all of her tireless work." Crawford responded, "It is humbling, and I am so grateful to everyone who supported me along the way. My clients are the reason I chose this path, so [this award] is truly a great honor."
The Industry Partner Award recognizes people working in fields tangential to the wine industry whose cooperative approach has positively influenced the success of the Oregon wine industry and its members.