Q&A: Alder Yarrow
Vinography's wine blogger pioneer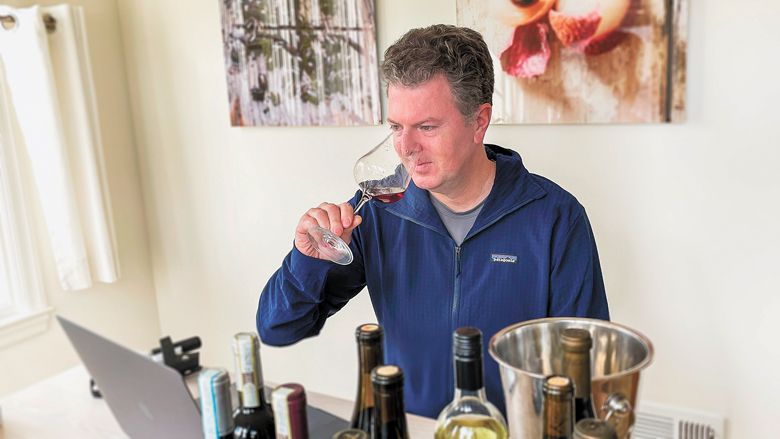 San Francisco Magazine has called Alder Yarrow "The Wine World's Brightest Cyberstar" and he is widely accepted as a pioneer of wine blogging. His Vinography.com blog has been published daily since 2004, and was nominated for a James Beard Award in 2013.
Since 2011, Alder has also been a monthly columnist for Jancis Robinson on her website JancisRobinson.com, where he also contributes wine reviews for American wines. He also occasionally contributes to other publications including the World of Fine Wine, Club Oenologique and Fine Cooking Magazine.
Alder has long been a judge for the World of Fine Wine's annual Global Restaurant Wine List awards, and occasionally judges other wine competitions around the world. He was also a judge for the James Beard Restaurant awards for many years.
His coffee-table book of essays and photographs, The Essence of Wine, was named one of the best wine books of 2014 by the New York Times and won the coveted Chairman's Prize at the 2015 Louis Roederer International Wine Writers Awards.
In 2013 Alder was inducted into the Wine Media Guild of New York's Wine Writers Hall of Fame, an honor he shares with only 24 other living wine writers. He is also a member of the Circle of Wine Writers.
What made you first become interested in wine?
In some small way, I grew up in wine country, spending summers with my dad in Sonoma County. When my grandparents visited, we would invariably go wine tasting with them. For the most part, I have fond memories of cavorting on the lawns outside of these big "castles" but on occasion I'd hang out with the adults and listen to them chat. I got my first sip of wine (that I actually liked) on one of these days. I believe it was a late harvest Sauvignon Blanc. I didn't know that wine could be sweet, and that sip convinced me that all wine wasn't disgusting.
My real love of wine began while I was studying for a time in England during college. The food served in the colleges at Oxford University in the early 90s was awful, and so I found myself cooking for myself more and more. Thinking that the civilized thing to do would be to drink wine with a home cooked dinner, I would go down to a local bottle shop and buy a wine. Too intimidated to talk with anyone, I'd simply look on the lower shelves for wines I could afford and pick a label that looked interesting.
I really enjoyed this exploration, which opened up a whole world of flavors and grapes and places to me. When I returned home to the U.S. and completed my degree, I continued to buy wine and cook a lot, both with increasing passion.
You launched Vinography in 2004, now considered the early days of wine blogging. Why?
My whole career has been in the digital marketing and user experience (UX) domain. In 2004, blogs were on the rise, beginning to shape the field of journalism and starting to have a role in the nascent practice of content marketing. As a result, my corporate clients were coming to me to help them design their websites and digital marketing efforts and had started asking if they should have blogs. I realized it was something I needed to learn about. Being a fairly hands-on learner, I thought the fastest way to understand the medium was to start one myself. I didn't have to think very long before deciding to start a wine blog. Wine had been a passion of mine for about nine years at that point, so off I went. After a couple of weeks, I found myself writing almost every day. And I basically haven't stopped since. As one of the very first wine blogs on the internet, my site drew a lot of traffic and attention, and within a month or two, I started taking it seriously as an avocation, knowing that there was an increasingly large readership interested in my thoughts on wine and the wine world.
How has writing about wine changed since then?
My early days tapping away about wine were a small piece of what has become a seismic change in the world of wine writing. Back when I started Vinography, we lived in the hegemony of the ParkTator from a wine criticism standpoint. Basically, Robert Parker's Wine Advocate and Wine Spectator were the major industry players, with Wine Enthusiast and Wine & Spirits magazines on the margins. Alan Meadows had recently started his Burghound newsletter, but that was about it.
From a narrative wine writing perspective at that time, many magazines offered wine-related content, and there were columns about wine in many major newspapers, from USA Today to the Boston Globe, to the LA Times. But as internet publishing exploded in the early 2000s, this started to change. Nearly all the newspaper columns on wine have been shut down, and magazine wine writing has also dramatically decreased in volume. There are now thousands of online outlets for wine writing, ranging from individual blogs, to professional publishers like VinePair or WineFolly. Wine criticism has been democratized and fragmented, thanks to new publications like Vinous, and many independent critics striking out on their own, such as Jeb Dunnuck and Jane Anson. In short, it's a wildly different world of wine writing than it was 20 years ago. I just wish it was a more lucrative one. One of the sad realities of the current landscape is that it has become exponentially more difficult for anyone to make a living as a wine writer.
How do you choose your subjects?
I'm lucky enough to not have to make a living as a wine writer, which gives me the luxury of exclusively pursuing my own curiosity and passions when it comes to my writing on Vinography. I write about what I'm excited about. Whether a recently sampled bottle of wine, a new grape variety I've enjoyed, or categories of wines that I'm particularly passionate about, such as the wines of South Africa, which I revisited on a trip last October.
You have been a regular contributor to Jancis Robinson's website for the last dozen years. What's your focus there?
Jancis brought me on in 2010 to cover, broadly, the American wine scene from the standpoint of news and trends. Which is to say, not as a wine reviewer. During that time, I've primarily written editorial pieces focused on various topics and recent events. However, we've just started an experiment where I focus more on reviewing wines for my column. Last month, I did a check-in on the state of things in California's Santa Lucia Highlands AVA, and reviewed a bunch of the top wines from that region. Moving forward I'll likely be doing more wine reviews against a different theme.
What is the latest wine that changed your perception of the variety, region, producer, etc.?
As I mentioned, I recently returned to South Africa for the first time since 2008. On that first visit, the South Africans were going on and on about Chenin Blanc and how it really had the potential to be their signature white grape variety. Consequently, I tasted as much Chenin as I could and came away unconvinced.
There were a few decent ones, but nothing that I found particularly thrilling. Well, after my recent visit, I'm happy to say that the South Africans couldn't have been more correct. The Chenin Blanc being produced in South Africa right now is positively thrilling, and easily giving the best dry examples from the Loire Valley a run for their money. Plus, there are so many other fantastic wines being made there, from Syrah to Cinsault to Chardonnay and Pinot Noir. In general, I returned feeling like there's no more exciting wine region in the world right now than South Africa.
Your thoughts on Oregon wine? Favorites (varietal, brand and/or region)?
I've loved Oregon Pinot Noir for a long time, ever since I started regularly attending the International Pinot Noir Celebration in McMinnville as a member of the press. In recent years, it's been very exciting to see the rise of Gamay as well. I am always thrilled to see people, such as Limited Addition and Eyrie Vineyards, experimenting with other grape varieties such as Blaufränkisch or Trousseau in the Willamette Valley. I have to say, however, I've been really excited to watch the rise of Willamette Chardonnay, and continue to be seriously impressed by some of the examples from producers such as Walter Scott that are making their way to my door. Elsewhere in Oregon, I appreciate the steadfast dedication to Tempranillo in the Rogue Valley from producers following the lead of Abacela, and have great fun watching the phenomenally sustainable evolution of Troon Vineyard in the Applegate Valley.