Spring Blooms in Yamhill-Carlton
Wineries showcase some of the region's finest wines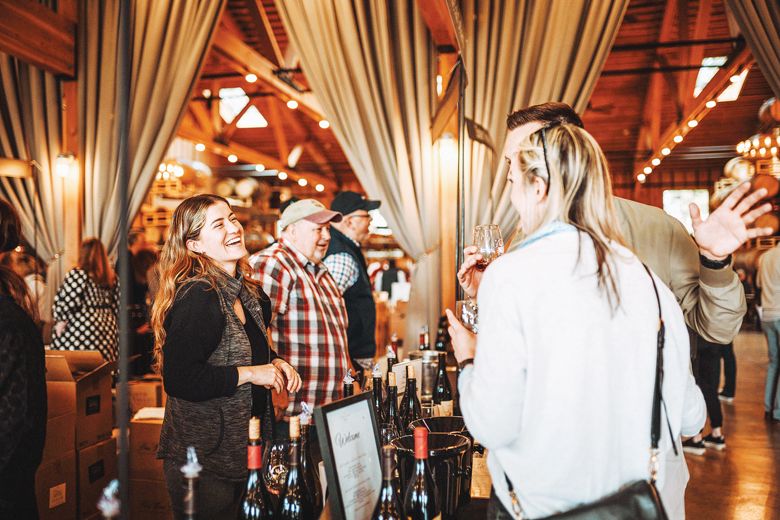 By Jade Helm
Looking for some wine tasting fun this Earth Day? The Yamhill-Carlton American Viticultural Area, or AVA, is hosts their annual Spring Tasting on April 22. While not an "official" Earth Day-focused event, the appellation's motto is "Down to Earth"— a nod to expressive soils and relaxed hospitality.
More than forty wineries will share samples showcasing the region's finest wines in the bucolic setting at Carlton's Abbey Road Farm. What a perfect spot to feel a quiet connection to the land surrounded by vineyards, strutting chickens, grazing sheep and even miniature donkeys.
"The wines of Yamhill-Carlton are stylistically diverse, and our Spring Tasting is a great opportunity to learn about the area, have conversations with winemakers and taste a variety of Yamhill-Carlton wines," shares Ximena Orrego, vice president of the Yamhill-Carlton AVA Association.
In the drier climate, well-draining marine sedimentary soils from ancient ocean floor materials generally produce wines with a warm balance of comparatively softer tannins and lower acidity. Pinot Noir best expresses the taste of the place, commonly showing tempting notes of dark fruits, coffee, cocoa, anise, cedar and tobacco. This inviting profile also reflects the appellation's "down to earth" vintners. Most wineries and vineyards are family-owned and operated, with some boutique operations welcoming people into their homes for intimate tastings. "We are so excited to share our wines. We all love what we do and it's fun to tell the story behind our wines and vineyards with people who share that enthusiasm," Orrego enthuses.
With Pinot Noir frequently the flagship grape, Chardonnay and Pinot Gris remain prominent as well. Smaller plantings of Gamay, Riesling, Sauvignon Blanc, Cabernet Franc, Pinot Blanc, Dolcetto and other varieties are also farmed. For those seeking something more unusual, Chris James Cellars will pour their new sparkling rose— a 50/50 blend of Pinot Noir and Sauvignon Blanc. Winery staff say it has been a huge hit since its recent release. They will also be sharing Italian varieties— Dolcetto and Lagrein. A stop at the Laurel Ridge table might present an opportunity to taste Chasselas Doré. This grape, classic to the small French region of Jura between Burgundy and Switzerland, marks an unexpected find at a tasting of Oregon wines. The final wines list is not available at this writing, but historically La Randonnée Wines pours a selection of Sauvignon Blanc— including a sparkling version, while Stag Hollow Wines presents a sparkling Dolcetto and blend of Tempranillo with Pinot Noir. Stone Griffon Vineyard has been known to serve a hybrid representation— red varietal Marechal Foch. Checking in with these wineries undoubtedly includes some interesting samples again this year.
While the detailed wine lists are still being curated, the complete list of participating wineries is available (see sidebar) with some exciting additions, including: Dominio IV Wines, Black Dog Vineyard & Winery, EIEIO & Company, Kramer Vineyards and Soléna Estate.
Many Yamhill-Carlton AVA wines have been critically selected, awarded and featured. The recent McMinnville Wine Competition chose Pike Road's Route 47 Dessert Wine as Best Dessert Wine while their Shea Vineyard Pinot Noir received Double Gold. Pheasant Hill Vineyard's Sauvignon Blanc won Gold at the same judging. Chris James Cellars was the 2022 Winery of the Year recipient from Great Northwest Wines. Ken Wright's 2019 Hirschy Vineyard and Shea Vineyard Pinot Noir both received 94 points from Wine Spectator. Northwest Wine Report awarded 93 points to Lemelson Vineyards 2019 Stermer Vineyard Pinot Noir. I look forward to what these wineries bring to this year's tasting.
The event, known for small bites from local restaurants, including The Joel Palmer House, Recipe, The Horse Radish, Earth & Sea, Park & Main, Orocios and Cuvée. Regular admission revelers ($75) will find plenty to taste, while those who splurge on the VIP experience ($125) can expect added perks. VIP attendees receive priority parking plus early entry with first access to wines and passed hors d'oeuvres from Abbey Road Farm's chef and innkeeper Will Preisch. VIP guests will also taste from a complimentary Riedel Pinot Noir glass along with exclusive access to special library pours. Note: there are two tasting sessions, allowing guests a leisurely, comfortable tasting experience with ample space to visit with friends and ask questions about the wines.
Find more details and tickets on Yamhill-Carlton's website. This event normally sells out in advance.