Q&A: Jennifer Simonetti-Bryan MW
The fourth woman in the U.S. to earn the Master of Wine title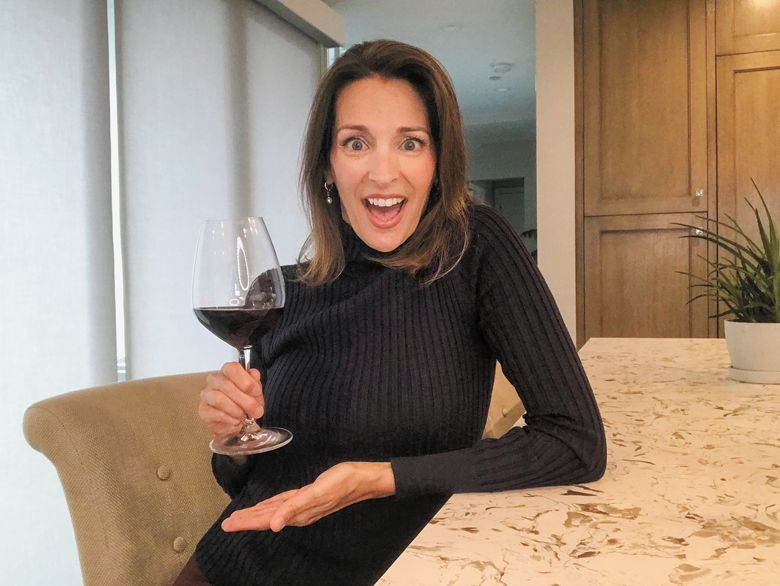 Jennifer Simonetti-Bryan is the fourth woman and among almost 60 people in the U.S. to attain the international title of Master of Wine. One third of the exam requires correct identification of 36 wines blind. Simonetti-Bryan now instructs those who want to improve their tasting skills. She is a renowned author and professor with five courses on wine and spirits with The Great Courses and Wondrium. Simonetti-Bryan has trained thousands in the industry, judges in international wine and spirits competitions, honored with an international tasting trophy for her palate and holds five additional wine and spirits certifications.
She is a frequent guest on national television including NBC's Today Show, Fox Business, Fox News, Fox & Friends, CNN/Money, CBS, Anderson Cooper, Bloomberg TV and a TEDx speaker. Simonetti-Bryan has also been featured in world-class publications, including: The New York Times, The Wall Street Journal, Fortune, Forbes, Bloomberg Businessweek, Entrepreneur, Huffington Post, Gotham, O The Oprah Magazine, Women's Health, Shape, Food & Wine, Wine Spectator, Wine & Spirits and Wine Enthusiast.
Q: What made you first become interested in wine?
JSB: My first wine epiphany occurred during a business lunch in London while I was working in corporate banking. My family doesn't really drink alcohol. Don't get me wrong— they have nothing against it— instead were focused on food and never really got around to wine or alcoholic drinks. So wine was foreign to me.
In my financial career in the U.S., I ordering diet coke or sparkling water. But in London, at client lunches, they served wine. One business lunch sparked my initial interest in wine and then I noticed people in the office kept talking about "oaky, buttery Chardonnay." I had no idea what that meant. I visited a wine store, walked up to the counter, and said, "Yes, I would like an oaky, buttery Chardonnay".
Not sure what I was expecting, but the man came back with a $7 Wolf Blass Australian Chardonnay. Honestly, I was shocked to see that it was a white wine! I took that bottle home, poured a glass, stared at it and said, "Ok, Chardonnay, you and I are going to be friends. I don't know what oaky or buttery means, but I'm going to find out". I tasted it, and sure enough it had flavors reminiscent of butter and something like toasted bread. Then I wondered how it got that way. Where does that buttery and toasty flavor come from? Why don't all wines taste the same?
That was it, I was hooked and needed to know everything about wine, yesterday.
Q What compelled you to then pursue the Master of Wine title?
JSB: A few months after my wine epiphany, I followed my new passion and left my six-figure salary in corporate banking and went to work for a wine store in Greenwich Village in Manhattan and took wine classes. I started with Kevin Zraly's Windows on the World Wine Course, then took the Society of Wine Educators courses (both the Certified Specialist of Wine as well as the Certified Wine Educator) and then all of the Wine & Spirits Education Trust certifications, including the Diploma level.
After the Diploma, I still itched to learn more about wine, but didn't know where to turn next. During my education journey, I left the wine store to go work for an importer and distributor named Kobrand Corporation. While working late one evening, the president of Kobrand at the time, Charles "Chuck" Palombini, came in and asked me to go for the Master of Wine title. "Why not? What do you got to lose," he asked?
Only about 300 people at that time had achieved the MW title, so I was very intimidated. But my dream was to be a top wine educator and Chuck convinced me to apply for the program. He said the company couldn't support me financially, but would allow me time to study and cheer for me. If I passed, I could be next in line for their wine educator position. That was all I needed to hear.
Once I enrolled, the camaraderie among the MW community and candidates, along with the intense amount of wine knowledge, was exciting and exhilarating. I was hooked and knew I had to continue to the end.
Q As an author of several books and online courses, what do you most want to teach readers and students?
JSB: The largest lesson I want people to walk away with is to continue to be inspired and learn. I want people to have a deep curiosity and an open mind when it comes to learning and studying wine.
Wines are like people. Not everyone you meet will be your BFF immediately and there are many people out there that are very surprisingly pleasant once you get to know them. You may meet someone who doesn't seem interesting or exciting at first, but the more you get to know and understand them, their story opens to you and they become fascinating!
This is the way wine is with me. There may be a grape or a region that I may not be excited to read about or try at first, but once I start looking into it, I want to know more. And I am always glad I followed my curiosity. I've never thought looking into a wine was a waste of time– not once.
Q: What is the latest wine that changed your perception of the variety, region, producer, etc.?
JSB: The last experience that changed my perception on a grape variety was Albariño. In the past, I viewed it as a mediocre, middle of the road (meaning its medium body, medium acid, medium alcohol, medium everything), non-descript mid-market grape, unobtrusive at best. However, tasting examples in Oregon and California changed my perspective on this grape from Spain. It is riper, more perfumed with more floral aromatics and texture while retaining its fresh acidity. I'm excited to see Oregon do more Albariños.
Q: Share your preferred food and wine pairings.
JSB: Even after becoming a Master of Wine, I didn't have a great understanding of food and wine pairings. To remedy this, I took three years to write a book with a Certified Master Chef (Ken Arnone CMC) titled Pairing with the Masters: A Definitive Guide to Food and Wine Pairing. This book's intention is as a supplemental guide to the wine program in culinary schools. It was a three-year labor of love project and we had a blast experimenting with different pairings and writing this book.
My favorite pairings from this experience was Amarone paired with aged Parmigiano Reggiano drizzled in honey. This has the benefit of touching everything your taste sense can perceive— sweet, sour, salt, bitter and umami, all at once. It is one of my favorites. Well, that is other than Tavel rosé with salmon or champagne with anything fried.
One of the most surprising results of that book was experiencing how changing the method of cooking or a few ingredients can change the pairing. For example, sautéed sea scallops with truffle goat cheese sauce was amazing with a rich Napa Valley Chardonnay, but the flavors were completely overpowered by a Pinot Noir. However, prosciutto wrapped sea scallops with a basil-walnut pesto matched beautifully and was complemented by an Oregon Pinot Noir. This last pairing had beautifully contrasting flavors that added layers of complexity that would not have been there if they were not paired. It was a 2 + 2 = 5 scenario!
Q: Your thoughts on Oregon wine? Favorites (varietal, brand and/or region)?
JSB: I love Oregon wine. Given my love of Burgundy, I love the Pinot Noir coming out of Willamette Valley as well as Pinot Gris. Such wonderfully powerful yet elegant expressions found in Oregon from the terroir and the people that make them.
I have also enjoyed the incredibly warm and generous hospitality of winemakers in the Rogue Valley, including Cowhorn Vineyard and Troon Vineyard in the Applegate Valley. Given their warmer climate, it is no wonder Rogue Valley pursues warmer climate grapes such as Syrah, Tempranillo, Tannat etc. All very interesting wines!