Glass Half Empty
Wine has a serious image problem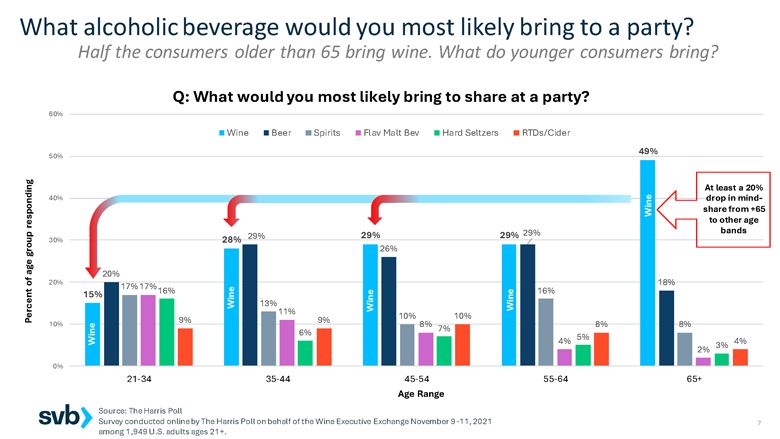 By Michele Francisco
Each year, Silicon Valley Bank, also known as SVB, releases its State of the U.S. Wine Industry report. I eagerly peruse it for valuable insights. However, as the author, Rob McMillian, executive vice president and founder of Silicon Valley Bank Wine Division candidly states, this year appears rather glum. Over 100 pages in length, it's quite extensive– I've teased out only a few important findings and conclusions.
Wine was last cool with younger consumers 30 years ago
The largest group of wine consumers are 60 years and older. However, their numbers diminish each year as people die. For the last 25 years, baby boomers have been the primary wine buyers, along with those born between 1925-1945, often referred to as the Silent Generation. (In this report, the latter group is called "mature.") McMillian confirms, "The age group above 60 is still growing in the amount they spend on wine even as their population is declining."
Interestingly, my own parents are not a reflection of that statistic. They have stopped consuming any alcohol at all. Since suffering from a massive stroke, my dad– now living in a New York state nursing home– only gets a sip or two of wine a year, from bottles donated by local wineries. About a year ago, my mom and step-dad, who reside in California, quit drinking due to health concerns.
When your largest consumer segment begins shrinking, it makes sense to study the drinking habits of younger generations. McMillian offers some thought-provoking insights: "A sizable number of alcohol consumers under 50 fall into the category of consumers who imbibe but have chosen not to drink wine. The data shows that consumers younger than 60 are less interested in buying wine today than they were in 2007."
If, like me, you're beginning to realize this isn't great news for the wine industry, you'd be right.
Younger drinkers just aren't as interested in wine
According to McMillian, "For many consumers, the data shows that wine is their parents' alcoholic beverage but not their own. With wine and spirits in nearly a statistical tie in a few age bands, this [SVB] survey supports other available research telling us that the new [younger] consumer in restaurants believes that wine isn't the only beverage that can be paired with food." McMillian concludes, "In this new consumer's eyes, spirits can be married equally well."
When The Harris Poll asked Gen Z (21-24) and Millennials (age 25-34) which type of beverage they are most likely to bring to a party, respondents preferred beer, spirits, flavored malt beverages and hard seltzers– practically every category– over wine. (Only ready-to-drink cocktails/cider ranked lower.) As you may have expected, nearly half the baby boomers selected wine, but that percentage drops 20 percent or more with all younger generations.
Millennials are adopting a trend last seen in the 1980s– purchasing wine solely for gifts or special occasions. The data indicates they could be wine-curious; a trait the wine industry needs to explore. However, McMillian believes wine producers should develop completely new ways of engaging with younger consumers. What works with baby boomers is not working with millennials. In fact, it may be driving them away from wine. Says McMillian, "Today, the wine industry's outreach and the millennials' retail silence in return is deafening. The factors creating this circumstance will not evolve in the industry's favor unless the wine industry decides to take on the challenge."
What's important to younger buyers?
The data shows we may be doing more harm than good with our existing tactics. So how do we fix the problem? The answer is to better understand these new consumers and what's important to them. According to McMillian, "Younger consumers are more interested in what's in the bottle— where it comes from, how it's grown, the ingredients and additives, how it can make their lives more fulfilling and how you as an organization try to make the world better."
Millennials value businesses practicing social responsibility. This is a big bucket; a few examples are: being charitable; celebrating ethnic diversity; adopting more environmentally-friendly practices; directed by the principles of justice, fairness and equity. Idealists, really. Dictionary.com's first definition of the word idealist is: "a person who cherishes or pursues high or noble principles, purposes, goals, etc." These are millennials.
McMillian explains, "Social responsibility is important to millennial consumers. That's a factor embedded in their purchase decisions. They are driving change in boardrooms, insisting that companies consider how they impact both the earth and society as a whole." He continues, "Younger consumers are effectively using activism and social pressure to initiate change and are reframing social expectations."
Some Oregon wineries have already positioned their businesses for success with this group by becoming certified B Corps. The B Corporation's website describes B Corps as those that "prioritize people and our planet in everything they do." No doubt that goal resonates with younger buyers. I plan to keep an eye on the marketing efforts of these businesses and track if more wineries obtain this certification.
How can wineries better market to younger buyers?
Fortunately, McMillian offers a number of suggestions; I've chosen to include a few here. Follow this link to read the full report:
www.svb.com/globalassets/trendsandinsights/reports/wine/svb-state-of-the-wine-industry-report-2023.pdf
1. List ingredients on a bottle of wine, like other food packaging. "Wine couldn't be any more natural, especially compared to other alcoholic beverages. But we aren't close to being transparent with what's inside our bottles," explains McMillian. "Not letting the consumer know just how few additives are in wine, how naturally it's made, how little sugar is in dry wine and how pure the beverage is remains a lost differentiator and a mistake."
2. Emphasize your charitable giving. I believe most wineries regularly donate wine to nonprofits. Many also contribute a portion of profits to organizations that embrace similar goals. Share that generosity on your website, social media and marketing materials.
3. Support sustainable farming practices. Incorporate LIVE-certified, organic, biodynamic or regenerative organic certified aspects into your business. Ask your growers to adopt these farming techniques in their vineyards. Everyone can be responsible stewards. Now make certain your customers and any possible buyer knows your winery cares about the environment and the measures you're taking to care for Mother Earth.
McMillian summarizes by saying, "All of those qualities are important to younger consumers, but the fact that these consumers don't see the wine industry in those terms is a failure of unified industry messaging." He concludes, "Our industry has values that are important to younger consumers, and we are exactly the beverage they are seeking that mirrors their values. They just don't know it!"
Personally, I couldn't agree more.