Fizzy Fun
Add some pop to your Valentine's Day with these sparkling wines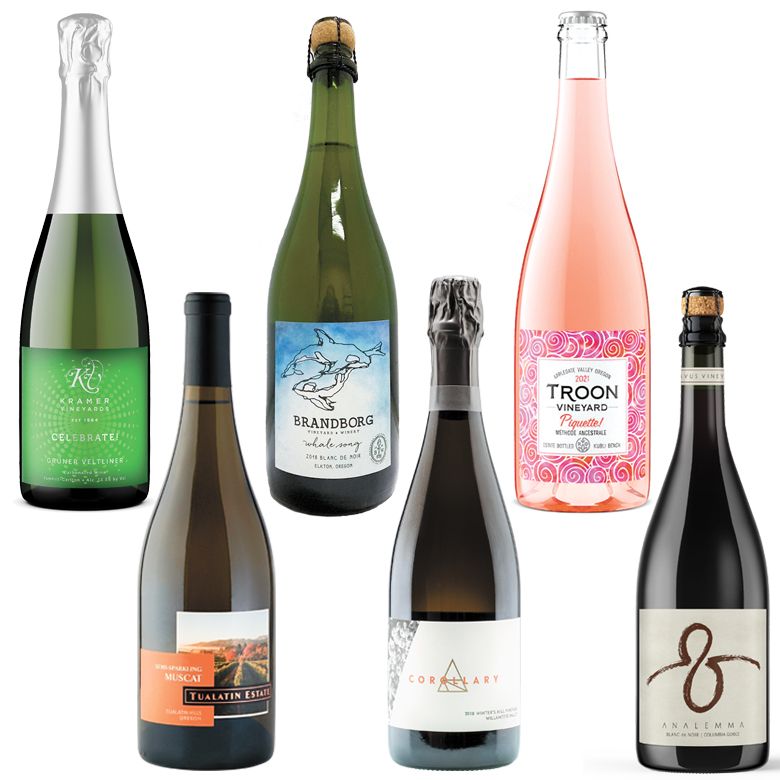 Kramer Vineyards 2021 Celebrate Grüner Veltliner

Kramer Vineyards produces many sparkling wines, including this one made with Grüner Veltliner grapes. Wine nerd alert: it might be the only Oregon sparkler made solely with this varietal. Notes of green apple, lemons and limes pair especially well with spicy Thai curry. Kramer offers a sparkling wine club so you can enjoy bubbles for Valentine's Day and all year long.
$29; kramervineyards.com


Tualatin Estate 2020 Semi-Sparkling Muscat
Tualatin Estate Vineyard was planted in 1973 and Willamette Valley Vineyards sourced grapes from there long before purchasing the property a few years ago. Situated in the Tualatin Hills AVA, the Laurelwood soil is rich with iron and other minerals. The result? Passion fruit, nectarines and peaches complement cheese courses and desserts, particularly when combined in Key lime cheesecake.
$22; wvv.com


Corollary Wines 2018 Winter's Hill Pinot Blanc
Corollary is dedicated exclusively to crafting sparkling wines, and their Pinot Blanc offering is made using grapes grown in the Dundee Hills. Acid-driven with notes of Meyer lemon and pears, it's perfect with fruits de mer: shrimp, scallops and oysters. To further their endeavor, Corollary recently purchased property in the Eola-Amity Hills appellation and anticipates growing their small production as their grapes mature in the coming years.
$60; corollarywines.com


Analemma Wines 2017 Atavus Blanc de Noirs Sparkling wine
Based in Mosier, a tiny town east of Hood River, Analemma follows biodynamic farming practices at their estate vineyard. The Atavus contains solely Pinot Noir grapes and is made using the traditional method. This sparkler practically overflows with green apple, lime zest and candied ginger, making it a wonderful wine to pair with dishes such as roasted duck and creamy pastas.
$76; analemmawines.com


Troon Vineyard 2021 Piquette!
Common in the Old World but quite rare in the U.S., Piquette is produced by rehydrating already-pressed grapes. A touch of water, combined with an overnight soak, yields more juice from grapes that would otherwise be composted. Refreshing and low in alcohol, this fizzy Piquette! has abundant strawberries and raspberries. It's great with brunch, cheeses and lighter fare. Consider this: Troon is down to the last few cases of this wine.
$25; troonvineyard.com


Brandborg Vineyard & Winery 2018 Whale Song Sparkling Blanc de Noir
Just a stone's throw (25 miles) from the Pacific Ocean, Brandborg's Ferris Wheel estate vineyard is situated at 1000 feet elevation. This sparkling wine is textured and bright, with notes of cherries, honeysuckle flowers and lemon bars. Enjoy with sushi and oysters.
$54; brandborgwine.com