From Barrel to Brixeur
Trisaetum Winery Launches New Spirits Line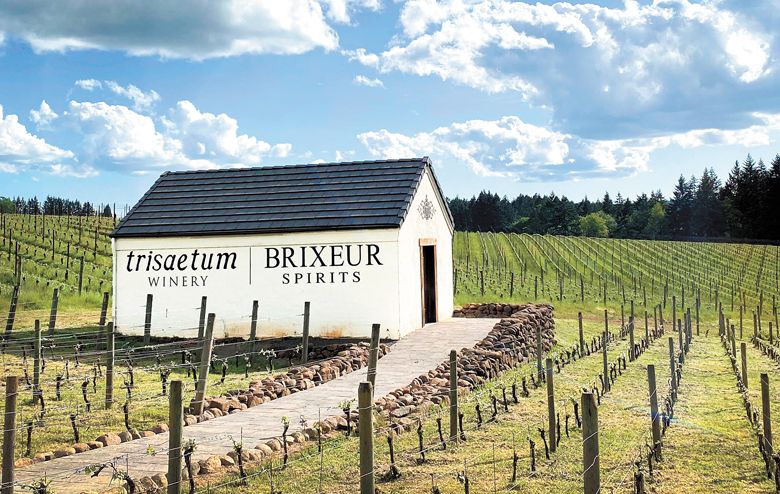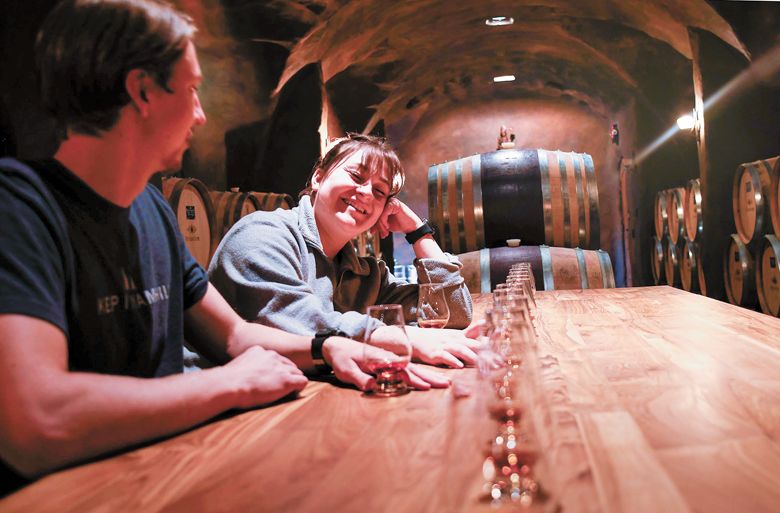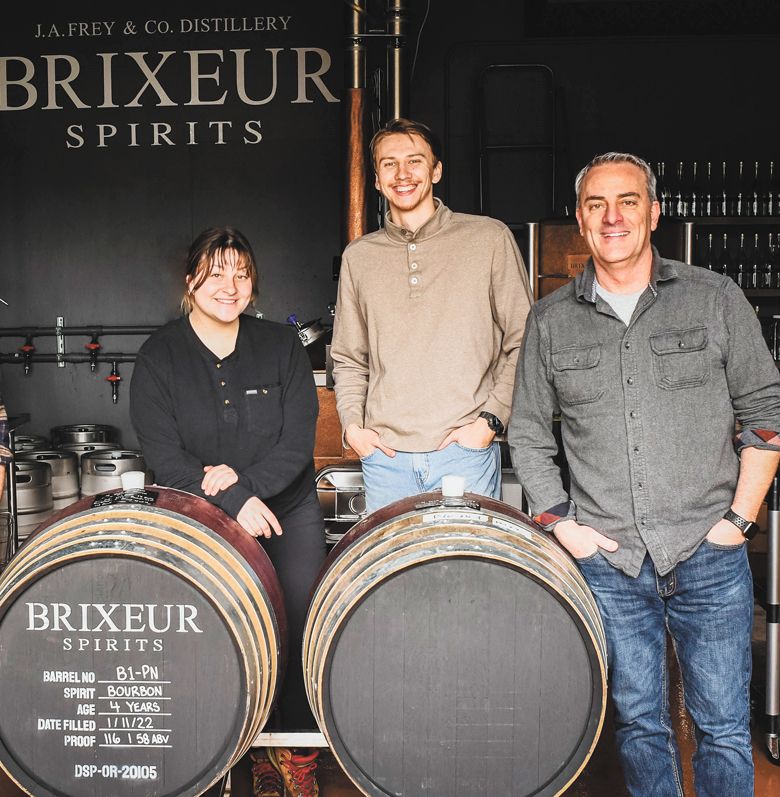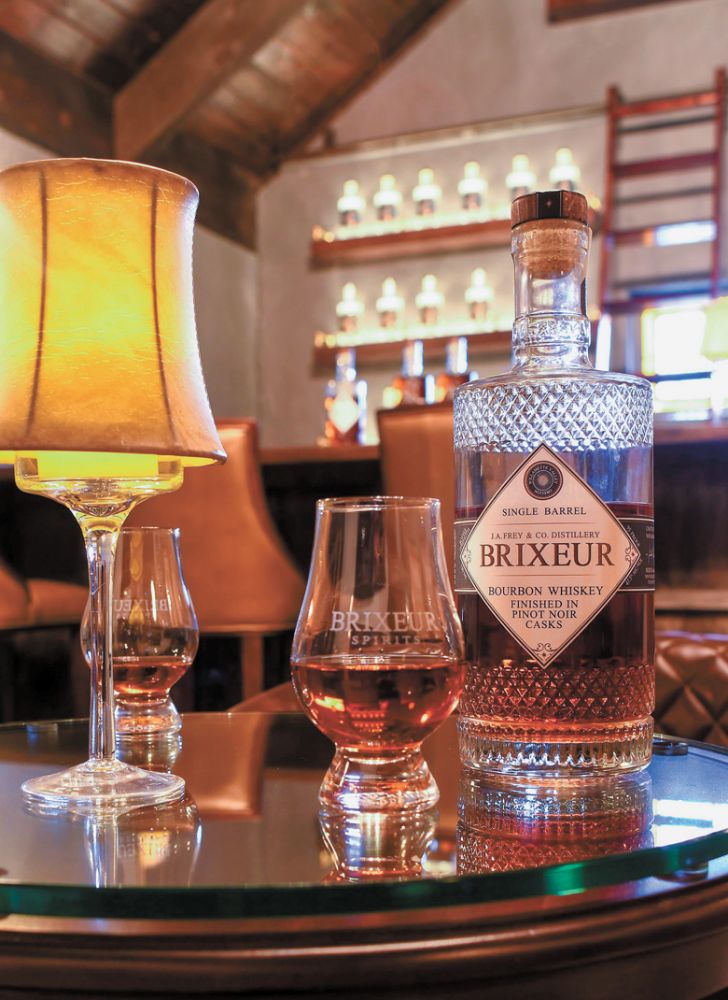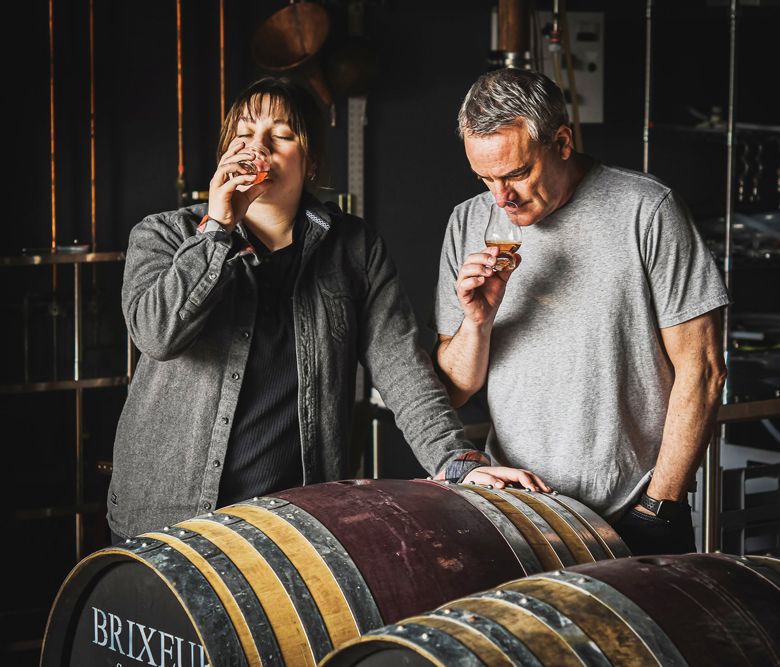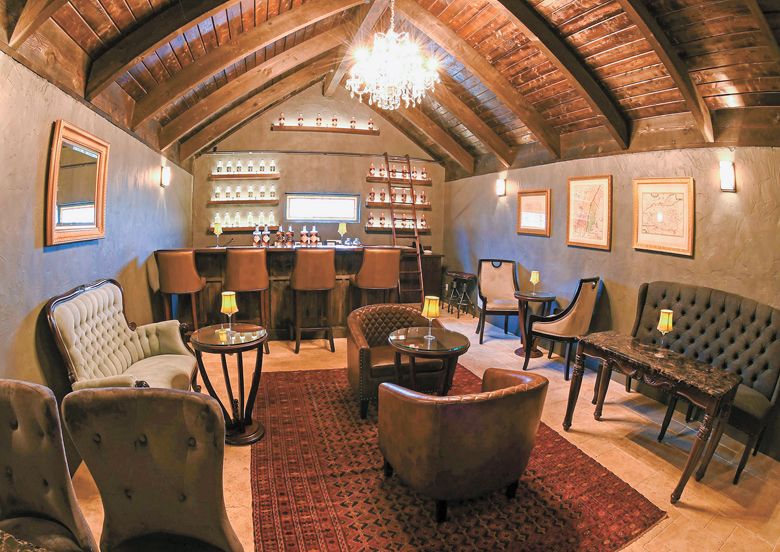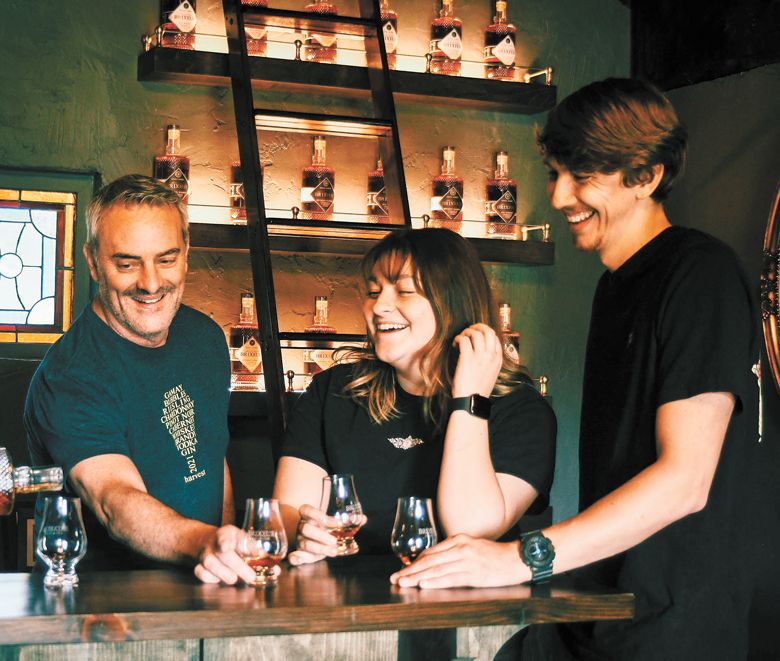 By Tamara Belgard Turner
When someone owns and operates both a successful winery and art gallery, starting a distillery might not feel like the next logical step. Unless, of course, you're James Frey of Trisaetum Winery.
Frey has received international acclaim for his Pinot Noir, Riesling and Chardonnay, including Third Best Wine in the World in 2015 by Wine Enthusiast Magazine. His unique paintings, now owned by collectors and corporations throughout the world, often incorporate vineyard cuttings, Pinot Noir grape skins— even vineyard soil. View his pieces currently displayed at The Allison Inn and Spa in Newberg, and as far away as The Clarion Hotel Post in Gothenburg, Sweden, and Maison Louis Jadot in Beaune, France.
For many, those accomplishments would suffice. But daughter Tatum Frey (the "aetum" in Trisaetum) describes her father as equal parts brilliant and impatient. "He's a mover and shaker, known for having lots of great ideas. My dad is in constant pursuit of building, growing, experimenting and improving."
At some point along James Frey's winemaking journey, he developed a passion for spirits. "I have serious trouble only doing one of anything, so I channeled my enthusiasm into building a distillery. As Tatum began to show an interest in distilling, it became obvious that we should start Brixeur Spirits." In the summer of 2022, Brixeur Spirits was realized with Tatum Frey and partner Jackson Harloff working as co-lead distillers.
From Wine to Spirits
James Frey believes the spirits model aligns well with their wine production process. "We have plenty of freshly emptied wine casks during the year. Multiple rackings of whiskey into these seasoned barrels made a lot of sense. We are fortunate to work with many types of grapes, providing unique combinations for the spirits' aging process."
Evidently, creating two different products within the same space makes sense. According to Tatum, the production process between the winery and distillery is completely intermingled because they not only share a building but also a production team.
The distillery, positioned just off the wine barrel cave, contains both column and pot stills; three in all. "We distill wine for our vodka and gin, and utilize varying wine barrels for our whiskey aging. Since our production team shares both responsibilities, the distillery hibernates for harvest as everyone shifts focus specifically to grapes for a few months. As a small family-run operation, it's necessary to wear many hats, offering everyone an opportunity to create both wine and spirits in the same space with the same people."
Fortunately for Tatum, she also enjoys the people with whom she works. "I really enjoy working alongside my partner Jackson (whom she jokingly refers to as 'the favorite child') and my dad. Getting to create something with people you love makes the process much more special. Additionally, I revel in the creative freedom; crafting from still to bottle is an incredibly rewarding experience."
To the casual observer, it appears she has found her true calling. "Growing up, I remember sorting grapes (all while complaining about how cold my hands were) and greeting club members with my Nana during open house events. I always loved being at the winery, but didn't find my passion for crafting wine and spirits until later." And while her wine knowledge is completely on-point, her enthusiasm is apparent when sharing details about their spirits program. Never one to rest on privilege, Tatum has both studied and worked hard to earn her place as co-lead distiller.
Breaking it Down
When the Freys and Harloff first started down the path to spirits, their initial goal was to make sensational gin. They soon realized vodka should be first. Using fruit from their vineyards, the team crafted a neutral spirit with layers of complexity. Today, there are 11 different spirits in the Brixeur lineup, all with some connection to the winery or the Willamette Valley.
The Brixeur vodka is distilled from three different base spirits (most distillers use only one): Trisaetum grapes, French wheat and Polish potatoes. The four gins feature locally foraged botanicals along with ingredients from around the world. Brixeur's six whiskeys (a combination of Bourbon and Rye whiskeys) are triple-cask-aged in a mix of new American oak barrels and seasoned Pinot Noir, Cabernet Sauvignon and Riesling casks from the winery.
A Bourbon label requires that a whiskey be aged in charred American oak a minimum of two years. All Brixeur's whiskeys age in barrel at least four years; three in charred new American oak, then six months in former Pinot Noir casks and, last, six more months in a second Pinot barrel. James Frey says the whiskey aged in Riesling casks has been the major surprise. The wine-infused wood fundamentally changes the spirit; it has become their favorite.
You might be wondering about the learning curve— going from vinifera to spirits. James Frey explains, "Winemaking has always been a mix of science and art. I think distilling is the same way. Ultimately, like wine, you make spirits with your palate. It's the artistic part that makes something special, so we taste a lot during the process. Brixeur's spirits line has only helped his palate development as a winemaker. For example, he now better recognizes the differences between Key lime, dessert lime, lime leaf and lime peel.
Blending spirits is akin to combining barrels of wine, so the creative side of distilling feels quite familiar to the Freys. Tatum and Harloff craft small runs in order to adjust their recipes and retain better control during production. Utilizing their small-pot still, the co-distillers have spent the better part of a year refining scores of individual botanicals one-by-one. Doing so allows them a better idea of how each ingredient complements the batch.
Unique Components
Harloff enjoys the entire gin-making process, from garden to bottle. Growing up in Yamhill County, his family was passionate about gardening. They spent plenty of time tending to their land and learning about native flora. He says, "When we started Brixeur, I planted a garden to cultivate our own botanicals. I love watching these plants grow and develop, then introducing them into our distilling process. It's incredible to create flavor and aroma combinations from plants I grew."
Harloff grows many of the botanicals in the Willamette Valley. The rest are foraged, from local sources or purchased elsewhere. For reference, Brixeur's Labyrinth Gin contains 59 different botanicals, likely more than any other in the world. James Frey says there are 85 possible botanicals, some of which might be unfamiliar, like orris root or cubeb berry. The combinations and possibilities are practically endless.
Following in her father's brilliant, impatient footsteps, Tatum characterizes her creative freedom as a double-edged sword. "I am constantly dreaming of new spirits, and my brain is always coming up with innovative recipes. It's both exhausting and exciting at the same time." In the not-too-distant future, fans might expect vermouth, brandy or even absinthe made from their own wormwood and fennel somewhere in the not-too-distant future.
For now, Brixeur's flagship products and seasonal one-time releases can be tasted and purchased at the Trisaetum Winery. Visitors are welcomed into the Brixeur Cottage, their uber intimate speakeasy-style building, situated in the middle of their estate vineyard. Soon Brixeur Spirits will be stocked at local restaurants and bars, and eventually select markets around the country.