Reaping the Rewards
Our Legacy Harvested interns share their experiences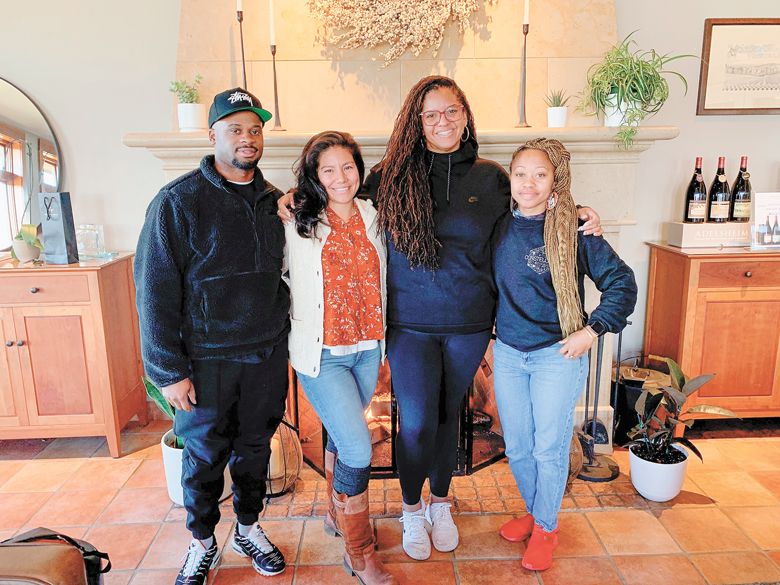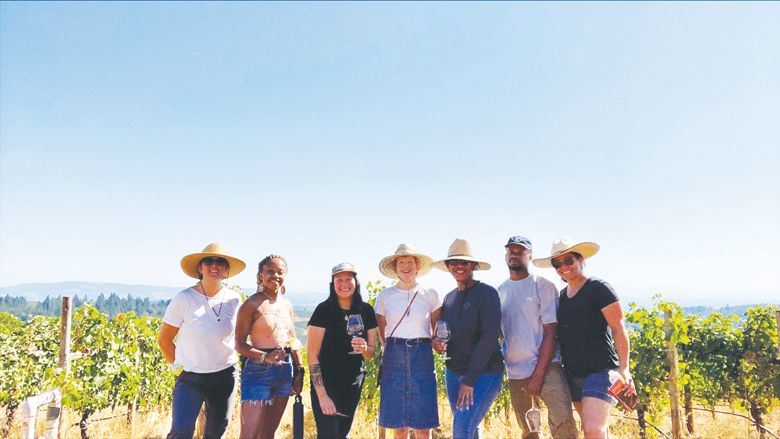 By PATTY MAMULA
When Tiquette Bramlett was named president of Compris Vineyard in 2020, she was the first black woman to head a Willamette Valley winery. Immediately, she began blazing trails for others, including nonprofit to attract more diverse people into Oregon's wineries. Our Legacy Harvested, or OLH, empowers and educates BIPOC individuals in the wine industry.
The initial goal, announced in 2021, established an internship program, focused on harvest and production. Beginning in August, it ended days before Thanksgiving, graduating four students. (See Harvesting Experience in the September 2022 issue to read more about the programs and interns.)
Bramlett shared, "We all learned from this internship. When adjustments were required, it was easier for us at OLH to pivot than the participating wineries."
Both Raven Blake, from Connecticut, and Marcela Alcantar-Marshall, of nearby Carlton, worked at Adelsheim Vineyard. Denzel Green, from Louisiana, worked at WillaKenzie Estate. Portlander Dr. Kimberley Dockery, originally paired with Compris Vineyard, but due to health issues, could not work harvest. Instead, she prepared for a Wine and Spirit Education Trust, or WSET exam, with plans to teach. One candidate was unable to participate.
"In the beginning, before everything got hectic, we went on a couple field trips to Abbey Creek Vineyard and Winery and Knudsen Vineyards. Most of the instruction was hands-on with the individual wineries," said Bramlett. The planned group sessions turned impromptu due to harvest demands. On their own, Blake found time to visit several wineries in Eugene.
Green arrived shortly before the August start. "We began harvesting grapes for white and bubbly wine at the end of September. Then we brought in Pinot Noir grapes for three or four weeks," he recalled. "Once the fruit came in, the staff explained why we were picking at that time. We visited the vineyard to pull samples from different blocks, then tested brix (sugar levels), pH and acidity."
For Alcantar-Marshall, the first couple weeks of training focused on safely operating harvest equipment, including forklifts and pallet jacks. "They taught us how to combine the cleaning chemicals, how to clean the tanks and move things, like the fermentation bins, around." Blake agreed about the emphasis on sanitation. "The first days, while learning the equipment, were 'easy,' working between 8 a.m. to 3 p.m."
"But, once the grapes arrived, we went from zero to 60," recounted Alcantar-Marshall. "We often put in 60-hour weeks." Although she finds long, hard work rewarding, the hours required some tough juggling with her two children.
As Alcantar-Marshall explained the operation of the pumps to transport wine juice, she jumped up and escorted us into Adelsheim's nearby cellar. There, standing on the platform near the top of the tanks, she explained their process of pumping the grape must from the bottom of the tank to the top. Blake and I communicated by walkie-talkie. "One of us would be standing up at the top of the tank and the other at the bottom. It was important we didn't mix wines. We couldn't see each other, so we confirmed that, for instance, 101 was going to 101. Once, I nearly put juice in the wrong tank."
"We looked after each other," explained Blake. "Like when we went to do pump-overs, we made sure the air was on from the air compressor before hooking it up to the pumps."
Blake said, "We brought in 400 tons of grapes. I enjoyed being in the vineyard more than I thought I would." They said the interns would gather samples. "It was fun to walk through the vineyards and taste the fruit, while learning the many soil types, clones and differences in flavor due to age and planting dates."
The highlight of harvest for both of them was working with supportive winemaking team. "Everyone was lovely; it was a family environment," said Alcantar-Marshall. "The culture is very down-to-earth. From the winemaker to the tasting room staff to the vineyard workers and cellar crew, they were all enjoyable. We appreciated the variety, diversity and openness of the people. Many have been here for close to 20 years." Alcantar-Marshall, with a background in construction and civil engineering, contrasted the helpful team at the winery with construction sites, where she said people act angry all the time.
For Green, the four-month experience contained more ups than downs. "I came into it focused on production," he said. "But, as I was exposed to other roles, like retail, I started moving away from production." Although still interested in eventually being a winemaker, he would prefer to gain more expertise with retail shops.
The experience was modified for Dockery, who concentrated on preparing for the Wine & Spirit Education Trust Level II Exam. The instructor for her class was from Adelsheim Vineyard.
In addition to the OLH internship, she received a scholarship from the Sommelier Foundation at Cooper's Hawk Winery & Restaurants in Chicago, and was paired with vice president of wine experiences master sommelier Emily Wines. She advised Dockery to begin at Level II. "You already have the basic knowledge," she explained.
Passing the Level II exam will qualify her to work in a tasting room or retail shop. In conversations with her mentor, Dockery described her interest in teaching wine education and writing about pairing wine with food, specifically plant-based food, because she is vegan. "My mentor encouraged me, explaining it would fill a unique niche."
She plans to continue advancing to higher levels of WSET in order to qualify for teaching.
Dockery postponed her full-time work as a family therapist in a medical facility while completing her internship. "I enjoyed coming down to meet-and-greets with fellow interns. We all enjoyed hands-on visits where we walked the vineyards and learned the history of grapes, beyond solely tasting wine," she recalled.
"This opportunity was very special; the chance to develop personal relationships was invaluable. I'm grateful to OLH for creating space for someone like me to be here," she said.
Dockery is headed in the direction of writing and teaching about wine. "I enjoyed the production experience, but that's not my focus. I've considered starting a basic class with a small group, perhaps a workshop about how to taste wine." She believes this internship is only the beginning for each of them. "I'm excited to see what's next and determine how I can give back."
The connections and community were aspect all four interns mentioned repeatedly. Green shared, "OLH positioned us to thrive. It helped me open up to the world. The whole experience was very communal with winemakers freely sharing their knowledge."
Bramlett agreed, "Part of the ultimate mission of OLH is to create space for all. For each, it's the story of what they created with their internship."
Green plans to return to the Pacific Northwest and look for employment. He made good connections and wants to see where those relationships lead. "A community has been built here for me," he said.
Blake plans to return as well. "I like working with my hands and find I learn so much that way. Reading, being in the cellar, seeing the wine develop, feeling and tasting all help me better understand wine. I especially like pruning, racking, barreling. Hard work means much more to me now," she said.
Blake worked a harvest nine years ago in New York and was eager to see how they felt after this internship. "I'm more interested in winemaking now than ever before," they said. Her ideal job would be a hybrid one with a production emphasis. They are interviewing and plans to move to Oregon after securing a job.
For Alcantar-Marshall, this harvest increased her interest in viticulture. "I would like to become a vineyard manager," she shared. That requires more education into the plants themselves, the theory of planting and more hands-on experience in the fields.
The next class of interns begins shortly, this time focusing on front of the house winery business. "We hope to increase our class to at least five, hinging on the success of fundraising efforts," said Bramlett. "Our inaugural class was a learning experience for all of us and serves as a reminder that wine education is never ending," said Bramlett.