In the Flesh
Symposium is wine education at its best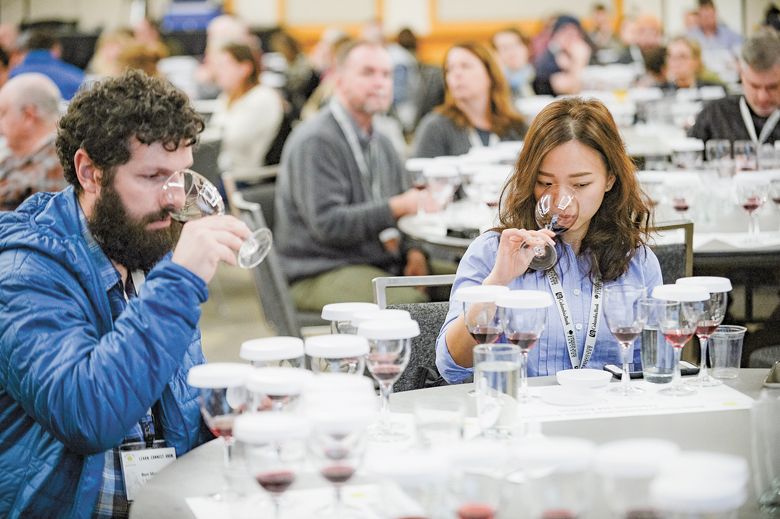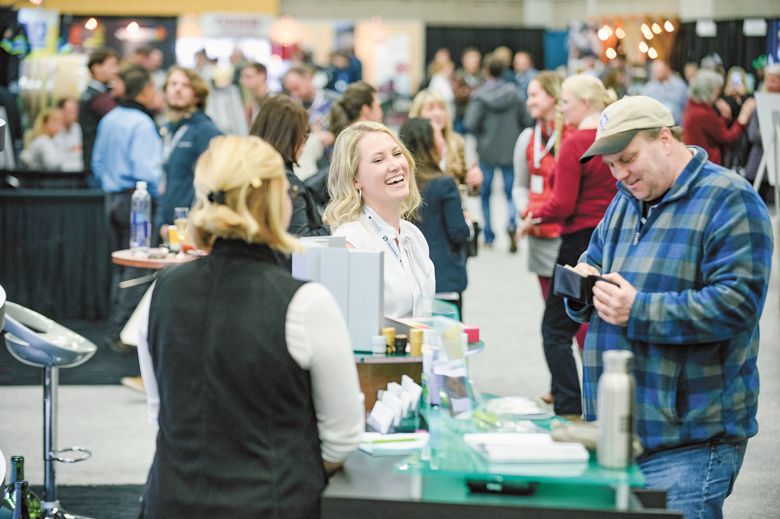 By MICHELE FRANCISCO
Jump into a time machine with me as we return to the early days of Oregon wine.
when the number of wineries could be counted solely on your fingers and toes. Those wine growers understood the importance and value of both marketing and advocacy. They chose to voluntarily tax themselves; the money collected was specifically designated to increase awareness of "Brand Oregon," a now common term in our wine community. Industry forefathers and foremothers were incredibly wise. Without their self-imposed taxation, Oregon wine would not be where we find ourselves today.
Currently, the Oregon Wine Board, or OWB, uses funds generated by the state's wine tax to both promote and champion the continued development of Oregon wine. Considered a semi-independent state agency, the organization includes staff and appointed board members serving a mission with both an internal and external focus. It strives to represent, along with educate and inform our industry.
It accomplishes these goals with educational seminars throughout the year and, most notably, by hosting an annual Oregon Wine Symposium conference. Because of the pandemic, the industry-only event was held virtually the last two years. This month (Feb. 14-15), it returns to the Oregon Convention Center in Portland for two days of in-person education and networking.
Oregon Wine Board executive director Tom Danowski says, "The annual Oregon Wine Symposium brings more than 1,500 wine professionals from around the world to Oregon, and its popularity reflects the state's ascendancy on the world's wine stage."
Symposium attendees select from sessions within three tracks: viticulture, enology and sales. Like me, some choose a combination, while others focus solely on one educational aspect. The event also includes several general information sessions on topics beneficial to the whole industry. Year after year, I look forward to the Climatology Report, presented by Dr. Greg Jones, who also writes Weather, Climate & Wine, a bi-monthly OWP column.
"After attending regional wine industry meetings around the world, I can say that Oregon's Symposium is one of the best in terms of applicable scientific and business content," agrees Jones, research climatologist and CEO of Abacela Winery in Roseburg.
Also on my list? Sparkling Continuing Education, Impacts and Learning from the 2022 Frost Event, Smoke-Affected Wine and Attracting and Retaining Staff (featuring the Oregon Labor Survey Results). Between sessions, I find it interesting to visit the adjacent tradeshow (sponsored by the Oregon Wine Growers Association) in search of the latest industry technologies and supplies for my tiny hobby vineyard. This year, a Valentine's Day soirée offers the opportunity to mingle with colleagues while making new acquaintances.
"The Oregon Wine Symposium is the one time of year that the whole wine industry gets together under one roof. We share the past year's successes and failures, talk about our hopes for the coming vintage and kick some tires on new equipment. This year, especially, I'm excited to see everyone again soon," says Willamette Valley-based Alex Sokol Blosser, Oregon Wine Growers Association board member, co-president and winemaker of Sokol Blosser Winery.
Others in Oregon's wine industry find merit in all the Symposium offers each year. Southern Oregon resident Dionne Irvine, co-owner of Irvine & Roberts Vineyards, OWB board member and former OWA board member explains, "To have an educational forum combined with an opportunity to connect and do business with our trade partners, all in one place, is priceless. This makes the Oregon Wine Symposium a not-to-miss event, even for those who travel the farthest. There is nothing more powerful than the strength of an industry that comes together to continue to move forward in a positive and meaningful way."
Since moving to the state in 2010, I continue to be impressed by the collective compatibility exhibited by our industry. In good times and bad, we help one another– offering a hand, equipment and often expertise. Rather than acting as competitors, we understand the importance of working together. By bringing everyone under one roof each year, the Oregon Wine Symposium helps strengthen this unified attitude and behavior.
In my view, Eugene resident Justin King, Oregon Wine Board chair and King Estate's national sales manager, states it best: "Symposium is such a valuable opportunity for Oregon's wine community to learn, share and connect with each other. After pandemic disruptions and organizational changes, holding the event in person again is exciting and underlines its importance to the industry. The Oregon Wine Board staff, education committee and Oregon Wine Growers Association deserve our thanks for their work to bring us Symposium '23!"
Those in the wine industry who don't yet have a ticket, visit oregonwinesymposium.com to review the event program and secure your spot.