2022 OWP Person of the Year: Janie Brooks Heuck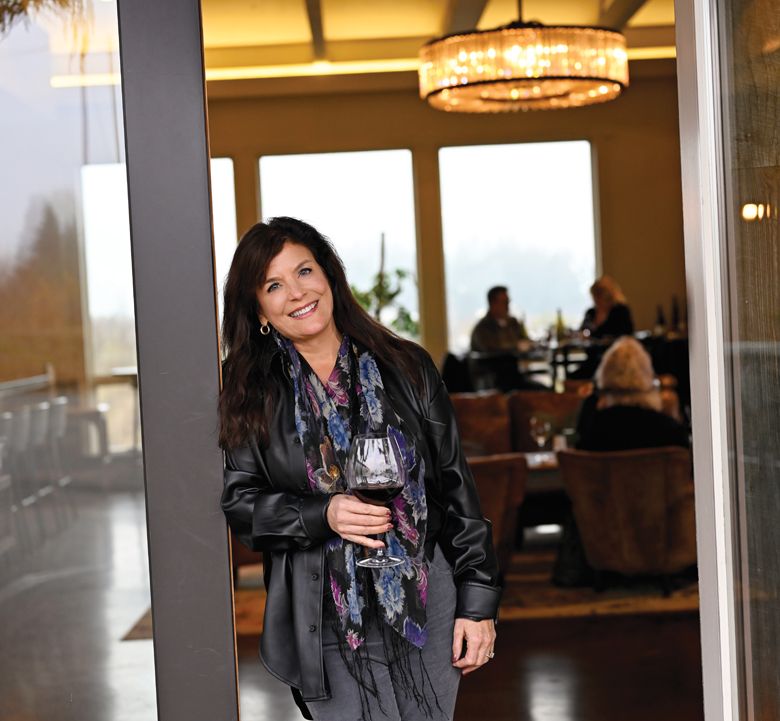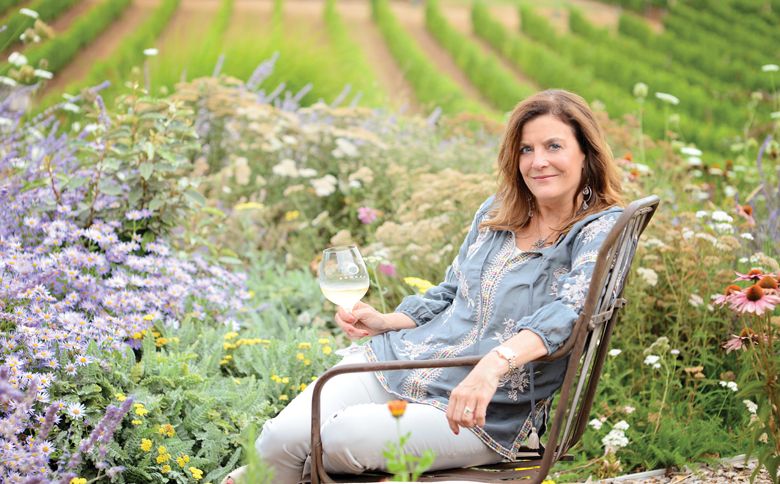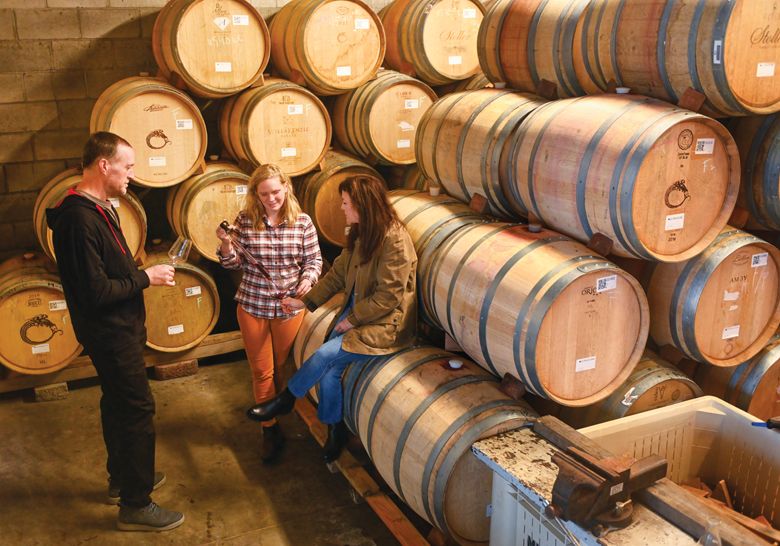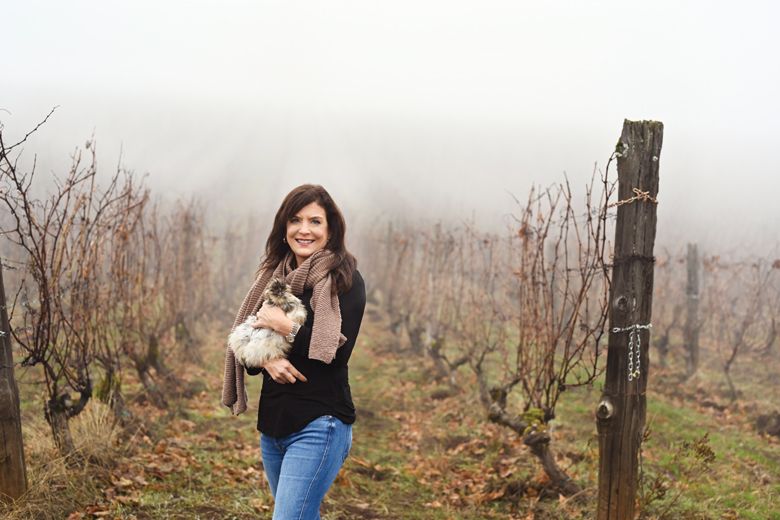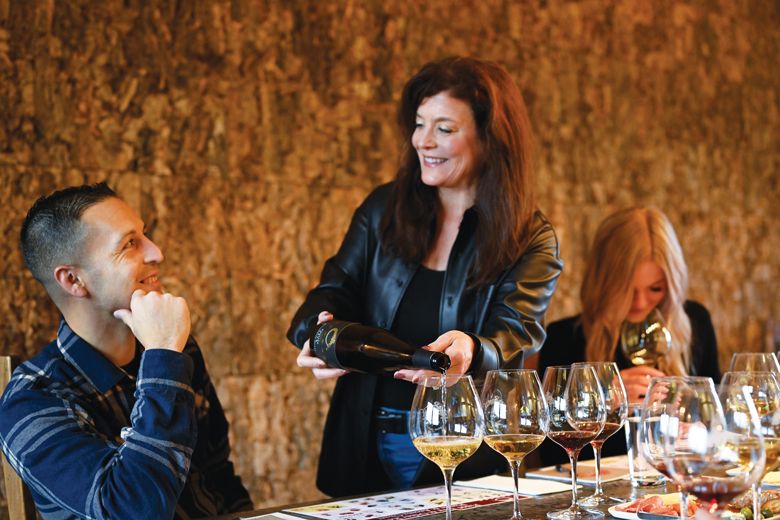 STORY By CASSONDRA BIRD
PHOTOS By CAROLYN WELLS-KRAMER
Janie Brooks Heuck has been at the helm of Brooks Wine (www.brookswine.com) since 2004. She was thrust into the position following the unexpected death of her brother Jimi. Jimi's legacy and philosophy drove the work of Brooks Wine, and the 2004 vintage continues to be at the forefront of the winery's story.
Total production has grown substantially since then. In 2003, his last vintage, Jimi made 2300 cases. Today, the winery makes 20,000 cases annually, with a nationwide wine club and a groundbreaking dedication to community and environmental sustainability. This astounding growth is due to Jimi's sister, Janie Brooks.
Brooks' commitment to relationships and hospitality has made Brooks Wine a company customers love. Coupled with her drive to preserve her brother's legacy, Brooks has a deep dedication to sustainability and giving back that is unmatched in this industry. Her stewardship of Brooks Wine over the last 18 years has grown her family's namesake winery and the reputation of Oregon wine worldwide. Her influence on the Oregon wine industry for nearly two decades makes her our choice for Person of the Year.
Brooks became managing director of Brooks Wine on September 4, 2004, the day her brother died. (The sole owner of the winery is Jimi's son, Pascal.) That night, winemakers from 12 wineries, all Jimi's friends, created a plan and offered their help. Considering their friend's dream and his contracts with vineyard owners, the group wanted to move forward and ensure the vintage of Brooks Wine was produced in his honor. They felt Jimi's legacy should be how he kept his promises to his grape growers. Making his wine was also a way to honor their friend. "I would've done anything at that point," Jay Somers of J.C. Somers Vintner explained. "I didn't even look at it as helping. Of course, it's my job." They needed Brooks' agreement to run the business that year. At the time, nobody expected the winery would continue much beyond that grim harvest.
While the winemakers shepherded the 2004 harvest to fruition, dividing production and using their own limited space to vinify it, Brooks attended her first viticulture and enology course at U.C. Davis. She was able to rely on distributor relationships her brother had fostered to sell that vintage. She credits the caring group of winemakers as the reason Brooks Wine is still going strong today. "They could've kept the fruit and made their own wine, and if they had given me that advice, I probably would've done it. I am so appreciative of their vision."
Another dedicated to this vision was Chris Williams, Jimi's assistant winemaker. He assumed Jimi's several winemaking positions that year. He had no time to think about the future then.
It wasn't until spring 2005 that Williams suggested they continue building the company. He called Brooks a few months after harvest, offering to be her winemaker. "To me, it just felt right," Williams explained, adding, "It was really all about Janie. She had to want to continue this. I had to see what she thought of the idea."
Brooks reflects on those days as a series of decisions. The first, the night her brother died, was easy: together the winemakers had made a plan for her, and she wanted her brother's wine to be made. In 2005, there was no choice but to continue. She hired Williams and they made Brooks Wines in a custom crush facility.
In 2008, Williams and Brooks agreed they needed their own facility if they were going to keep increasing production. Each decision was a choice to grow, and for Brooks to keep running her brother's company. Throughout the years, the two have been a team. "I got along really well with her right away," Williams said about his choice to continue at Brooks Wine. "Janie is less concerned about what should be done, but focused more on what can be done."
They wholeheartedly honor Jimi's philosophies. His passion for biodynamics led Brooks to run their estate biodynamically, and Williams moved to using native fermentations with minimal intervention winemaking. Williams believes his decisions are ones Jimi would have adopted as well. Brooks also followed her brother's goals, by continuing to improve the winery's sustainability and community efforts. "I believe that if we're all here doing this, we should be giving back, and taking care of things. I think it should be at the forefront of what everybody's doing."
Over the years, Brooks has held many volunteer positions, expanding connections and knowledge of her adopted industry. "Being in an industry filled with such amazing people that have accepted me, it's a gift," she says, one she worked hard to earn. She has volunteered with Oregon Pinot Camp, and Brooks Wine is involved annually with IPNC. She sits on the Willamette Valley Wineries Association Barrel Auction Committee, sat on the board of the International Riesling Foundation, and represented Oregon on the Board of Directors for WineAmerica for six years, two as the organization's chair. "All these positions have helped me meet everyone in the industry, allowing for a more comprehensive understanding of operations at both the state and national levels."
After the 2019 vintage, Williams and Brooks decided to slow the winery's annual production volume. "We purposefully chose to maintain our existing case count; now our growth is focused on improving, being the best we can be." For Brooks, this means refining and improving her company's sustainability efforts and giving back to the community. She spearheaded Brooks Wine's efforts to obtain Certified B Corporation status. Demeter-certified since 2013 (practicing since 2002), Brooks Wine is also a member of 1% for the Planet and partners with Ecologi for reforestation projects. In addition to the purchasing offsets with Ecologi, the winery plants a tree for every $50 spent on wine.
Recently, Brooks included the website in her sustainability quest, creating the world's first winery website built with digital sustainability in mind. She learned that if the internet were a country, it would be the sixth-largest consumer of energy. This realization led her to work with 5forests, utilizing their Earth First Ecommerce protocol to design a website that uses minimal resources. The website currently is hosted by a company powered by renewable energy. These interests created a business that Brooks feels proud to lead and winery customers are happy to support.
Williams and Brooks independently stressed how each is most grateful to their employees. "I'm really proud of the length of service of our team here," Brooks explained. Williams has worked for Brooks Wine since the beginning, and multiple team members have been there for a decade. "I must be doing something right to have this level of support." Becoming certified as a B Corp allowed her to concentrate on how the winery could still improve as an employer. "We added benefits I never would've thought of," she said, based on the certification's suggestions. Brooks Wine's ethos means taking care of people and planet.
In 2014, while deciding to build a new winery and tasting room, Brooks envisioned many goals for the space. "I wanted our tasting room to be a community gathering place. It's about providing our guests an experience that makes them want to return." To foster community connection, Brooks Wine offers classes, dinners and events that don't always focus solely on wine, such as cooking and gardening classes. "Somebody might like wine but really like gardening," Brooks explains. She wants everyone to have a reason to visit.
Brooks feels honored by guests coming to the tasting room. The team strives to ensure guests will enjoy a memorable experience, and hopefully return frequently. "If my team and I can just give a little glimmer of goodness to every person we touch through this business, then that's what I want to do."
This desire partially explains why Brooks started writing Sunday emails during the pandemic. She felt the company needed to connect more deeply with their community. "A personal touch, a human element, should play a part in everything we do," she explains. Her emails are famously heartfelt and candid, often including memories of Jimi or stories about her week, and signed with her personal email and cell phone number. She receives random calls for reservations (which she arranges), along with personal notes and suggestions. "People feel like they can tell me things. They know where my heart is and aren't afraid to talk to me, even if it may not be positive, and give me an opportunity to fix it." Brooks bases the company's outlook and interactions on human connection instead of sales pitches. For many, their knowledge of Brooks Wine is solely through those emails.
COVID-19 inflicted numerous challenges to businesses. The summer of 2020, as tasting rooms began to reopen, Brooks Wine constructed a new station with full service, adjacent to their biodynamic garden, to provide a safe customer experience. That outdoor space, now permanent, adds to their capacity during the busy season. "We doubled our seating while being super strict about COVID. In 2021, we invested in an air purification system for all of our indoor spaces to protect our team and our guests. People feel very safe coming here."
Continuing to build community under the constraints of COVID-19 presented a challenge Brooks Wine met head on, but in the fall of 2020 when the many wildfires ignited around the state, they dealt a devastating blow with their destructive smoke. Brooks decided against making wine that year, because she didn't want to ask her production team to create amazing wine from fruit impacted by smoke. "I made the decision fairly early, so growers could find other homes for their fruit. I told them that if they did or even if they couldn't, I would be there to support them." At the time, although Brooks Wine had crop insurance, she didn't realize how many growers did not. Supporting the farmers is a tenet of Brooks Wine, and Brooks especially treasures the relationships with growers passed down to her by Jimi.
Finding a way to pay her farmers required some creativity. The solution? Brooks established a fund to pay their growers by taking proceeds from sales of the single vineyard wines created with their fruit. "If you love Crannell's Pinot Noir, you could buy a case of Crannell and know you were directly helping Dick [Crannell]." It offered consumers a unique glimpse into the industry and worked well: Within six months Brooks Wine met all their obligations to growers.
With the decision not to produce wine in 2020, one commitment could not be fulfilled: the hired intern team no longer had jobs. But Brooks offered them positions for the following harvest. They all accepted, instead working the 2021 harvest. "Luckily, we didn't lose those relationships either," Brooks said.
Brooks Wine celebrates its 25th anniversary this year along with the 50th of their estate vineyard. Brooks will be hosting events, both at the winery and in Portland, as well as a few celebrations on the road, to appreciate wine club members in other parts of the country. Just as she is humbled by guests choosing to visit the tasting room, her gratitude for their long-term patrons remains clear. She is excited to bring the party to them. "We have benefited from their support over the last 25 years, and I want to be able to say thank you." 