Three of a perfect pair
Oregon restaurants offer creative food and wine combinations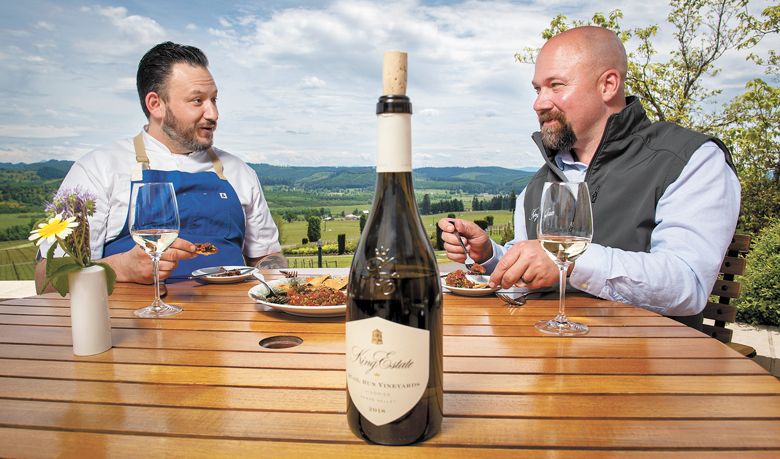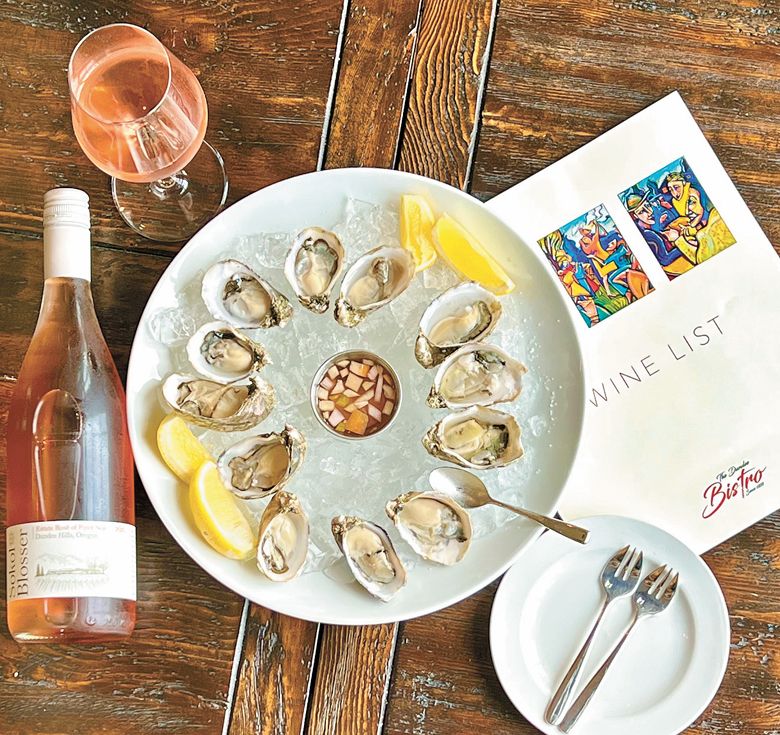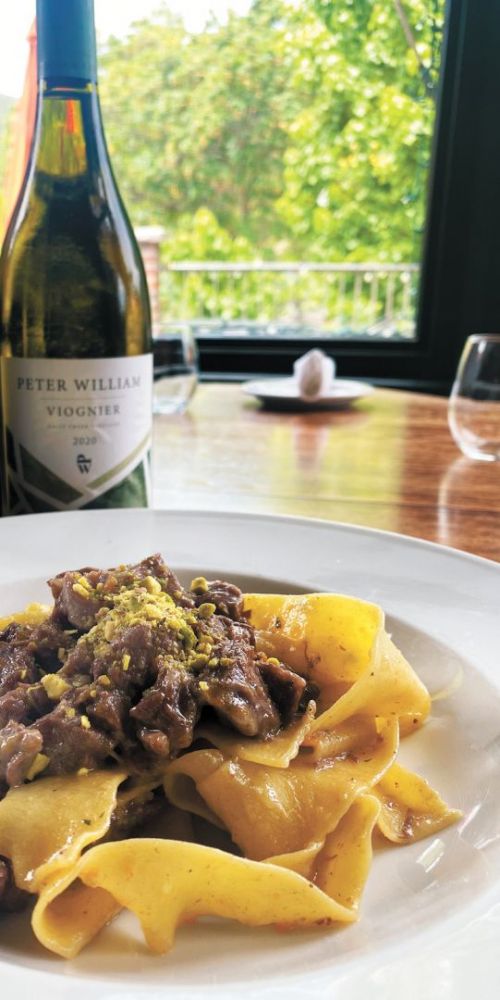 By Paul Omundson
In the sensory world, of sensory aren't we all striving for excellent wine and food pairings? Delights are elevated when matched wine and food co-exist.
I share three Oregon establishments, all famous for presenting memorable pairings. Chefs at these Oregon restaurants, one within a winery, reveal a favorite combination and explain why it works so well. Best of all, their tips allow you at home to replicate the taste and magic of these food and wine pairings.
Ashland
Osteria La Briccola: Lamb Pappardelle with Peter William Vineyard 2020 Viognier Daisy Creek Vineyard
When turning off the highway toward Ashland and stopping at Osteria La Briccola, you simultaneously enter northern Italy. Business partners Davide and Sherri Ghizzoni opened the restaurant a year ago, after moving to the area from Los Angeles. Bologna-native Davide, an executive chef for four decades, cooks wonderful, authentic Italian cuisine for Southern Oregon residents and travelers. Former wife, Sherri, runs the operation, offering numerous local and Italian wines that complement Davide's kitchen wizardry.
Davide selects his lamb pappardelle; a signature dish with diced lamb shoulder served over broad, flat ribbons of pasta, topped with crushed pistachios. "It's a rich dish, yet not heavy," he says. "And it pairs beautifully with a crisp Viognier, such as this one made by Peter William."
Tips: Davide recommends leaving at least half the fat on the shoulder when you purchase the meat. Just trim the top layer and keep "that beautiful fat in the middle. The fat is the secret to the flavor," he says. Sherri adds that this dish is one of those that pairs well with any light red or white wine. "You can have it with the Viognier I recommend or with a Tempranillo or Sauvignon Blanc," she says. "It's your choice."
If you're dining at the restaurant, enjoy their house-made Panna Cotta, a vanilla custard topped with a sprinkle of berries for dessert.
Eugene
King Estate Winery Restaurant: Prime Painted Hills Beef Tartare with King Estate 2018 Quail Run Viognier
Pairings count as major hobbies for King Estate Winery COO and Winemaker Brent Stone and his wife, Barbara, a nationwide liaison between hops growers and brewers. At their home in the Lorane Valley, just across the hill from the winery, the Stones often experiment with beer, wine and food pairings. One unexpected pairing, the restaurant's beef tartare with a King Estate Viognier, was discovered during a recent party with friends.
"It's not a pairing you immediately think of," Stone admits. "For this dish, we tend to go with a red wine, but the balance between the tartare and our Quail Run Viognier really stands out. The flavors and texture of the dish match well with the stone fruit flavors, richness and creaminess of the white wine. I am surprised how well they work together."
Matt Hobbs, King Estate Restaurant executive chef, points to another excellent pairing—vegetables, greens and fruits. He looks toward the 26 acres devoted to orchards, berries, edible flowers, and another four acres of herbs and vegetables, all maintained by King Estate Culinary Gardens Manager Erin Greene. Each morning Hobbs selects shallots, chives, garlic and onions along with all the other greens, berries and flowers to accompany that evening's entrees. "I connect the dots between what Greene grows out in the gardens and the wines that Stone makes," the chef explains. "My pleasure is working with all the amazing ingredients we grow and produce right here on the 1,033-acre estate."
Tips: When assembling this pairing at home, Hobbs suggests, "Take the time to gather ultra-fresh vegetables and other greens, either from your garden or a farmers' market. Try decorating your food pairing with edible flowers." For example, he adds fresh onion flowers to the restaurant's tartare dish. Says Hobbs, "It may be a small gesture, but it delights the palates of our diners."
Dundee
Dundee Bistro: Shigoku Oysters and Sokol Blosser 2021 Estate Rosé of Pinot Noir
At the Dundee Bistro, a superb restaurant destination for wine and food pairing, co-owner Rebecca Ponzi suggests Northwest fresh Shigoku oysters, one of her most popular summer appetizers. "They're really wine-friendly," she says. "Keep it simple. Shuck the oysters and sip a glass of chilled white, rosé or bubbles.
Oysters are often accompanied with lemon, Mignonette sauce or even traditional cocktail sauce. But I'd suggest just try them freshly opened to get the taste of the sea."
Her son, Luca Ponzi, a third-generation member of the Ponzi family, serves as the restaurant's wine director. "My primary focus is on local wines made here in the Valley," he says. "But I like to mix in some big Italian reds since we serve mostly Italian food. In this particular case, I recommend the Sokol Blosser Pinot Noir rosé because its subtle fruit flavors accentuate the oyster's taste. The wine's tartness and dryness bring out the minerality and saltiness of the oysters. It's a good combination. And Sokol Blosser Winery is right up the hill from the restaurant."
Tips: If you plan to serve oysters at home, Ponzi suggests using an oyster knife. "It's a short, blunt knife with wooden handle. Put the oyster in a damp towel and carefully pry it open with the oyster knife."