Stuck the Landing
Former pilot's dreams of family business a reality at Oswego Hills Vineyard and Winery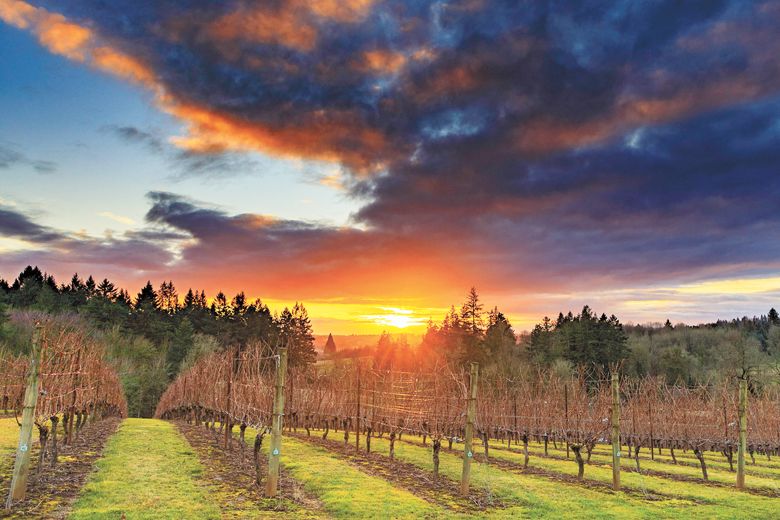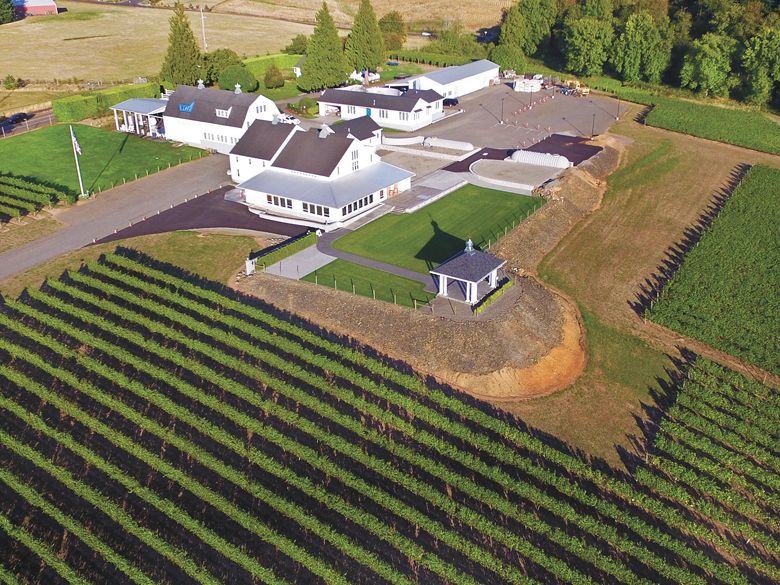 By Barbara Barrielle
Find family-operated Oswego Hills Vineyard and Winery on land with many prior stories. The winery is located in an area with a long history of family businesses dating back centuries. Grapes were not initially grown on this property— once home to an equestrian center and dairy farm—the site proved perfect for growing several varieties.
The family not only produces wine, but also wedding dreams. Observe their gallery of photos from past events. A collection of restored, white farm buildings rise from the rolling, green hills, creating a magical environment. Oswego Hills' close proximity to Portland and West Linn, making it ideal for weddings and events. "We always felt we had a great venue site simply due to our location," explains Winemaker Derek Lawrence. "Close to town, yet another world away, it's somewhat unique in the Oregon winery landscape."
Former American Airlines pilot Jerry Marshall wanted to return to farming. He purchased the property in 1996 with wife, Leslie. Their goal? To restore the historic barns and other structures, plant a vineyard and start a winery as a family business. Says Lawrence, "That's when we discovered it's a fantastic grape growing site, confirmed through extensive soil analysis by the Portland State Geology Department. There is a high nitrogen content, likely from the years of horses and cattle roaming the property. When our soil analysis was completed, we were pleasantly surprised by the amount of loam and minerals. With our south and southwestern exposure, we originally planted Pinot Gris, Pinot Noir and Marechal Foch because we knew they would grow well in our area. Our vineyard has matured quite nicely."
Since then, Oswego Hills added Sauvignon Blanc while planning new blocks for Chardonnay and Tempranillo. As the temperature warms up, Lawrence hopes to one day plant his favorite, Cabernet Sauvignon.
"Our winery is set up to make anywhere from 1500 to 3000 cases per year depending on the harvest. We produce many smaller lots including white, red, sparkling and Port Style wines. It's a real salad bar with something for everyone," continues Lawrence.
White wines include Avery's Blend called "The Ladies Wine," Chardonnay, Pinot Gris, Rosé of Pinot Noir, Sauvignon Blanc and Viognier. Oswego Hills also make Cabernet Sauvignon, Celia's Cuvée, Marechal Foch, Merlot, Pinot Noir, Petite Sirah, Syrah, Tempranillo and Zinfandel. The winery even produces three sparkling wines: Blanc Le Ange from Pinot Gris, Sparkling Rosé from Pinot Noir and even Le Fantome Noir, made using Marechal Foch.
Every Saturday and Sunday from noon until 5 p.m. the winery opens to the public for tasting. Lawrence adds, "We have a large, local following as well as loyal wine club members who like to bring their friends and family. Our close proximity to Portland and surrounding communities makes us a popular destination for people looking to taste wine without making an entire day out of it."
Marshall's daughter Reagan Lawrence stays busy as hospitality and events coordinator, while winemaker husband Derek enjoys the challenges of producing something appealing to everyone. Over the past 25 years, Oswego Hills Winery it has grown from small, Sunday tastings to large weekend tastings and a full calendar of private events.
"We've always relied on word of mouth and, based on our crowds, people definitely know about us now," observes Lawrence. "It's super easy to visit us any weekend. We are family-friendly and have a large assortment of wines, guaranteeing everyone will find something they enjoy. We currently offer 18 wines, so our tasting flight is like choosing your own adventure. Pick any six wine samples for $10. We also offer wines by the glass and bottle, along with charcuterie platters. Where else can you drive for a few short minutes and get served by the owners and winemaker who truly love what they do?"