Ah, Shucks: Discovering a pearl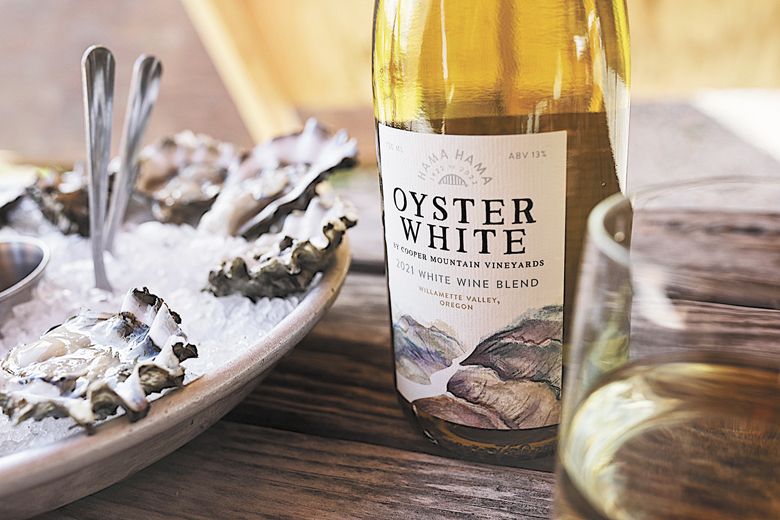 By Tamara Belgard
The oyster remains something of an enigma. At first glance, observe a rough shell holding a slimy gray interior, but in the mouth, the decadent creaminess and salty minerality transports you to the sea. French poet Léon-Paul Fargue compares the experience to "kissing the sea on the lips."
In fact, an oyster description sounds somewhat like a wine tasting note. Oysters reflect the region and conditions in which they grow, much the same way as a wine. When paired well, wine and oysters resemble a dance, moving together in harmony, playing off each other in a beautiful balance enhancing both.
Traditionally, oysters accompany white wines, like Muscadet, Sauvignon Blanc or Semillon. If you wonder which wine to open with your platter of fresh oysters, a creative Pacific Northwest partnership has an answer. A Washington oyster farm and an Oregon winery have solved the puzzle with a wine logically named Oyster White.
Meet Lissa James Monberg, Vice President of Shellfish for the Hama Hama Oyster Company. She describes how they partnered with Cooper Mountain Vineyards simply to produce a wine that consistently worked well with their particular oysters. "We love classic pairings," she says, "but we also like to find creative ways to eat oysters. Our lives be boring if we only ate oysters with mignonette and muscadet."
When approached by the oyster company, Barbara Gross, Cooper Mountain co-owner and her team created a unique white wine blend of Tocai Friulano, Pinot Gris and Gewürztraminer. Monberg says, "It is unusual, and it works incredibly well; we're thrilled with it."
Gilles de Domingo, Cooper Mountain winemaker, explains, "This white wine blend was very intentional. Sauvignon Blanc and Semillon, often from the south of France, are commonly paired with oysters. Tocai Fruilano is a parent grape of Sauvignon Blanc (also known as Sauvignon Vert), so it was logical to use a large quantity of Tocai Fruilano, while the Pinot Gris and Gewürztraminer both add something special to the blend."
"Oysters tend to have a buttery creaminess combined with salty, melon notes. This wine blend was made specifically to complement and generously lift the quality of these Hama Hama oysters. It was blended with the sole idea of enhancing the oysters' flavors," continued de Domingo.
Monberg describes the wine as light and bright— everything they sought in an oyster wine. She says, "Honestly, most of the time people talk about pairings, the oysters are often seen as a sort of palate cleanser for the wine. We're oyster people, so we look at things differently. The Oyster Wine strikes a balance and acts like a true friend—it doesn't steal the show but is much more than an afterthought."
Monberg continues, "This cool, wet spring is amazing weather for oysters; they're incredibly flavorful and sweet. It's also the 100-year anniversary of Hama Hama Oyster Company. At the start, there were several investors, including our family. But since the 1930s, we've been entirely family-owned." Hama Hama Oyster Company is a mid-sized oyster farm featuring three to four varieties at any given time. To do so, they partner with a network of small farms preferring to grow oysters, but not market or deliver them.
Made with grapes from the 2021 vintage, Oyster White is an ideal pairing for mollusks raised in the clear, clean waters of the glacially-carved Hood Canal. The partnership is the result of two Northwest, multigenerational family businesses keenly focused on environmental stewardship in the face of climate change.
"We've wanted to have a wine partnership for some time, and the centennial inspired us to check some items off our to-do list," says Monberg. "Because we've had such a good working relationship with Cooper Mountain over the years, it made sense to approach them. Not only do we love their wine, but really admire Barbara, who's raising awareness about how climate change is impacting food production."
Proceeds from Oyster White sales are donated to the Puget Sound Restoration Fund, a nonprofit organization working to increase the resilience of marine systems in the Puget Sound and Salish Sea. Best known for their work restoring the native Olympia oyster, the group also works with kelp, several species of abalone, including pinto. They are pioneering research on how climate change is affecting marine resources and the communities dependent on them.
Find Oyster White at the Cooper Mountain and Arborbrook tasting rooms in Oregon, and at the Hama Hama retail store and Oyster Saloon, both located in Lilliwaup, Washington. For online wine purchases, visit: www.coopermountainwine.com. Oysters lovers can order Hama Hama oysters at: www.hamahamaoysters.com.
Rooted in Ancient Soil
Continued from page 15