Hood River Inn adds "Stay & Taste" options for wine enthusiasts
For several years the Best Western Plus Hood River Inn has been well regarded for its quality wine focus, primarily through Riverside's award-winning wine list and its exclusive guest Wine Tasting Pass. This spring the Inn is enhancing its unique combination of offerings for wine enthusiasts by including a bottle of local wine for overnight guests who respond to its "Stay & Taste" promotion.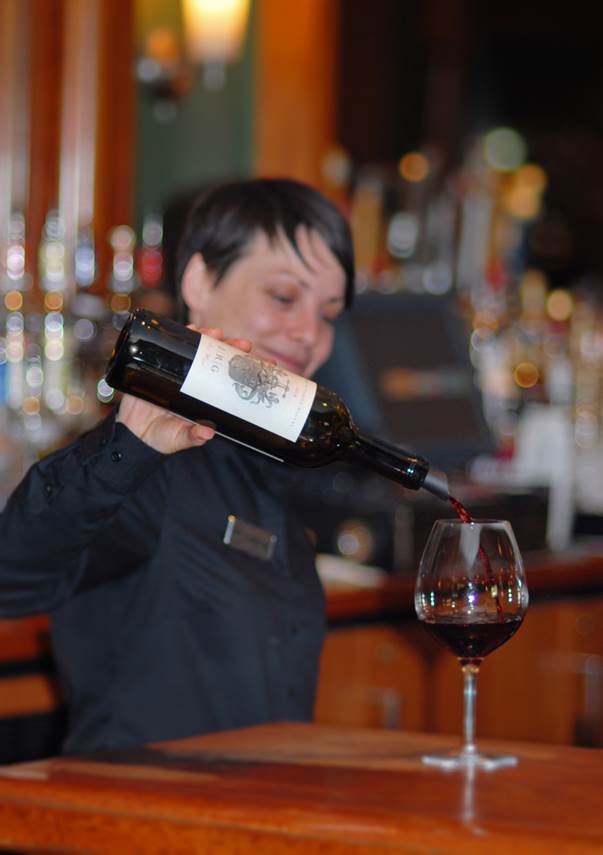 The Stay & Taste promotion increases opportunities to sample Columbia Gorge wines offsite and onsite. A complimentary bottle of wine can be included with overnight stays through May 31, 2018 with the use of promo code ST-NR. The promo code is available only with direct phone reservations to 800-828-7873, and is not valid with other promotions or negotiated conference/event rates. March is Hood River Music Month, the Hood River Valley explodes with orchard blossoms in April, and May is Oregon Wine Month—adding to the reasons to visit Hood River.
"We encourage guests to enjoy the bounty of our local wine scene and there's nothing like touring the treasures of unique tasting rooms here in the Gorge. We also take pride in promoting that quality onsite with over 40 superb regional selections right here at Riverside and Cebu Lounge," expressed Carl McNew, Riverside's wine director.
The Guest Wine Tasting Pass, available at the Front Desk, features some of the most prized wineries in the Gorge, all represented on Riverside's wine list. Complimentary or discounted tastings are available at 13 local tasting rooms during the dates of stay. A stamped pass also earns diners a 25% discount on a local bottle of wine when redeemed at Riverside or Cebu Lounge with a meal purchase.
Riverside, the Inn's onsite restaurant, is notable for its distinct menus featuring all-natural and local ingredients, plus panoramic Columbia River views from inside or from Riverside's seasonal dining deck. "People are often surprised that a restaurant as well-loved as Riverside is tucked into a hotel, where people don't necessarily expect great food and wine," relays Susan Lutton, director of marketing at the Inn. "It takes just one visit to discover there's nothing really typical about either the Inn or Riverside."
Riverside's award-winning wine list includes over 200 total selections to complement Chef Mark DeResta's menus, and both menu and wine list are also available in Cebu Lounge.
Riverside created a house wine program nearly 10 years ago with assistance from master blender Rich Cushman as a strategy to offer quality, affordable local wine by the glass or carafe. The popular program has since become a strong piece of the hotel's overall sustainability plan, saving close to 15,000 bottles from recycling since 2009.
Riverside's wine list has earned national recognition for seven years running with Wine Spectator's Award of Excellence. The Award of Excellence is bestowed on restaurants whose wine lists, according to Wine Spectator, present "a well-chosen selection of quality producers, along with a thematic match to the menu in both price and style."
Riverside has also received honors from the Oregon Wine A-List program since its inception in four years ago. It was the Columbia Gorge/Mt. Hood Regional Spotlight winner in 2017, the pinnacle of the award co-sponsored by Oregon Wine Board and Oregon Wine Press magazine. The A-List provides consumer guidance on restaurants featuring broad, diverse Oregon selections. Before the A-List awards, the restaurant enjoyed several accolades for its wine list, including the Superior Cellar or Outstanding Oregon Wine List awards for many years running. Riverside continues to focus on quality selections from both Oregon and Washington wineries.
The Best Western Plus Hood River Inn offers a convenient riverfront location from which to explore not only local wineries, but brewery and cidery tasting rooms as well. Each industry has its own association with touring maps available. Many downtown or waterfront locations are accessible to stalwart walkers from the Inn's shoreline path.
- Columbia Gorge Winegrowers • columbiagorgewine.com
- Breweries in the Gorge (BIG) • breweriesinthegorge.com
- Gorge Cider Society • gorgecidersociety.com
Between tasting activities, or when the tasting day is complete, relaxation in the Inn's two hot tubs, heated shoreline swimming pool or indoor sauna, all located on the Columbia River shoreline, can't be beat.
With its unique combination of offerings and amenities unlike any other accommodations in Hood River, it's no wonder the Hood River Inn is being recognized as Hood River's place to "Stay and Taste." Details are available at stayandtastehoodriver.com.