Growing Community
Medford's Stage Pass a wine-focused development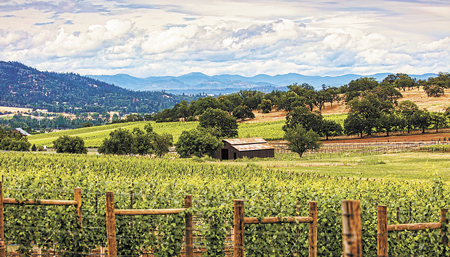 While gated communities are not new concepts, the innovation of Stage Pass is. Nestled on the outskirts of Medford and the entrance to historic Jacksonville, a vision unlike any other is coming to fruition: a residential development surrounded by stunning wine country views with vineyards in the community and future potential for new wineries within sipping distance.
The vision for The Vineyards at Stage Pass has evolved over time, much like fine wine. In the late '90s, Stephen Gambee and his family pondered the future of their property on South Stage Road. As they considered development themes, plans emerged and evolved, as did the Southern Oregon wine industry, including DANCIN Vineyards; their vines create a dramatic backdrop for the new neighborhood.
"The wine theme emerged around the property, especially when Dan and Cindy Marca opened the DANCIN tasting room," Gambee said. "It made sense to play into that theme, and it was clear that this microclimate is a prime spot for growing grapes, particularly Pinot and Chardonnay."
Prior to planting, Gambee brought in Greg Jones, a professor at Southern Oregon University and notable climatologist internationally recognized for evaluating vineyard sites; he's also the son of Earl Jones of Abacela Winery. Greg confirmed a limited number of pockets on the Stage Pass site were prime for winegrowing.
Conversations ensued between Gambee and Dan Marca over glasses of wine. With strategic collaboration, they came to a mutually beneficial agreement hiring Dan to oversee development of the vineyard theme plantings at Stage Pass and perform custom crush for a specialty Stage Pass label.
One unique feature to The Vineyards at Stage Pass is how some of the initial community members will use vines as landscape features. During the first phase of residential development, 10 lots will be available. Three of those will host vines, with the owners having the opportunity to enter into an arrangement to have the fruit processed by Marca for their own private label — this is significant as one barrel produces 25 cases of wine, an impressive start to creating a home cellar. Other residents of The Vineyards will have "as available" options to acquire fruit to make their own wine or commission a custom crush.
For those interested in becoming members of the Stage Pass community, Gambee says, "You can expect high-caliber vineyards, like-minded neighbors and pastoral vineyard views. This truly has been a labor of love."
In addition to developing The Vineyards, Gambee feels passionate about economic growth and supporting the wine industry. When it is appropriate in the future, he hopes to build a constellation of winemaking facilities, including the potential for a flagship winery — complete with a traditional tasting room — and associated structures to provide a viticulture incubator facility for winemakers.
If developed in the future, a flagship winery will eventually be available for lease to a long-term winery partner. The winery incubators will house winemaking facilities and a tasting room for two start-ups each — in all, seven brands.
The incubators are designed to promote economic growth and allow new winemakers, enology graduates and established winemakers who want to create their own label via a side-project or grapegrowers who want to produce wine themselves rather than use a custom crush facility in pursuit of their winemaking goals.
Gambee explains, "Any future flagship winery will not be a Stage Pass winery. The custom-crush Stage Pass wine will be available only to residents of The Vineyards and is designed to showcase the unique micro-climate and Stage Pass terroir. This will be one of the many desirable factors of being a part of the Stage Pass community.
"The micro-wineries will promote business incubation and support our growing wine industry, yet they differ from a custom-crush option because they provide dedicated space for individual winemaking projects with a tasting room."
The first batch of custom-crush Stage Pass wine is in barrel, and lots are slated to be available June 2017. For more information and development updates, visit www.stagepassoregon.com or follow progress on Instagram: www.instagram.com/stagepassoregon.
Lisa Manyon is the business marketing architect and founder of Write On Creative. She also serves on the leadership team of the Women Speakers Association. She lives in Ashland and loves wine (aka entrepreneurial fuel). Visit www.writeoncreative.com for more about Lisa.