YC in PDX
A quick introduction to the wines from the Yamhill-Carlton AVA (American Viticultural Area), and you'll likely be friends for life. You'll come to understand what drew wine pioneers such as Pat and Joe Campbell of Elk Cove, as well as celebrated winegrowers Ken Wright and Dick Shea to the area.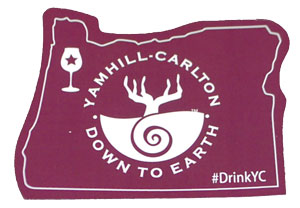 Tony Soter of Soter Vineyards captured the essence of the region when he said, "Yamhill-Carlton wines first captivate you with aroma; there is a mystery in it because it is more than simple fruit. Their texture is like no other wine — silky, generous and a persistence that lasts."
Consumers got to taste for themselves on Nov. 10 when more than 200 people gathered at The Heathman Hotel in downtown Portland to taste from 35 members of the AVA. In addition to this tasting, Yamhill-Carlton took its show on the road this year, introducing some of Oregon's best wines to lucky consumers in Dallas, San Francisco and Denver.
According to Angela Estate's Jessica Endsworth, "The group of touring wineries was small enough to be nimble, focused on their purpose of delivering education about the soil and stylistic qualities of the AVA, like the juicy black fruit, supple tannins, white pepper, and spice." Endsworth respectively calls the Yamhill-Carlton wines 'Marilyns', as voluptuous and alluring as they are unforgettable.
A palpable buzz was in the air as people chatted with winemakers, sampling the wares and learning about the area that is developing such a solid reputation for crafting quality wines expressive of luscious dark fruit, earth, cola, rose and chocolate. The event also featured food from Vitaly Paley's new Headwaters restaurant, which was the icing on the cake of an exciting evening.
Highly sought after wineries, including cornerstones Elk Cove, Penner-Ash, Ken Wright and Shea Vineyards, were present and armed with their best, much to the pleasure of those lining up to taste them. Notable and recognizable favorites such as Panther Creek, Willakenzie, Anne Amie, Kramer, ADEA, Soléna Estate and Soter Vineyards also impressed, winning over new fans with every glass they poured.
Christie Shertzer of Panther Creek describes the camaraderie within the Yamhill-Carlton wine community as a family. She proudly says, "All the wineries come together, accepting and collaborating in support of the viticultural area that is finally coming into its own."
This was clearly seen by the growing number of wineries that have more recently put down roots, pouring right alongside the big flagships. As the wine family continues to grow in number (and following) and exceptional wineries like Angela Estate, Roots Wine Co., Lenné Estate, Big Table Farm, Saffron Fields, Tendril Wine Cellars, Twelve, Seven of Hearts, Resonance Vineyard and Gran Moraine gain prominence, it ultimately validates the original belief in the unique qualities that make this AVA so special.
Savvy consumers poured over the list of participating wineries specifically searching out names they were less familiar with, excited to make their acquaintance, boutique producers such as J.L Kiff Vineyard, Bud's Bloom, Fairsing Vineyard, Beacon Hill, Denison Cellars and Marshall Davis.
The Yamhill-Carlton AVA, established in 2005, now contains more than 60,000 total acres with approximately 2,500 planted to vine. The AVA's vineyards are situated on hillsides between 200 and 1,000 feet in elevation; the temperature, geology and sheltered rainfall combine to create a 'sweet spot' for growing premium Pinot Noir.
The pastoral countryside is captivating in its own right, but the wine's distinctive qualities come directly from the soil. The shallow, ancient marine sediment — some of the oldest in the area — has been nurtured by forestry and years of farming, making it rich in minerals. The soil drains quickly and the vines stop growing shoots and leaves earlier than elsewhere in the Willamette Valley, leading to fully ripe grapes with higher levels of tannins and well-balanced acids. These conditions contribute to creating a wine profile distinct from neighboring AVAs. The result is wines with depth of color, a rich mouth full of silky tannins, and a powerful focus of black and blue fruit and spice.
Yamhill-Carlton's tagline, "Down to Earth," says it all. Not only is it a nod to the wine itself, but also the easy-going, friendly people who make it happen.
Tamara Belgard is a freelance writer and who explores the Oregon wine scene from her home in SW Portland.