Q&A-List
Nostrana | Michael Doherty [Portland]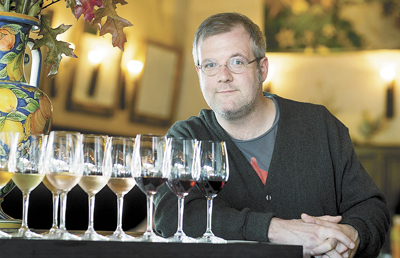 You can't mention Nostrana without first referencing owner/chef Cathy Whims. From the Southeast Portland restaurant's beginning, she's been the heart of the enterprise, creating memorable classic Italian dishes and earning accolades from the James Beard Foundation, among other organizations. Assembled around her is a just-as-impressive team, including wine director Michael Doherty. The wine list celebrates the world yet commits the right amount of attention to Oregon, and Whims' dedication to the state extends beyond the menu as she is known for her collaborations with Willamette Valley wineries. For these reasons and more, Nostrana has earned a 2016 Oregon Wine A-List Award.
Why is it important to support Oregon wine?
As an Italian restaurant, Nostrana's support of Oregon wine is a natural because of the vital role that locality plays in Italian food culture. Wherein, it is not simply about a specific recipe, but seasonality, sourcing and showcasing these local ingredients in a way that underscores the place and the season. The Oregon winemakers that we work with, for all their many differences, have this one idea in common: They all endeavor to create wine that expresses the ground it came out of, and the season in which it was grown, instead of covering up those qualities by attempting to make the "same" wine in each vintage.
What are a couple of your favorite food and wine pairings at the restaurant?
OK, I'm just going to Oprah here, and I'll stick to Oregon wines... this past spring season, I have loved our wood oven-roasted trout with Viola 2015 Pinot Grigio Ramato; grilled octopus salad with olives and fingerling potatoes paired with Teutonic 2014 Alsea Blanc, a blend of Pinot Blanc and Pinot Muenier; and my favorite pizza wines from Oregon were the Division Villages 2015 Les Petits Fers Gamay Noir and Holden 2014 Dolcetto.
Name (and describe) the last bottle of Oregon wine that super-impressed your palate.
I recently tasted with Marcus Goodfellow (Matello, Goodfellow Family Cellars). All of his wines are really good, but his 2014 Goodfellow Clover Reserve Pinot Gris really impressed me for its amazingly fresh acidity and mineral presence, especially from such a warm vintage. We rarely list Pinot Gris at Nostrana, but that wine is very versatile.
What would you like readers to know about Nostrana?
I think the one thing that I hope is not lost on our guests is how special the culture is at Nostrana. It's a staff of more than 50 people, and there is a great deal of respect and awareness for what each member of the team provides. It is a remarkably harmonious and supportive environment to be in every day.