Meet the Millers
Durants grow Oregon olive industry
Story by Viki Eierdam | Photos by Del Munroe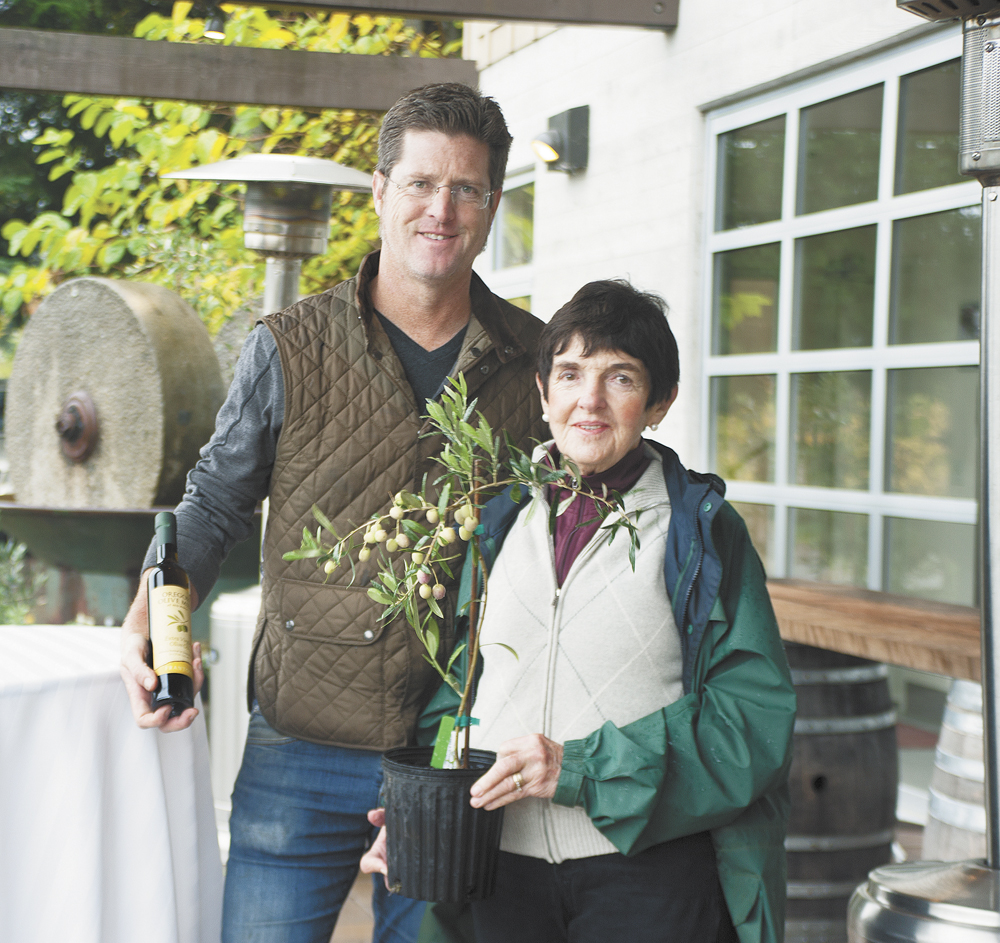 .
Under the covered patio at Red Ridge Farms, wine and olive oil club members braved the inclement November weather to enjoy an afternoon of estate-milled olive oil made even cozier by heat lamps and a roaring outdoor fire pit.
In its fifth year, "Meet the Millers" allowed attendees to enjoy the robust flavors of Oregon Olive Mill's Koroneiki extra virgin olive oil just minutes after being pressed through the custom-built Alfa Laval mill. In addition, guests also sampled two other recently milled oils, Arbequina and Tuscan, and compared the 2015 vintage to last year's offerings. To cap it off, tastings of Durant Vineyards 2014 Pinot Noir and Pinot Gris were poured.
Libby Clow, the mill's olive oil program ambassador with a master's in food communication, drizzled liberal amounts of oil on freshly wood-fired baked bread — courtesy of Renaissance Catering — accented with coarsely ground sea salt. To the intimate crowd, she espoused the health qualities of this more than 6,000-year-old agricultural product.
Millers, including Gary Manning, were present to walk club members through the operation. He explained, as with winemaking, how freshness of the fruit is paramount.
Just like the processing of winegrapes, hands-on sorting is essential. Each 1,000-pound tote of olives is carefully examined, removing debris and any unwanted olives before all the fruit is washed and moved to the hammermill. The mill crushes the olives, which releases the oil; the fruit is then kneaded into a paste resembling pesto. Subsequently, the paste moves on to the malaxer, where it's further mixed, from 10 to 30 minutes, depending on the desired flavor profile. A torpedo-shaped horizontal centrifuge is employed next to separate the oil from the fruit solids — which are composted in adjacent Durant Vineyards.
Water is used at various stages to warm the paste and oil, but they keep the temperature around 82 to 89°F, well below the mandated limit of 120°F. The final product is filtered in a separator or vertical centrifuge, stored in stainless steel tanks where filtration continues; the oil rests for up to 120 days before undergoing a final filter and then is stored back in stainless steel tanks. Bottling occurs on an on-demand basis to ensure optimal freshness.
Folks fascinated by olive-growing were able to walk away with trees of their own at a 50-percent discount for this day only, thanks to a strong propagating program that's increased every year since 2005, when olive trees were first planted on 17 acres at Red Ridge.
What the Durant family is doing just outside Dundee could prove of great regional significance in the history books. Master miller Paul Durant enjoys visiting with the guests and educating them as much or as little as each one prefers.
Where he really lights up is in the nursery. Growing olive trees in a climate that hadn't been successful — on a wide scale — in the past intrigues him. The December 2013 frost, which appeared to affect a vast majority of their 13,000 estate trees, only solidified his determination.
"The temperature dropped to 9°F for four days. The olives were torched, but you could look out and see some that did well," Paul said.
He explained how within each varietal, some trees fared better than others. His sleuthing instincts kicked in when he called his California supplier and tracked down the original Spanish grower of the cold-resistant trees. From that detective work, Paul's now experimenting with cuttings from the frost-hardy plantings.
Meanwhile, back in the grove, Clow shared how the 2014 harvest proved minimal, but many of the struggling trees rallied in the 2015 heat to produce a better-than-expected crop.
Still, Oregon Olive Mill trees contributed to about 8 percent of their total 2015 production, with olives trucked from California, supplementing the roughly 18,000 liters milled at the only estate olive mill in the Pacific Northwest. Paul said that percentage could be higher, but their goal has shifted from quantity in the early years to quality over the last several.
In the spirit of collaboration so many winemakers and farmers exhibit, Oregon Olive Mill processes olives for other area growers, people in Southern Oregon and Salem during each harvest.
As a fourth-generation farmer and son of Durant Vineyards' founders, Ken and Penny Durant, Paul credits his mom as the initial force behind his Johnny Appleseed-esque desire to develop a line of olive trees that will thrive in the Willamette Valley.
Red Ridge is truly a destination experience with an extensive plant nursery, lavender field and fig trees, gourmet gift shop, Durant Vineyards, the Oregon Olive Mill and overnight accommodations in the midst of it all. Paul said that over the years, he watched his mother experiment with many specialty plants, and olives were one. Their initial success on the property inspired him to plant more and invest in the mill.
Under another fourth-generation tradesman — this time a miller from Rome — Paul learned over two seasons how to run the mill and make exceptional extra virgin olive oils. Although Oregon Olive Mill supplements their estate fruit with Northern California olives, they make no oil from olive varieties they're unable to grow on site.
The following Oregon Olive Mill EVOOs are made from a blend of Oregon- and California-grown olives that are milled on site.
Frantoio: This pleasantly pungent oil starts out smooth and buttery, revealing notes of artichoke and hazelnut with a lingering peppery finish. Use in a variety of dishes.
Arbequina: This Oregon Olive Mill award winner — it won silver at the 2014 New York International Olive Oil Competition — has a sweet grass aroma with floral undertones. Its mild, smooth flavor shows delectable hints of green banana. Try drizzling the oil over a caprese salad, pasta primavera, salads or as a dipping oil with bread.
Koroneiki: Aromatic and herbaceous, this oil is smooth and buttery with hints of fresh-cut hay and a light peppery finish. Versatile for dipping or salads, the oil is also delicious drizzled over grilled or roasted veggies, pastas, meats or fish.
Tuscan Blend: This full-bodied oil is made from a field blend of olives that together offer a robust flavor with a hint of hay and a peppery finish. The blend pairs wonderfully with meats, strong cheeses, and is a perfect addition to hummus and other richly flavored dishes.