History of Hinman
Longtime grower/producer now fine wine negociant
By Kerry McDaniel Boensich
Lessons learned by Oregon wine founders must never be forgotten. Themes of adaptation, innovation, evolution, collaboration and survival mark the beginning.
Doyle Hinman knows. He was there.
"Since the inception of the Oregon wine industry and throughout my career, I've been honored to work with great people and witness phenomenal growth."
For more than 40 years, he has dedicated himself to the Oregon wine industry. The scope of his success is diverse, and his career parallels the evolution and meteoric rise of the industry he helped build.
In 1968, Hinman took a class from Richard Sommer — the founder of HillCrest Winery in Roseburg and the first person in the state's modern wine era to plant Pinot Noir. In 1972, Hinman planted five acres of cuttings procured from Charles Coury and Dick Erath on his property near Eugene; while tending the vines, he enrolled in wine courses at University of California, Davis. Six years later, he founded Hinman Vineyards.
Hinman credits the beginning of his wine career to being in the right place at the right time: Oregon in the early '70s. Prospects looked different then. By 1970, California had 236 bonded wineries; New York, 28; and Oregon, five — the state was planted to only 35 acres in production.
Like many of the winegrowers at the time, Hinman had a diverse background. He was a weatherman for KEZI in Eugene and worked for 10 years as a media teacher at Sheldon High School. Before wine, the closest he came to agriculture was as a teenager working in a plywood mill.
Hinman hosted a groundbreaking ceremony in 1978 to christen his newly built winery — there were approximately 35 vineyards and wineries in Oregon at the time. His first vintage, a small case production of Riesling, Gewürztraminer and Pinot Noir, followed in 1979.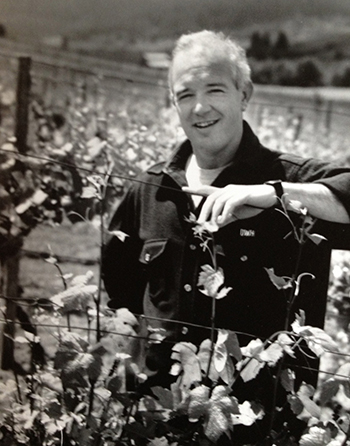 He had developed a lifelong love of Riesling after meeting Professor Helmut Becker from the Geisenheim Grape Breeding Institute in Germany in 1976. Becker invited Hinman to a winemaking and viticulture course in the Rhine region with a focus on the area's noble white.
In the late '70s, the OLCC required the term "White Riesling" for Oregon Riesling producers selling this wine type in the state. At the time, OLCC deemed there was much confusion with labeling the varietal. Riesling titles such as Johannisberg, Wach, Hungarian and others abounded. The decision was made to authorize only one designation, "White Riesling," to eliminate any confusion. At the time of Hinman Vineyards' 1979 first releases, Hinman was not aware of the new requirement and aptly named his wine "Hinman Vineyards Riesling." The OLCC reminded Hinman of the rule, requiring all future offerings use the "White Riesling" designation — this requirement lasted only a few years; the term "Riesling" is predominantly used today by most producers, but not Hinman.
"For some of the old guard, we stand by early tradition and proudly use the term 'White Riesling,'" he said.
In 1979, he was elected president of the South Willamette chapter of the OWA, and by 1981, Hinman had expanded the winery to accommodate an increase in production. He also acquired a partner, David Smith. Together, they bolstered capacity to more than 100,000 gallons, doubling the size of the building. Improvements also included the construction of a clock tower and the state's first winery amphitheater for hosting events.
Hinman Vineyards rose in production, ranking in the top five in 1988, according to OLCC reports.
"[That year], we sold 67,846 gallons (28,269 cases), and that was close to our highest sales volume, if not the highest," he recalled. "I remember wanting to hit 30,000 cases, but never quite made it."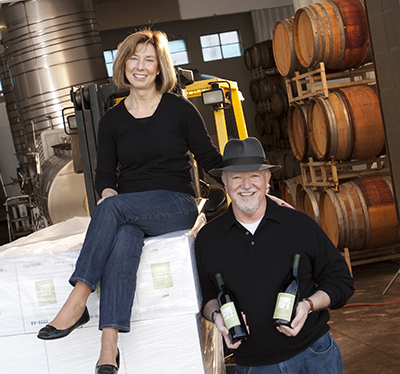 After the sale of his winery in 1992 to Carolyn Chambers — her daughter, Liz Chambers, became sole proprietor in 2012 upon her mother's death — Hinman transitioned to a position with Henry Estate as director of sales for domestic and export wine. He credits his alliance with Scott Henry for expanding his career, opening his view to the international market. He has now organized and participated in countless Oregon wine export tours around the world and is a current member of the Oregon Wine Board's domestic and international marketing committee.
In addition to his involvement with the OWB, Hinman has an impressive extracurricular résumé, including an appointment to the Founders Council of the Oregon Wine Board, an outstanding service award from the Oregon Wine Advisory Board and being appointed a member of the Specialty Crop Advisory Board for the Oregon Department of Agriculture.
In 2005, the Hinman family, including his wife, Sue Ann, and their three children, Chelsea, Brady and Cody, established DW Hinman Cellars and the Five H brand with national and international distribution. The family continues to develop Five H wines — White Riesling, Heritage (red blend) and vineyard-designate Syrah — as well as private label offerings for select clients throughout the U.S. and China.
As in his early days, Doyle Hinman is still innovating, not just surviving, but thriving, mentoring and motivating an industry that has really just begun.
Kerry McDaniel Boenisch is a wine, food and lifestyle journalist and blogger. She was raised on an Oregon vineyard and has published two wine industry books, "Vineyard Memoirs" (2004) and "Dirt+Vine=Wine" (2015). Her third book, "Selling Pinot Noir at the Paris Airshow - Perfecting the Art of the Sale One Bottle at a Time" is due for publication November 2015. For more about Kerry's latest projects, visit www.dirtvinewine.com