The Uninvited Pests
Season's only downfall a reminder to be grateful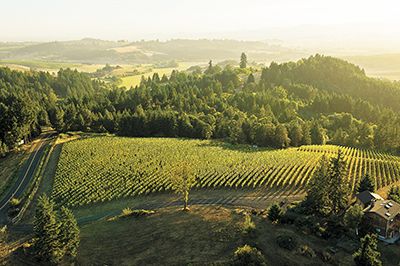 By Hilary Berg, OWP Editor
As I write this letter, it is the Sunday before deadline, October 17. Like most Sundays, I have been busy cleaning my house, which sits at the top our vineyard, now colored a stunning golden hue.
I love this time of year. The fall foliage, the smell of burn piles, the taste of pumpkin spice — in everything — the cozy evenings, the comfy sweaters.
Really, I have only one complaint about fall: bugs.
Bugs generally freak me out, not to mention mice — my battles with them are epic; I wish I'd known that the Prius is also known as a "mouse hotel" before I bought mine. Big or small, six legs or eight, bugs just really bug me.
As the days get cooler, spiders are heading indoors — I had never heard of the poisonous Hobo until moving to the Northwest; lucky us, they've found our address — and like clockwork, box elders have hatched and are covering the house.
Box elders arrive twice a year, once in the spring and once in the fall. These little guys love to be warm, so they pile onto sunny outside walls. They also enjoy sneaking into window screens and, eventually, the house, which brings me back to cleaning.
Armed with my vacuum, I have been performing a DIY extermination all day. Room by room, I suck them into my Hoover, regaining control of my windows, my walls and my floors.
After finishing the final room, I revisit the first, only to discover new loiterers. I realize this is a losing battle until the first frost, but let's not rush things. Remember, I love fall — winter is another story.
Dealing with bugs — don't forget the mice — is a small price to pay for living here. Looking back at the 14 years I've lived on the vineyard, I am grateful for this place I call home, and it is not just the house and vines.
We love our neighbors — and their love of fishing and sharing their latest catch. We've grown quite fond of our little grocery store in Yamhill — they make the best maple bars. We enjoy watching sunsets from our deck as the sun drops below the Coastal Range. We appreciate the solitude and scenery surrounding us.
Ours is a beautiful place. Time and time again, friends tell us our "views do not suck." We agree. We are thankful.
What does suck is the vacuum I am ready to unleash yet again.
A good lesson to remember: Even paradise has its pests.