Last Call: Motor Mouth
Detroiter known for witty, wisecracking wine blog
Chris Kassel is the author of Intoxicology Report, a wine blog he introduced four years ago. As a novelist, certified sommelier and former Detroit Free Press wine columnist, Kassel is known for his unpretentious, unconventional attitude toward wine as seen in his colorful posts and blog tagline, "The Contra-Connoisseur's Guide to Wine, Beer, Spirits and Other Stuff the World Got Right."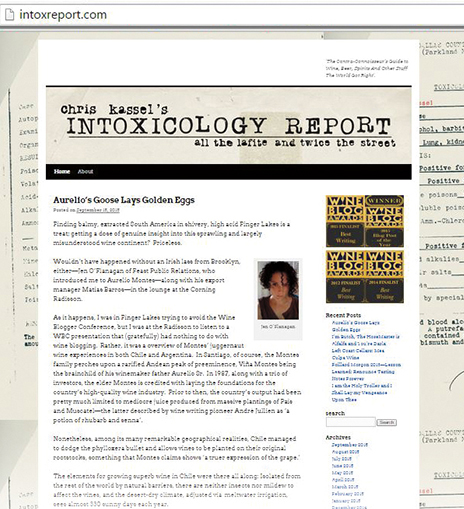 Before becoming a full-time wine writer in 2011, he was an automotive engineer for 18 years. Through most of that time he also wrote documentary films for a local production company — he continues to write for Visionalist.
He has authored seven books, from novels "Ballad of Dan Moody" and "The Jinx Fragment" (to be released October 2015), to wine books "A Rite of Paso" and "Heart and Soil: Michigan Wine Country." Kassel has contributed to numerous publications, including Decanter, Details, Smithsonian, Touring and Tasting, Atlanta Life, Hour Detroit and others.
He has earned two Michigan Emmy Awards for writing and five for co-creating "Our Story," a series of documentaries on ethnic Detroit. He is the recent winner of the "Best Blog Post of the Year" at the 2015 Wine Bloggers' Conference.
Born and raised in Detroit, Kassel currently lives in nearby Bloomfield, Michigan.
OWP: How did you first become interested in wine?
CK: I come from a European family; we always made wine in the cellar, and wine was always a topic of discussion in my home. I worked at an upscale restaurant as a bartender during college and pursued sommelier certification at that time — when it was not as common as it is now. I became the wine columnist for the Detroit Free Press in the late 1990s.
OWP: Describe the latest Oregon wines that rocked your palate.
CK: I am huge Pinot Blanc fan, and I learned what remarkable heights this wine could reach in Oregon — unlike any other domestic producer. Best recent one was Ponzi 2013 from Willamette Valley: crisp and creamy with beautiful pear custard aromas and cool apple notes.
I was also impressed with 2012 Zerba Cellars Mourvèdre — one of the nicest incarnations of this varietal I've had from the United States. It avoids the reductive notes and overly herbaceous quality that the grape sometimes shows, instead focusing on bright fruit and chewy tannins.
OWP: Which winemaker or wine personality has left the greatest impression on you? Why?
CK: Bryan Ulbrich of Left Foot Charley in Northern Michigan ranks high on that list. He makes wine with some uncanny instinct for understanding precisely how to maximize potential in a given vineyard, even in challenging years; I don't think he uses much science either. I am sure he has made some mediocre wines, but I don't recall having tasted any.
OWP: If you were to own a winery, where would it be and what kind of wine would you like to make?
CK: My father's family comes from Swiss wine country; I'd love to have a few acres of Chasselas and Sylvaner there and see what I could do. I still make wine every year in my cellar, and my older kids do, too. It's a tradition worth passing on.
OWP: You recently won "Best Blog Post of the Year" at the 2015 Wine Bloggers Conference for your article "Robin Williams: Art, alcoholism, and suicide" on Intoxicology Report. Has this been your favorite blog entry so far; if not, which post is your favorite?
CK: No, that post was too tough to write to be my favorite. Too serious. I prefer to write in a lighter vein, and generally do. I wrote one called "How to Write about Wine like Robert Parker Jr." that I like.
OWP: If you were not writing about wine, what would you like to be doing professionally (or otherwise)?
CK: I've worked in documentary film production for a number of years; I'd like to produce some short films based on several pieces in the collection of short stories I released last year.