Born in a Barn
Foundation of Lumos Estate centered on historic property
Lumos Wine Co.
Details:
581 N.E. Third St.
McMinnville, OR 97128
Hours:
Thurs.–Sun., 1 to 6 p.m.
Phone:
503-474-9900
Barn at Wren Vineyard
24000 Cardwell Hill Drive
Philomath, OR 97370
Hours:
Sundays, 1 to 6 p.m.
Phone:
541-929-3519
Website:
www.lumoswine.com
Fresh timber supports the new deck wrapping part of the 77-year-old renovated barn at Wren Vineyard. The latest completed phase of a 30-year project is overseen by winemaker and vineyard manager Dai Crisp and his wife, PK McCoy, co-owners of Lumos Wine Company near Philomath.
The barn stands as a waypoint in a long journey for Crisp. Wren Vineyard — also referred to as Lumos Estate — was unofficially born in the 1970s, when Crisp's family bought the former H Bar H Dude Ranch — a popular vacation spot in the 1940s — near the town of Wren. He helped his family clean up the land.
"People thought we were insane to buy this property," he says. "The barn was falling over, so we put it back together and shored it up."
Crisp left to study theater and photojournalism at Oregon State University; followed by the University of California Irvine to work on an MFA in theater. Meanwhile, his parents planted four acres of Pinot Noir in 1985; a year later, Crisp returned to help plant six more acres of the same varietal.
Next, he found his way into viticulture, moving on to run Croft Vineyard from 1989 to 1998. In 1999, he worked a stint at WillaKenzie Estate and began working for Temperance Hill Vineyard — where he's been ever since. In 2002, he added managing Logsdon Ridge to his expanding vineyard roster.
Of course, such a career leap was not immediate.
"I did all kinds of things while I was learning viticulture," he says. "I tended bar. I delivered cookies to Portland. All while working part time at vineyards and learning the craft."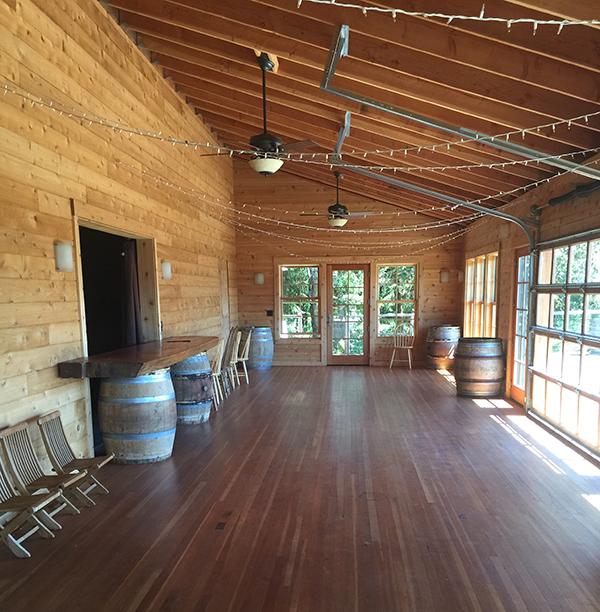 On a little less than 80 acres at Wren, Crisp currently farms 16 acres of Pinot Noir, Pinot Gris, Chardonnay, Sauvignon Blanc and Müller-Thurgau. The vineyard's proximity to the Coastal Range makes the site subject to spring frost, which an overhead frost protection system helps mitigate. Meanwhile, its elevation, 300 to 550 feet, soils and growing-season climate are ideal for the vineyard's varietals.
"We have the marine influence here with huge weather and temperature changes," he says. "What you want are moderately warm days and cool nights; that and a silty clay loam soil makes for the most complex flavors in the grapes."
Along with his work at Wren, Crisp continues to manage the 100-plus planted acres at Temperance Hill, as well as 10 acres at Logsdon Ridge, north of Corvallis. He uses only certified organic methods to grow approximately 250 tons of grapes each vintage. His eco-friendly approach results from his personal agricultural philosophy. When he started at Croft, he stipulated he would not use any chemicals. Of course, at the time, this kind of farming was something of a novelty.
"[Organics] was very fundamental for me," he said. "I think if I had gone through the viticulture program at OSU, all my methods probably would have been standard."
Crisp and McCoy started wine production under the Lumos label in 2000. Today, they produce 3,000 cases annually — 800 of which are Pinot Noir. They sell through a tasting room in downtown McMinnville and distributors; the latter sales channel is something Crisp would like to reduce as much as possible.
"With distributors, stuff happens that's not in your control," he says. "If we can sell more direct, then we'll be able to control our inventory much better."
Lumos also has a wine club with more than 140 members, made up of many local admirers who appreciate wine events and vineyard views. Which brings us back to the barn.
The original barn was built as a dance hall in 1938; it never was meant to house animals or hay. There's an old stage and remnants of a dance floor in front of the open fireplace. Char marks on the ceiling reveal where the chimney was positioned.
The barn itself will never be up to commercial code for wine patrons, so working with what they had, Crisp and McCoy built out a tasting room — open for major holiday weekends and wine events — on the south side of the barn seven years ago. The deck, on the other hand, is new. To adhere to code, the addition and deck had to blend well with the original. This, Crisp explains, was complicated.
"Part of what's tricky is how you make modern construction fit with an old structure while not changing the original look of the building," he says.
More than $50,000 was required to build the new deck. The funds came from a GoFundMe (www.gofundme.com) campaign in addition to the sale of some assets.
The barn's transformation is only a part of the ongoing project that has become Lumos' growing business. In fact, Crisp and McCoy are currently building a small winemaking facility on the estate, making even more use of their property. But to do so, they had to plan creatively. The cost of building a stand-alone winery is prohibitive for them at this time; they can, however, legally build a winery in a garage.
And they have a garage.
"We built all this in here," he says, walking through the 484-square-foot space that has been converted to a dedicated winemaking facility. Production will be limited inside the intimate area — Crisp will continue to make the bulk of Lumos wine with the help of winemaker Julia Cattrall at a shared facility with Domino IV in McMinnville — but the estate winery will offer a chance for barrel tastings at events and house the label's sparkling production.
The evolution of Wren Vineyard and Lumos is one such story from the Willamette Valley, and one that takes on a Jeffersonian flavor; the classic agrarian model, with a modest bit of land and some buildings being cultivated and built over the years.
It's not purely a Monticello, but the spirit is there.
Crisp and McCoy have had help along the way. They're big on teamwork, and, in fact, Crisp has worked with the same crew since 1999. He was recently inducted into the Agricultural Sciences Hall of Fame at Oregon State University, but remains a quiet and curious winemaker, always interested in growing.
"It's taken a lot to get to this place finally."
In the years before Neil Zawicki landed in the Willamette Valley, he spent his time as a reporter in Alaska, and a sailor with an address in a California marina. He's a student of history, a painter and a guitar player. He plans to study viticulture this fall.