Catering Wine Country
Chefs pair with wineries for the finest of feasts
By Peter Szymczak
Photos by Carolyn Wells-Kramer and Del Munroe
As the number of wineries grows, so does the demand for on-site entertaining and the need for high-caliber catering. Several companies have accepted the challenge by helping feed and fuel what has become a world-class destination: Oregon wine country.
After all, what is wine without food?
It's a family affair for the following caterers as they create incredible food while providing exceptional, personalized service to Oregon's wine community and beyond. Husbands join wives in this labor of love, reveling in making the most special events memorable, mouthwatering experiences.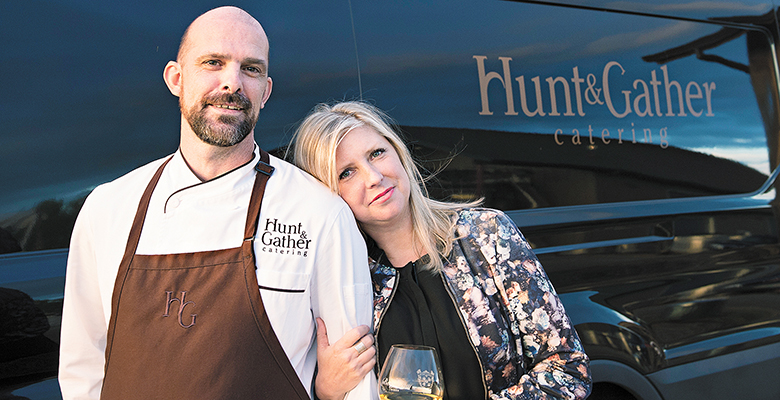 Hunt & Gather
Andrew & Laura Biggs | Portland
Specialty: Pacific Northwest cuisine and restaurant-quality service for wineries, gourmet weddings and large corporate parties. Staff: 2 (plus on-call service staff and kitchen crew). Experience: 4 years in catering, 25 in catering and restaurant industry.
When I interview them, Andrew and Laura Biggs have just returned from the marathon weekend that is the International Pinot Noir Celebration in McMinnville. For the past several years, Andrew has served as the event's kitchen manager, coordinating all the comings and goings of chefs and kitchen volunteers as they prepare and supply thousands of plates at various venues for attendees. This year, Hunt & Gather also served one of the featured courses at the prestigious Grand Dinner.
"You can't pull off an event of that size without having a core staff that is dedicated and shares a can-do attitude," Andrew says. "Our job is to get everything done under any circumstances and make the client happy."
Andrew and Laura are native to the Northwest. Andrew has called Oregon home his entire life, while Laura originally hails from Gig Harbor, Washington. Andrew has been a chef in the restaurant industry for almost 25 years, while Laura spent the same amount of time in the front and back of the house. The couple met and fell in love while working for another catering company.
Both are obsessed with delivering the finest food and service possible. "When you have a great meal in a restaurant, it should be about the service as much as the food," Laura says. "It has to be the whole package."
Laura takes pride in the team of professional servers she's assembled since she and Andrew started their catering business four years ago. From the service to the cooking, they treat everything as if they're working in a restaurant.
"But the difference with catering is we're personalizing the menu to the clients. We're not cooking the same thing every night," Andrew says. When working with winery clients, the Biggs customize every detail around the winery, ensuring the menu and service complements the wine being poured.
Catering requires a different philosophy of organization, and it's one that not every chef can wrap his toque around. "You have to pack up, build a kitchen, create a dining room in the middle of a vineyard or an event space, then tear it down, unload, and do it all over again the next day," Laura explains. "We build a restaurant each day."
For instance, the Biggs recently designed a party recreating a farmers market. "We built a farmstand loaded with fresh produce, a seafood and butcher counter," Andrew recounts. "Each diner got to pick and choose what they wanted to eat, and then my team of chefs and I prepared it right then and there."
While the couple has a commercial kitchen in Southeast Portland, half their business caters to wine country, whether intimate private luncheons and dinners for top clients, or wine club events for hundreds of guests.
503-206-7927 | www.huntandgathercatering.com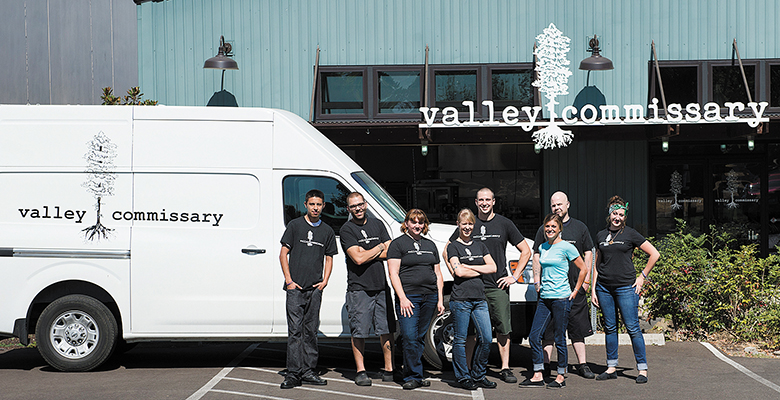 Valley Commissary
Jesse & Erica Kincheloe | McMinnville
Specialty: Farm-to-table cuisine for local wineries and special events. Staff: 3 in the kitchen, 2 to 3 in front of house (plus on-call servers). Experience: 1 year in catering, 10 in restaurant industry.
Jesse Kincheloe was born and raised in Healdsburg, California — the heart of Sonoma wine country.
"Sonoma is truly farm-to-table," the young chef says. "It's using what you have. Instead of ordering bones for stock or a specialized cut of meat, why not order the whole animal and cut your steaks or whatever else you need?"
Cooking this way simply makes sense to him. "You can and pickle and preserve because there's only one time of the year when you get perfect green beans, so we do everything we can with them then."
Jesse moved to Portland to attend Western Culinary Institute's Le Cordon Bleu. After graduating, he worked at acclaimed CRUSH restaurant in Seattle, and next with Eric Bechard at Thistle in McMinnville. He helped open The Allison Inn & Spa in Newberg; then he became the opening chef of Community Plate, and later, Walnut City Kitchen. He and his wife, Erica, who works at Argyle Winery, opened Valley Commissary in July 2014.
Although he hadn't catered before moving to Oregon Wine Country, Jesse says his restaurant background has benefitted him in many ways. "What we do in-house and what we cater is the same thing" — which is restaurant-quality food. "If we do a barbecue, it's stuff we've smoked ourselves. We do it so we can control what goes into the food, as opposed to what you'd find in packaged foods."
While I interview him, Jesse is setting up for lunch service at Valley Commissary, which also serves as a bustling lunchtime restaurant. He created the restaurant/catering company so locals and employees at McMinnville-based Granary District wineries — Eyrie, Remy, R. Stuart and others — could eat there regularly. He prints the daily menu on a chalkboard — "whatever just came in from the farms or is freshly butchered," he says.
Although open for only one year, he's already notched 45 caterings on his knife handle, and it's common for his restaurant to have a line out the door for lunch.
It's complementary to have both restaurant and catering sides to his business, he says. "For instance, we served corn bisque at an IPNC luncheon. We made extra, which was served as a chilled soup in-house. If we do a big wedding, we may smoke a bunch of salmon and use that in house."
A normal restaurant is confined to its pre-printed menu. Jesse's way "makes it more engaging as a chef — writing a different menu every day."
This harvest season, Jesse has planned hearty winery menus to feed 20 to 50 people. Platters of fennel-crusted pork loin, whole herb-roasted chicken, wild rice bread pudding, croissants, cookies and macarons can be ordered for hungry cellar workers putting in 12-plus-hour shifts.
If all goes well, there will be long days for the Kincheloes, too.
503-883-9177 | www.valleycommissary.com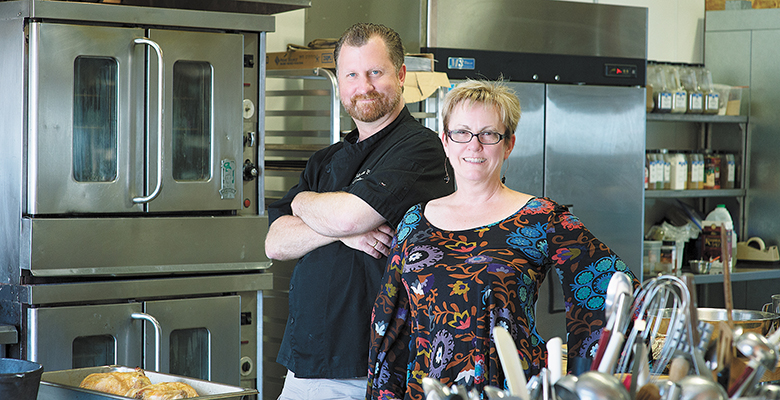 The Rogue Gourmet
Martín & Janet Bleck | Newberg
Specialty: Off-premise catering for large and intimate events, from weddings and family reunions to winery and community gatherings. Staff: 8 (plus 15 to 20 on call). Experience: 31 years.
When I interview her, Janet Bleck is on the go, buying foodstuff for an event she's catering this weekend — the annual Pancake Breakfast at the Old Fashioned Festival, a major fundraiser for Newberg Rotary. An Early Bird Rotarian, Janet has catered the event since relocating to Oregon from Florida in 2008 with her husband and business partner, Martín Bleck, and their son.
The family moved from Miami to McMinnville, taking a year to establish roots in their new turf before getting back into food service, initially catering harvest at Cristom Winery. Since then, they've catered wine club kick-off parties, pre-Thanksgiving and Memorial Day functions and special parties for the likes of Dobbes Estate, ArborBrook and Blakeslee.
In Miami, the couple owned and operated a 75-person, exclusive catering company for 25 years. "I was landing helicopters to pick up brides and grooms," Janet vividly recalls.
Janet worked in corporate America before starting her catering business in 1984. She considers herself "a very good administrator, organizer, problem solver and cook — in vaguely that order," she says with a laugh.
Martín is the chef. Together, they own and operate Subterra: A Wine Cellar Restaurant, as well as their catering company. In addition, they recently expanded into a 3,000-square-foot commissary kitchen.
Business in Oregon's wine country has proven "slightly different from the star-studded events of Miami." Here, Janet says, the people who've hired her often help unload her truck when she arrives; in other words, entertaining is much more casual. "People [here] gather to enjoy food, family and friends, not just to 'one-up' the Joneses."
Weather is a bit different, too. She remembers an event for 375 people in Miami under a 5,000-square-foot tent that was hit by a tornado. Another dinner in Florida entailed setting up in the Everglades at night, which included very carefully hooking up electricity while watching for alligators.
Catering and operating a restaurant "are like apples and oranges," Janet says. "[In] catering, you have to calculate quantities, factor in holding time for food and bring all your equipment with you; whereas a restaurant serves one dish at a time in a stationary place."
What's common to both enterprises, however, is providing exceptional food and service, in quantity, and being extremely well organized. The Blecks have this down pat.
503-538-2225 | www.roguegourmet.com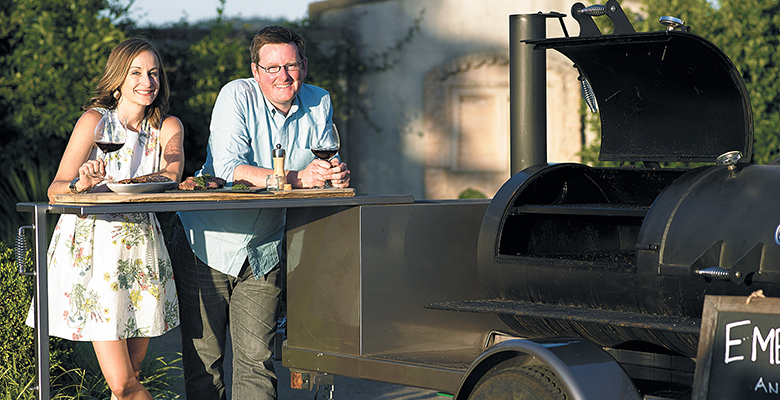 Ember & Vine
Mary & Sean Cressler | Portland
Specialty: Upscale, Northwest-style barbecue. Staff: 2. Experience: 1 year in catering, 10 in food and wine industry.
Ember & Vine is a "mobile, wood-fired experience" featuring "The Beast" — an iron-clad, custom-made smoker/barbecue grill on wheels, owned and operated by Mary and Sean Cressler, and occasionally their twin four-year-old boys, Sawyer and Cole.
"I do some cooking in Daddy's grill," Sawyer proudly says, with Cole hanging over his shoulder.
"You do," papa Sean affirms. "You help me build the fire… And what's the first rule of fire?"
"Respect!" the boys chime in unison.
In their first year of operation, the Cresslers have recently started working with businesses and wineries wanting to hire barbecue specialists for their event, but they've already won awards and are racking up gigs, including recent appearances at Anne Amie's Counter Culture, Phelps Creek and WillaKenzie wineries.
The Cresslers got into barbecue after entering — and winning — their first food competition. Kettle Chips sponsored a countrywide search for recipes, so the Cresslers submitted a pork tenderloin dry rub recipe made from cheddar beer potato chips, which took top honors. In addition to their busy catering schedule, they continue to enter and fare well in cooking competitions.
If Sean is the Ember, Mary represents the Vine. A knowledgeable enologist, Mary frequently writes about wine on her popular blog, Vindulge.com, and for various publications. She also has worked in the wine and food service industry at Cathedral Ridge and Ponzi Wine Bar.
Jammy Zinfandel is a natural pairing with barbecue, but Mary envisions a broader spectrum of wine possibilities: She likes to pair rosé or sparkling wine, even delicate Pinots, with smoked dishes, ranging from brisket nachos to barbecue pizzas and even smoked tofu.
Other regionally inspired barbecue dishes they've created include smoked salmon spread, pulled pork with Pinot Noir barbecue sauce, smoked blackberries in bourbon, and smoked bone marrow and cheese dipping sauce with pretzels. For vegetarians, they've smoked eggplants for baba ganoush and tomatoes for bisque.
If someone wants to pour Syrah or Merlot, "We'll burn oak all day," Sean says with smoke in his eyes. "Smoke is the vehicle, but the meat [or vegetables] is what we're trying to present."
Loustic
Leslie & Daryl Gossack | Salem
Specialty: On- and off-premise catering for large and small events — from wine-pairing dinners to weddings, nonprofit and corporate business functions up to 400 people. Staff: 2 and full-time sous chef (plus 12 to 15 on call). Experience: 8 in catering, 20-plus in restaurant industry.
When I call her, Leslie Gossack is performing a pre-event walkthrough, which is taking longer than anticipated. "It's an outdoor event," she explains, "but the weather forecast is thunderstorms, so it may need to be moved to an inside venue."
The ability to improvise and adapt as conditions change is essential to catering, Leslie says. "You want to serve restaurant-quality food and service, but you just never know what environment you're going to find yourself in."
Leslie was an art history major, but "there wasn't a huge job market for that," she says with a laugh. She put herself through school working in restaurants and fell in love with the business. Her husband, Daryl, discovered his passion for food and wine while living as an exchange student in France. After returning to the States, he graduated from Horst Mager's Culinary Institute in Portland in the 1980s.
With their shared love of cooking and entertaining, they started their own catering business eight years ago.
"Creating a personal relationship with our clients is key," Leslie says. "A lot of our events are personal: birthdays, weddings, celebrations. It's the personal touches that make a huge difference."
The Gossacks cook almost everything in house. "We source our ingredients as locally as possible," Darryl says. "Bread comes from the local artisan bakery; produce from local farms; lamb and beef from ranchers within a 15-minute drive; local cheese makers…"
As members of the Eola-Amity Hills Winegrowers Association, they've worked with almost everyone in the AVA at one time or another — Bethel Heights, Van Duzer, Red Hawk, Firesteed, Left Coast, Joe Dobbes, Evesham Wood, Illahe Vineyards, Cristom; and they've catered many weddings at Zenith Vineyard.
"Weddings we love, love, love," Leslie says. "So often it's not really about the food, but when everything is perfect, it makes me teary. It's fantastic, magical, when everyone is happy and the food is spot on."
503-581-1384 | www.loustic.com