Last Call: Food for Thought
Q&A with James Beard Foundation president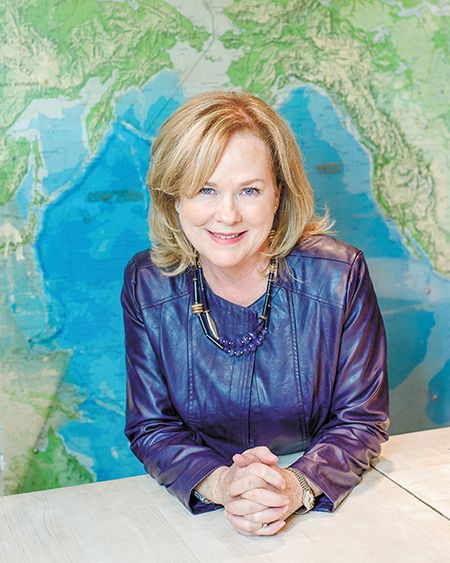 Susan Ungaro was appointed president of the James Beard Foundation in April 2006.
Prior to joining the Foundation, Ungaro was editor-in-chief of Family Circle magazine for 12 years and celebrated her 25th anniversary at the publication in 2001. During her tenure, the magazine received numerous honors, including the National Magazine Award.
Additionally, Ungaro has been the recipient of numerous awards, including the Hope Award from the National Center for Missing and Exploited Children, Irish America magazine's Top Business 100 Award, the Muriel Fox Communications Award from the NOW Legal Defense and Education Fund, the President's Award from the New Jersey Press Women's Association, and the William Paterson Legacy Award.
She was a participant in President Clinton's Women's Roundtables, and was honored by President Reagan's Office for Consumer Affairs for her "outstanding contribution to increasing consumer awareness in America."
Since joining the Foundation, Ungaro has overseen the expansion of its culinary scholarship program, an online enrollment program that has led to an increase in membership, the relocation of the annual James Beard Foundation Awards Gala to the prestigious Lincoln Center, and the first James Beard Foundation Taste America Food Festival, which took place in 20 cities around the country in September 2007.
How important is wine to the overall dining experience?
SU: It's essential! James Beard, who, by the way, was born in Portland, Oregon, once said, "Wine is a vital part of life and one to be enjoyed to the full, both in the glass and in the food you eat!" At the Beard House, our tasting menus feature wine pairings almost exclusively. While the popularity of cocktails, craft beers and other distilled beverages is definitely on the rise, we're seeing the same kind of movement toward small-production, artisanal winemaking and wines growing in popularity. We don't think wine with dinner will ever go out of style!
Which award winner has left the greatest impression on you?
SU: There are so many, but since I have to name one, undoubtedly the late Charlie Trotter. He was not only one of our country's most influential, nationally recognized chefs, Charlie was a mentor, an innovator and a humanitarian. He won nine James Beard Awards, which are considered the "Oscars" of the food industry.
I first met Charlie when I joined the Foundation nine years ago. He was being interviewed for a PBS television series, relaying the story that his parents named him for the great jazz musician Charlie Parker. I was struck by the way he spoke about chefs as artists, saying they had a lot in common with musicians; that for chefs, ingredients were like notes and that those artistic combinations were the secret to a great musical piece or dish. His groundbreaking namesake restaurant in Chicago pioneered the Degustation menu. I had the pleasure of dining there twice!
In 2012, one year before he passed away, our Foundation honored him with our Humanitarian of the Year Award. His own Charlie Trotter Culinary Education Foundation had raised over $3 million in scholarships for needy and deserving students in his hometown of Chicago. Like the students he helped educate, he was always there for me if I had a question or our Foundation needed his help with a fundraising event.
In our 2011 James Beard book, "Best of the Best," Charlie said, "You need to make a difference with what you do in life. That's from a professional standpoint, an aesthetic standpoint, and hopefully from a philanthropic standpoint. And if you can walk away with that as a team member then you've learned a lot."
I couldn't agree more.
What's the best part of your job?
SU: I'm sure most people would think I'd say getting to meet famous chefs and dine at their amazing restaurants. And that is certainly a wonderful part of my job. But what I love most of all is that over 200 days of the year, I meet hundreds of special chefs from all over the country who are getting great reviews and doing exciting things in their hometown restaurants. It is a thrill for me and all of my colleagues at the James Beard Foundation to welcome them to the Beard House where James Beard lived, cooked, wrote cookbooks and taught cooking classes. Every Beard House dinner is truly a special night for our visiting chefs and the people who get to enjoy their menus with wine pairings. Julia Child once said, "For a chef to be invited to cook at the Beard House is like a musician being invited to perform at Carnegie Hall."
How is the Foundation maintaining its connection to Oregon, the birthplace of James Beard?
SU: When I joined the Foundation nine years ago, I first heard that exciting plans were taking place in Portland to create a James Beard Public Market. We're delighted that the birthplace of James Beard is making great progress on this important project. There's no doubt that James Beard, who often said the first places he visited when and wherever he traveled were a city's farmers markets and local restaurants, would have loved the fact that a market is being created in his name. He believed that the best way to understand a city's culture was through its food.
The state of Oregon also boasts several James Beard Award-winning chefs, including Vitaly Paley, Gabriel Rucker, Cory Schreiber, Philippe Boulot, Greg Higgins, Andy Ricker and Naomi Pomeroy.
I'm also proud that our Foundation has awarded several scholarships to deserving students attending culinary schools in Oregon; students who want to follow in the footsteps of James Beard Award-winning chefs.
What do most people NOT know about the James Beard Foundation?
SU: That ANYONE can make a reservation for dinner at the Beard House. You just have to get to New York City and, before you do, check out what's happening at the Beard House online at www.jamesbeard.org and make a reservation. And if you want to get a fun glimpse of chefs in action and see what's happening in James Beard's kitchen, anyone can watch live on our JBF Kitchen Cam from 6 to 10 p.m. EST. Finally, you don't have to be a member, but members get a discount. A typical dinner, which includes Champagne, hors d'oeuvres and a five-course menu with select wine pairings, costs $170 for non-members and $130 for members.