Sugar Buffs
Medford duo sweet on dessert wines
By Sarah Lemon
Brambles, not vines, bore the first fruits for a new line of Southern Oregon dessert wines.
Prickly Vine owes its fragrance and fruit-forward flavor to the region's prolific blackberries. Released in fall 2014, the original recipe of winemaker Chateau Roberts expands the definition of Port-style wines while capturing Oregon's essence in 375-milliliter bottles.
"Oregon's really known for its blackberries — all over the world," Roberts said. "They're 100-percent wild blackberries. We hand pick 'em."
The wine's primary ingredient, which pushes many vintners outside their comfort zone, is reflected in the winery's name: 30 Brix. The chemical measurement is winemaking's typical ceiling for initiating primary fermentation, said Roberts.
"That's really, really, really high on the sugar scale."
The name denotes sweetness to casual wine drinkers. But Roberts is quick to explain how 30 Brix wines, made in a ruby Port style, aren't heavy and syrupy.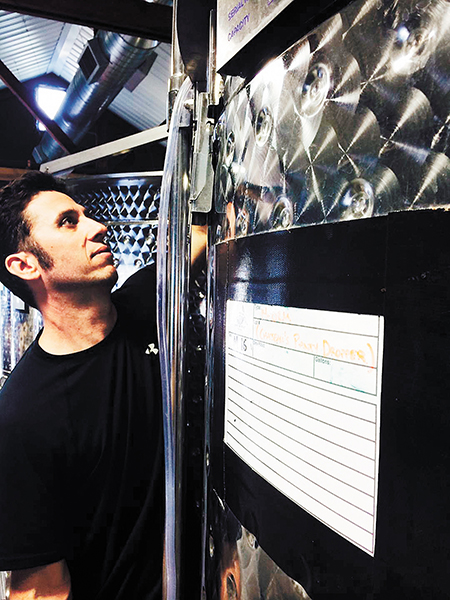 "In a way, it's a conversation starter," he said.
Conversations between Roberts and freight broker Shawn Shumate led to the 30 Brix business partnership. The 39-year-old winemaker and 32-year-old former restaurant manager networked within Southern Oregon's food service sector. After some research, the two confirmed that none of the region's wineries exclusively produced dessert wines.
Bottling and releasing small lots sets 30 Brix apart, giving the wines more of a "personal touch," said Shumate.
"We didn't want to just make wine that everybody else was making."
An advocate awaited in winemaker Herb Quady, whose family's Madera, California, estate specializes in dessert wines. Quady relocated to Southern Oregon in 2003 and created his Quady North label.
"My parents put two kids through college making entirely sweet wine," said Quady. "I think that gives him (Roberts) an edge starting out in a really crowded industry."
Roberts stood out from the crowd of seasonal employees at Troon Vineyard in Grants Pass, where Quady worked for a decade as winemaker. Starting as a picker, Roberts remained after harvest to assist Quady in Troon's cellar and winery.
"I was just fascinated with the fermentation side and the chemistry," said Roberts.
When Quady quit Troon in 2014 to start his custom-crush venture, Barrel 42 — co-founded with Brian Gruber — Roberts went with him. The Medford winemaking operation produces 30 Brix, along with about 20 other labels. Barrel 42 gave Roberts the venue for growing Prickly Vine from a hobby pursued in his home kitchen to a professional endeavor.
"You need to have a balance of sweetness, alcohol and acidity," said Quady, explaining that he helped Roberts to "run the numbers" on Prickly Vine, verifying it would be stable — resisting re-fermentation — in the bottle.
About 1,100 pounds of blackberries, fermented with Southern Oregon honey and aged in French oak, yielded 178 cases of Prickly Vine. Bottles retail for $20; and Roberts recommends pairing the light, fragrant elixir with vanilla-bean cheesecake.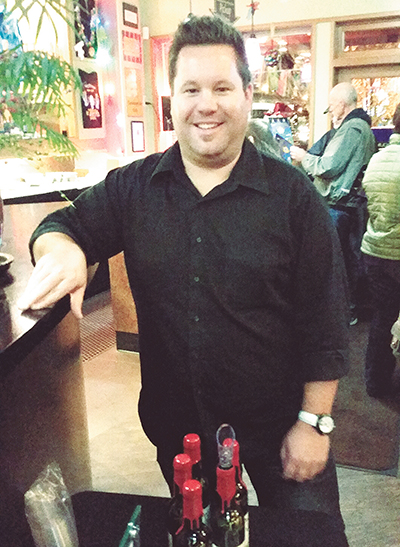 "I thought they were pretty delicious, honestly," said Quady, adding how he previously didn't care for fruit wines in general. "You can really smell the blackberries."
Although the wine's raw material abounds, Prickly Vine could be a rare commodity if Roberts decides to discontinue production. About 100 cases remain for purchase from the winery and a handful of bottle shops.
Rarer still, since its release about a year ago, is 30 Brix's first grape-based wine, Pastel 13 Orange Muscat. Twenty cases of the citrusy sipper secured 30 Brix's entry at Oregon Wine Experience, a five-day gala and wine competition in Jacksonville.
Special events are 30 Brix's main approach to marketing, said Roberts and Shumate. Lacking their own tasting room, the two frequently pour samples in retail settings, including Harry & David Country Village in Medford and Rogue Creamery in Central Point. Southern Oregon restaurants serving 30 Brix wines are: Bambu, Talon Grill, The Point, Centennial Grille, The Bohemian Club, Northwest Pizza & Pasta Co. and Kaleidoscope Pizzeria & Pub.
Keeping costs low is just one goal behind bringing 30 Brix directly to customers, said Roberts and Shumate. They also want to change misconceptions about the word "Port."
"People aren't buying the product," said Roberts. "They're buying the story and the experience."
One experience that intrigues customers is the Old World treading technique, which Roberts used to macerate three-quarters of a ton of Muscat grapes and four tons of Primitivo grapes. Quaint images of grape-stomping aside, the age-old maneuver minimizes the extraction of tannins, unlike maceration with a metal, punch-down tool, said Roberts. The bitter note that tannins impart is particularly undesirable in dessert wines, he added.
"We don't want too much bitterness out of the skins," said Roberts. "It's a softer approach."
Such a hands-on attitude appeals to customers. "Wow, you jumped in the bin!" is a common response to Roberts' explanation of treading.
That willingness to get his hands — and feet — dirty ensured Roberts' success once he chose to focus on a specific type of wine, said Quady.
"It goes to show you that if you have a lot of tenacity and are willing to work really hard … that you can make it in a very competitive business like the wine business."
Visit www.30brixwinery.com for more details; call 541-324-0509 to order.