Red, White and Black
Documentary to tell story of minority winemakers
By OWP Staff
Bertony Faustin, owner/winemaker of Abbey Creek Vineyard & Winery located near North Plains in the northern Willamette Valley, is fast becoming a spokesperson for other minorities in the Oregon wine industry. As the first recorded black winemaker in the state, he's decided to tell his story — and others' tales, too — in the documentary "Red, White & Black."
"People don't expect someone who looks like me [to make wine]," noted Faustin. "This has worked in my favor since I'm the black guy, but it also works against me. Some people are surprised and seemingly unsure of what to say or do when they learn I'm not a vineyard hand or the cleaning man.
"There is an expectation that a man, or woman, of color can't own a winery unless they made it rich somewhere else," continued Faustin. "To see a black man, a Latino or Asian hands-on in the winery and vineyard, well, people assume you're a hired hand. As André Hueston Mack of Mouton Noir puts it, like him, 'I am the mythical unicorn.' I guess it's an advantage because it makes you unique, but not everyone responds positively."
Faustin is collaborating with director Jerry Bell, of JBJR Productions, in capturing the story of what life is like for minority winemakers — including LGBT vintners — compared to the generally white — and straight — wine industry majority. As word of the project has spread, more minority winemakers have reached out to Faustin.
"I thought I was alone for years," he said. "I'd hear rumors of a Latino winemaker but never actually met him. I got to know the Hip Chicks over the years but never thought of them as 'lesbian' winemakers, just great people who were supportive and always very nice. And it wasn't until this year that I ran into another black winemaker in Oregon."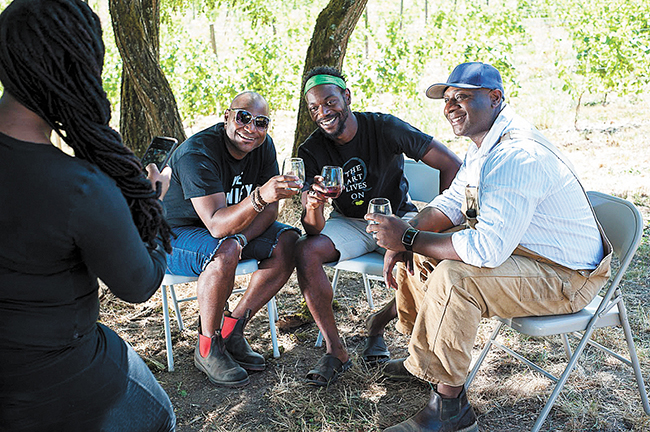 As the state has grown from obscurity to one of the world's most renowned wine regions and respected for its community-minded inclusivity, Faustin says, not all are invited to the table. So he's taking media matters into his own hands.
"In today's racially charged and homophobic climate, it became clear to me that it was time to step up and tell my story and that of other minority winemakers. To bring a positive story to the public and provide a source of inspiration to minority youth," Faustin noted.
"Wine is an important industry to Oregon, and if this film can show just one person [of color] that there are more jobs in wine than cleaning bathrooms and pruning vines, then we've done something important, something of value," he commented. "If we elevate public awareness and build a better bridge of acceptance for all people in wine, be they of color or LGBT, then we've changed the industry and improved a lot of lives. After all, wine comes in multiple colors and even more shades; the people making it should be as well."
A 40-day fundraising effort was launched Aug. 13 on the crowd-sourcing website, www.indiegogo.com. All funds raised go directly into supporting the production and promotion of "Red, White & Black."