Merlot and Behold
Walla Walla Honors variety at annual celebration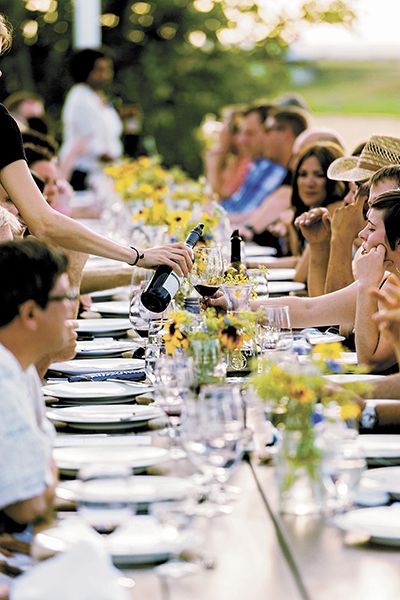 By Jim Gullo
We had crossed the state line from Washington to Oregon several minutes earlier, our destination to a vineyard outside Milton-Freewater that makes Walla Walla wines, when the driver of my shuttle mused, "If the grapes are grown ten miles inside Oregon, but are then shipped back over the line to Walla Walla to be processed, does that make it an Oregon wine or a Washington wine?"
Good question. And one that resonates in the Walla Walla Valley AVA, which straddles both states, with more wineries located on the Washington side, but vineyards about evenly split between the two. As I learned from many vineyard tours and talks with winemakers during five days spent in Walla Walla in June, the differences in vineyard sites on both sides of the border and the curious area known as The Rocks, located right in the middle with its own sub-AVA, are crucial to understanding Walla Walla wines.
I had been invited by the Walla Walla Valley Wine Alliance to attend the third-annual Celebrate Walla Walla Valley Wine festival, which focuses each year on a different grape. Cabernet Sauvignon, the No. 1 planted grape in the valley has had its turn, and Syrah — the darling grape of the region — had also been featured. This year was devoted to Merlot, the second-most planted grape in the valley. And, for that matter, in the world, as Master Sommelier Fred Dame pointed out at a keynote event held in the charming, restored Gesa Power House Theatre in downtown Walla Walla.
Yes, Merlot, which has been given a wedgie in public so many times after it was so bitterly denounced in the book and movie, "Sideways," in favor of trendier Pinot Noir. "I hate that goddamn movie so much," groused Ron Coleman of Tamarack Cellars. "That movie took food out of my children's mouths."
But lest we forget, Merlot is the No. 2 varietal in the world because it can be so smooth, so lush and easy to drink and so conducive to blending, serving as both a workhorse varietal for Bordeaux blends or a stand-alone varietal with small additions of Cabernet Franc or Petit Verdot.
Dame noted, "You are making magical Merlot here in Walla Walla." The "magic" started when Merlot headlined a Leonetti Cellars wine in 1994 that was rated the fourth-best wine in the world, helping put this tiny, rugged corner of southeast Washington on the wine map; Walla Walla's success continues today. As Casey McClellan of Seven Hills Winery, who tore up parts of his family's apple orchard to plant Cabernet in 1980 and Merlot two years later, pointed out, "There were 22 wineries in Walla Walla in 1988; now there are more than 150."
Not so fast, said wine critic Stephen Tanzer, who followed Dame's enthusiastic talk with a more sobering one. Merlot is a tricky grape, he noted, "almost as much as Pinot Noir" and challenging to grow, with a tendency to quickly go off the rails in ripeness. "It can develop roasted fruit qualities … and lose acidity to over-ripeness," he warned. Washington growers have made great strides managing their Merlot crops over the last 15 years, he added, but have occasionally been guilty of making over-extracted, overripe wines with untamed tannins.
More than anything, Tanzer noted, Walla Walla is still a young winemaking area still determining what to grow and where. Touring the vineyards with winemakers like McClellan, Woodward Canyon's Rick Small and Marty Clubb of L'Ecole No. 41, gave me a new appreciation for growing anything, much less winegrapes, in the arid, windswept Walla Walla Valley, where weather routinely wreaks havoc in the vineyards.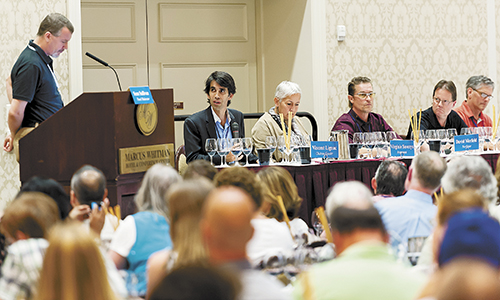 Every winegrowing region has its weather stories, but Walla Walla's seem crueler than most. Hard winter freezes and late spring cold fronts clobber the vines. Frost settles on the valley floor and shuts down low-lying vines, forcing growers to either plant higher up or install wind machines to blow warm air downwards. Temperature inversions are epic. "On Nov. 26 of last year, it was 60 degrees outside," mentioned geologist Kevin Pogue. "On Nov. 29, it was 2 degrees." As Leonetti vineyard manager Jason Magnaghi explained, many vineyards bury a shoot from each vine every year — a practice adding thousands of dollars in labor costs — as a hedge against frosts that kill everything above the ground.
Just last month, during the heat wave that struck the Northwest, Walla Walla reported temperatures of 113°F, shutting down and burning grapes. Factor in an arid, desert climate of less than a dozen inches of rain a year, forcing growers to irrigate their crops. "If I didn't irrigate, we might get one cluster," said Small. Besides his Cab and Merlot mainstays, he has been experimenting with plantings of Mourvèdre, Barbera, Semillon and Sauvignon Blanc to see what will take. Water is highly regulated, and planting new vineyards on the rolling hillsides on either side of the valley requires not only acquiring water allocations, but building water lines, pumps and basins.
Such trials keep the winemaking community close and cooperative. At a sold-out tasting event held at Dunham Cellars' hangar-like facility near the Walla Walla Airport, which has become a winery hub, veterans like Small, Clubb, Erik McLaughlin of Seven Hills and Amy Figgins of Leonetti poured their wines alongside newcomers like Jon Meuret of Maison Bleue, and Nina Buty of Buty Winery. The wines ranged from an exquisite 20-year-old Riesling to Semillon, Cab Franc and, of course, Merlot, sourced not only from the Oregon side, the Washington side, Blue Mountain or The Rocks, but also from grapes grown in Yakima Valley. The Wild West of winemaking is alive and well in Walla Walla, and I raise a glass to toast their continuing success.