Reyes-ing the Bar
Point Reyes a pivotal player in artisan cheese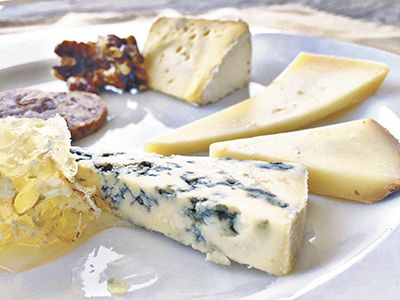 There are few stories that reflect more accurately the incredible trajectory of change in the American food system in the last 15 years than Point Reyes Farmstead Cheese Company.
In 1959, after graduating with an agriculture science degree from UC Davis, second-generation dairyman Bob Giacomini and his wife, Dean, bought a small working dairy farm overlooking Tomales Bay in Marin County, California. Their 720 acres were just a few miles away from the dairy farm where Bob was raised.
The couple settled into a traditional dairy life with Bob running the farm and Dean managing the books. The Giacominis raised four daughters on the farm.
"Mom was a farmer's daughter herself and was adamant that we not be raised with the burden that the farm was our destiny," Jill Giacomini Basch recalls. "She pushed us to explore our own interests, education and travel.
"By encouraging us to cultivate our own careers and interests, we would turn around and come back when the time was right for us and bring something of value back to the farm. That's exactly what ended up happening."
In the late '90s, instead of opting to sell the farm, the sisters — Karen, Diana, Lynn and Jill — joined forces with their parents to create a value-added product that would keep the farm in the family. Unbeknownst to them, this was a pivotal moment in the American cheese scene, as consumer focus shifted to specialty and artisan producers, many of whom were located nearby the fledgling operation.
The Giacominis were welcomed and encouraged by the then-new Cowgirl Creamery and other established producers in Marin and neighboring Sonoma counties — a region famous for wine was poised to become a major player in cheese.
The family researched the market, discovering an unfilled niche: California farmstead blue cheese. They hired an experienced cheesemaker and focused on sales and marketing, strategies where the sisters' off-farm experience could shine.
The milk from their herd was perfect for the toothsome and tangy Point Reyes Original Blue Cheese. Within a few years of its introduction in 2001, the cheese was in demand and considered a darling in Bay Area cheese shops and restaurants.
The team planned to add complementary products to their portfolio. With the arrival of Polish cheesemaker Kuba Hemmerling, the company developed Toma in 2009. This semi-hard table cheese is mild, buttery and easy on the palate; by design, the perfect counterpoint to the bold blue.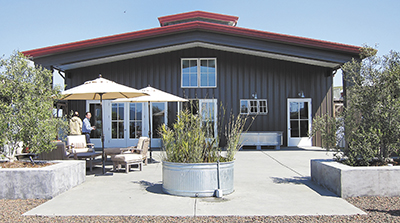 The most recent addition to their repertoire, Bay Blue, was introduced in late 2012. Inspired by English Stilton, it was more refined and mellow, and its rich, moist, dense texture and well-balanced flavor had judges salivating. Bay Blue was an instant success, winning "Best New Product" across all categories at the 2013 Specialty Food Awards.
"When you launch a new product, you are always refining the recipe — the aging — for a while even after you bring it to market," Basch says.
Those further refinements were rewarded when Bay Blue won second place in "Best in Show" at the 2014 American Cheese Society Awards, and more recently, winning "Best American Cheese" at the 2015 Specialty Food Awards in New York City.
In addition to crafting artisan cheese, the family added "The Fork," a culinary education center right on the farm in 2010. The facility teaches both cheese industry and consumers what "farm to table" is all about.
"We wanted to share the full gamut experience of how our cheese is made," Basch says. "People can come here, experience our history, see the farm and see that we are land stewards and conservationists and then taste the cheese.
"There's an 'ah-ha' moment when people understand why this cheese tastes like butter and this cheese tastes like grass. People leave with a full belly and a new understanding of how and why we do what we do."
If you're planning a visit to Point Reyes, watch for consumer classes and monthly farm dinners featuring local guest farmers to share a sense of the area food movement. Closer to home, Point Reyes can be found at your favorite specialty shop.