News Briefs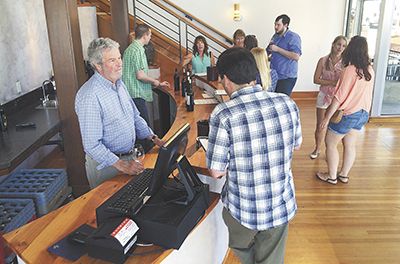 Latin Twist in Walla Walla
Gino Cuneo, a 25-year veteran of Italian-style wines, along with Doug McCrea, founder of McCrea Cellars and a leader in Rhône and Spanish varieties, have opened a unique shared tasting room, The Latin Corner, in the heart of downtown Walla Walla. Guests can taste Albariño, Rosato, Tempranillo, Nebbiolo and a real rarity, a true Amarone-style wine. Cuneo and McCrea are also offering flights of their latest projects, g.Cuneo and Salida, respectively.
The Latin Corner is located at the corner of Second Avenue and Rose Street and open 11 a.m. to 5 p.m., Thurs.–Mon.
Chomping at The Bite
The Bite of Oregon will celebrate its 32nd anniversary at Portland's Waterfront Park, Aug. 7–9. The three-day festival features the state's finest chefs, wineries, breweries, cideries and distilleries, along with celebrity chef demonstrations and challenges, live entertainment and children's activities. The Bite benefits Special Olympics Oregon. For times and tickets, visit www.biteoforegon. com.
Growling at Kramer
Kramer Vineyards joins the growler rage, offering customers wines for fill-up and take-home. Kramer has chosen its 2014 Pinot Gris Estate and a barrel of 2014 Pinot Noir as the first growler selections. Kramer Vineyards is located at 26830 N.W. Olson Rd., Gaston, and 258 Kutch St., Carlton.
Openings
Soléna Estate
Veteran winemaker Laurent Montalieu and Danielle Andrus Montalieu recently opened their new Soléna Estate tasting room on the couple's 80-acre Biodynamically farmed vineyard, located in the Yamhill-Carlton AVA.
Set among rolling hills and adjacent to an exclusive lake, Soléna's new space measures 3,500 square feet with an exterior of weathered wood and stone, a wood-burning fireplace, outdoor terrace and organic garden. In addition, the tasting room also features a state-of-the-art commercial kitchen and barrel room.
Soléna Estate is located at 17096 N.E. Woodland Loop Road, Yamhill. For more information, visit www.solenaestate.com.
Terry's Crush2Cellar
Terry Sherwood has opened a new winery supply store in Newberg, Terry's Crush2Cellar, located at 214 W. Hancock Street.
The shop carries a full range of wine industry supplies, including fermentation products, filtration equipment, tanks, parts, barrels, lab equipment and more. Wine analysis by ETS Laboratories is available in an impressive 1,600-square-foot space.
Hours are Mon.–Fri., 8 a.m. to 5:30 p.m. For more information, call 503-537-1151 or e-mail terry@crush2cellar.com.