Reality TV Meets Wine
Aspiring winemakers to compete on "Best Bottle"
The intense study, trials and hard work required for any winemaker to produce his or her best bottle leave little room for pretensions. This fact is what Best Bottle founders Scott Krauger, Robert Richards and Matthew Wilson hope to illustrate through a new reality show of the same name: "Best Bottle."
The show will pit aspiring winemakers from different winemaking regions. Season one contestants will be guided by established winemakers from Oregon and California — future seasons will include competitors from Australia, Germany, France and New Zealand.
When you consider it, many of the world's conflicts could have been settled in such a way — the French certainly would have racked up more victories — but the creators of the show expect a friendly competition.
While Krauger has a passion for film and storytelling, he is no stranger to wine. In 1993, he was hired to oversee construction of Archery Summit Winery in Dundee.
"That's where I cut my teeth," he noted. "It's the only winery here with caves. We were the first to go to $40 a bottle. It's not one to drink on a Tuesday night with your hamburger."
Krauger says he hopes the show will be enjoyable as well as informative.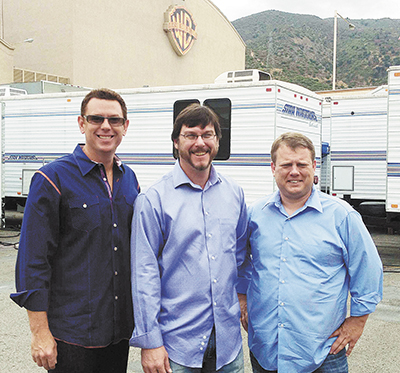 "A lot of people don't know what it takes to make a bottle of wine," he said. "There's not that understanding. So the show is meant to entertain but to educate as well."
In describing the move to create a reality show where aspiring artisans compete for a $100,000 cash prize, the opportunity to bottle one vintage under the Best Bottle label, and a custom-designed advertising campaign, Krauger said the reality element will take care of itself.
"Best Bottle is a celebration of the wine community, and the show is an extension of that community," he explained. "It's not reality TV; it's real reality TV."
Describing the show as part "Top Chef" and part "How it's Made" with a little "Project Runway" interspersed, Krauger said the contestants, as well as the expert mentors from top wineries, will emulate the mix of large personalities.
"There's enough real reality and amazing characters in the wine industry that we don't need to embellish it," he said. "There are people who really have a passion for the land and for Mother Nature."
While Krauger is an Oregonian, he is temporarily declaring himself Swiss for competition purposes. Nonetheless, the first season takes place in Oregon, in the Dundee Hills at Lange Estate Winery.
"I've known the Langes for a couple decades," said Krauger. "They've agreed to be the host winery for the first season; and Don and Jesse Lange will be the mentors."
Jesse, Don's son and current general manager and winemaker at Lange Estate, said the show will reveal the gritty side of the business while giving viewers a special understanding for the origins of the wines they buy.
"I think tying what we do back to the land, that's a real strong thing because good wines are always grown." said Lange. "Farming is hard and farming Pinot Noir is the hardest."
Lange says he enjoyed hosting the production team and prospective contestants at the winery for preliminary shooting because they were able to get their hands dirty in the process, especially considering it all took place during harvest. This, Lange said, is what all aspiring winemakers need to experience.
"That eight weeks during harvest and crush, that's the Super Bowl," he said. "You have that one chance to get it right."
Lange agreed with sentiments from Krauger; that the reality aspect of the show will take care of itself.
"In the wine industry, especially for artisans, wine is dramatic," said Lange. "When you're screaming at your dad, and he's screaming at you at 2 a.m. in front of your team, that's real."
The grueling nature of harvest is a key factor, according to Krauger.
"What the show is taking the contestants through is to ask, 'Does that winemaker really have what it takes?'" he said. "These are artisan wines. These are wines that when you get them, they're really special.
"We have one person who's been cast for the show. He's Catholic, and he and his wife make sacramental wine for their church. He gave me a bottle, and it blew me away."
In selecting the contestants, Krauger said each had to meet certain criteria.
"Are they a good person? Do they understand the farming? Do they understand the viticulture? Do they understand the science?"
Lange agrees that winemaking is an all-inclusive discipline that not anyone can accomplish.
"Winemaking is a very long and complicated algorithm," he explained.
When asked whether being a winemaker is similar to being a chef, Lange agreed, with a condition:
"We can't be as picky when it comes to ingredients," he said. "We get a certain batch in the harvest and that's what we have to work with."
Still, that batch is the end result of a viticultural process that ultimately puts the finish on the first glass poured.
As Krauger describes it, "All wine is made in the vineyard. Period."
Still, some aspects of Best Bottle have yet to be defined. For example, exactly where the show will air is still in process. As such, there is no network to carry the show yet. This, however, does not concern Krauger.
"We've just learned that Alaska Airlines has partnered with the show," said Krauger. "So it will be shown on their flights. And we have 170 million homes worldwide through many different platforms. We're going through Sony Platform like PlayStation and we're also going through Blu-ray DVD."
In fact, one stated goal of the show does not involve television whatsoever.
"One of the biggest deals about this project is getting people to turn off their television and make an incredible meal," said Krauger. "And wine has a way of creating good conversation."
Season one contestants have been selected. Filming of the show begins in September.
In the years before Neil Zawicki landed in the Willamette Valley, he spent his time as a reporter in Alaska, and a sailor with an address in a California marina. He's a student of history, a painter and a guitar player. He plans to study viticulture next fall.