A Viking to Mead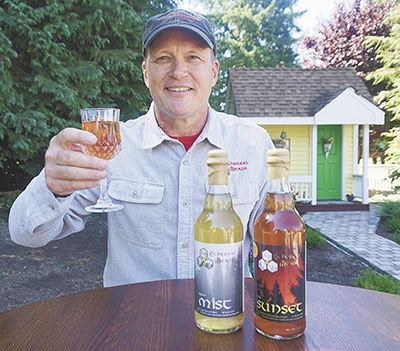 By Viki Eierdam
Mead master, Gary Gross, has joined the medieval beverage resurgence with the recent opening of Ethereal Meads in Battle Ground, Washington.
Fans of mead — an alcoholic drink made of fermented honey dating from at least 2000 B.C. — have speculated that the craft beverage scene or the HBO drama "Game of Thrones" has sparked its revival of Viking proportions, but, for Gross, it was a wedding that piqued his curiosity.
In the summer of 2004, he attended his son's medieval-themed wedding in Upstate New York, complete with a forest, costumes, venison and mead.
Gross said "His father-in-law is a home brewer and he thought 'You're going to have a Viking wedding. We're going to have to have mead.' He made his first-ever batch, and I thought, 'This is great.' I started making it in the fall of 2004 and never looked back."
Ethereal's flagship meads are Mist, a Yakima Valley five-apple blend with blackberry flower honey fermented with five spices; and Ruby Sunset, a drier option in which strawberries and blackberry flower honey are fermented before soaking in dried cranberries.
Gross is particularly interested in how local mixologists incorporate mead into cocktails such as Ruby Sunset mixed with a little rum, triple sec and a dash of Galliano over ice.
Skål! Cheers!