A Wine Exchange
Popular wine retailer/expert entertains OWP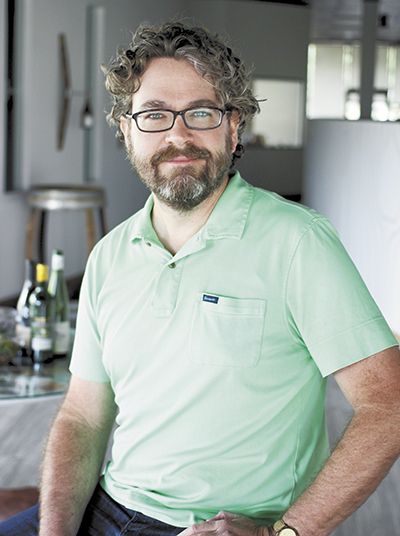 Kyle Meyer is a renowned wine buyer and retailer. His career started in 1991 at Wine Exchange, a bottle shop established in 1982 by Steve and Craig Zanotti in Santa Ana, California.
In 2011, Meyer and Tristen Beamon left Wine Exchange to form Best Wines and www.bestwinesonline.com. Using multimedia, the pair quickly established Best Wines as one of the hottest wine businesses in the U.S.
This year, the Zanottis, Beamon and Meyer reunite with the Best Wines Group's purchase of Wine Exchange and www.winex.com, the award-winning website Meyer helped launch in 1994.
Having tasted "more than 80,000 wines" in his 20-plus years in the business, Meyer has traveled to all major winegrowing areas of the world; his focus remains on France, Italy, Germany, Spain, Austria, Australia, as well as the U.S.
He has been published in the L.A. Times, Details Magazine, Slate.com and on syndicated radio nationwide, including multiple appearances on "The Tasting Room with Tom Leykis."
Check out Meyer's interview and wine education videos on YouTube via a link on www.winex.com.
How did you first become interested in wine?
Started when I was 16 actually, bagging groceries at a gourmet grocery store in Palm Springs. I caught the bug out of curiosity. Why the heck was this bottle of white wine $160? And job security. Everyone else was frightened of the liquor aisle...I tried my first bottles of Kalin, Chateau St. Jean (the old Dick Arrowood days) and J.J. Prüm at that time. That pretty much did it...
What is your opinion of Oregon wine? Which of the state's varietals have impressed you most?
Oregon is still firmly Pinot Noir country, but I'm happy to report that Oregon is starting to figure out Chardonnay ... finally! I'm a bigger Pinot Blanc fan than Pinot Gris.
Describe the latest bottle of Oregon wine that rocked your palate.
The 2012s from the Cristom boys were just exquisite.
You have a popular series of winemaker interview videos, now called "The Extract." Which guest has been your favorite thus far? Who has been the greatest challenge to interview?
Favorites are the ones that aren't afraid to let it all hang out, Luca Currado from Vietti, your husband, actually (editing that now, it's gonna be a doozy...) as well as the pioneers. I could sit and listen to Tim Mondavi, Michael Mondavi or Ed Sbragia for hours. Finally, Greg La Follette was awesome. His knowledge of the inner working of the vine is absolutely mind-boggling.
The toughest? The guys that you expect to be easy, like musicians turned vintners. Gerald Casale from Devo was really tough, very reserved, as was Maynard James Keenan from Tool. Tris interviewed him. It took a while to loosen both those guys up.
What's your opinion of wine scores?
We use them. People use them to aid their buying decisions. I wish they weren't the final say for many customers but it's a fact of life that they are. Nobody wants to admit it, but if you're buying a wine with the same exact description from the same exact critic at the same exact price, you're pulling the trigger on the one with the higher number; it's just the way it is.
If you were to own a winery, where would it be and what kind of wines would you like to make?
I'm a real wine dork, so I'd probably head to where people aren't, like Marc De Grazia did when he went to Etna and started Tenuta delle Terre Nere. I'd probably throw my hat into the ring of the next cool thing ... whether it's New Zealand Zinfandel or Aglianico from the Mojave Desert ... who knows?