Food Trekkin'
Chefs take to the road catering to wine country tasting rooms
When asked what food is available in house, most tasting room staffers routinely point to a bowl of water crackers or give directions to the closest restaurant.
This summer, tables are turning — so to speak — with a slew of chefs trekking their talent to the wineries via food trucks, presenting impressive menus and incredible convenience. It's a relatively small but substantial epicurean movement that not only reflects an ever-growing tourist season but also answers wineries' need to serve food.
The Willamette Valley is no stranger to food carts. Many congregate in and around Portland, tempting the masses with fresh, affordable fare. Many of the city's best restaurants, from Lardo to People's Pig, started as trucks. It's a kind of rite of passage for start-up chefs intending to one day move to brick-and-mortar.
In the Valley, food trucks conveniently bring the area's bounty to tasters desiring a picnic with a view or a delicious excuse to uncork wine just purchased at the tasting room bar.
The same is true down south.
"We're literally set up like a restaurant," said Stefan Pena, owner of The Rogue Chef based in Medford. His 18-foot trailer boasts raised ceilings, fridge, freezer, two ovens and prep station, essentially an industrial kitchen on wheels. Pena, formerly of Ashland's Peerless Restaurant — among others — started the mobile unit in January.
"I shopped around for trailers for a while and drew up a blueprint of what I wanted," Pena said. "Quality Builders in Portland put it together over a couple of months and said it was the best trailer they built in the last 10 or 15 years."
The Rogue Chef sets up shop across Southern Oregon, from Flywheel Bicycle Solutions to Southern Oregon Brewing Company to Red Lily Vineyards. They offer street food (burgers, Reubens, salads), high-end fare (prime rib, seafood) and custom menus for private events.
Pena says he and his wife currently field about three requests a day over the phone. "It's a war room at home with whiteboards and scheduling," he added.
With the Rogue and Applegate valleys within striking distance, he hopes to start showcasing wine-pairing meals with weekly circuits at a few wineries — stay tuned to Rogue Chef's website and Facebook page to see where Pena and company will appear next.
At Wild Vines in McMinnville, Nicci Stokes brings over two decades of chef experience to the table. She has two carts and a few side projects, including Whiskey River BBQ in Sheridan. The move to mobile was inspired largely by a desire to spend more time with family.
When asked what she likes about cooking in wine country, Stokes says, "Every single thing."
Her menu showcases wild game sausages and barbecue, along with panini, meat and cheese boards and other snacks, depending on the venue. Already this summer, Wild Vines has visited Yamhill Valley Vineyards and Dominio IV, among other locales.
One of Stokes' most popular menu items is the "50/50" burger, an even blend of sirloin and bacon, stuffed with grilled onions and blue cheese. It's classic summer fare worthy of a heavier Pinot Noir and a vineyard view.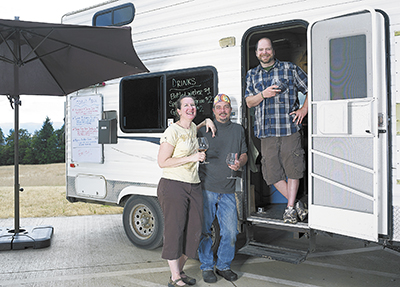 In nearby Newberg, Alain Darwich launched Artisan Peacock this summer; the food truck — formerly a Fed-Ex rig now outfitted with a six-burner range, deep fryer, griddle and convection oven — is affiliated with his other business, Market Barrel, an Old-World food boutique located downtown.
The young cart, which has already started making the rounds in wine country — Saffron Fields and The Four Graces — features fare both gourmet and wine-centric. "We cater our menu for the various events, including working with wineries and their winemakers to pair foods with their wines," he said. "We love Italian and Middle-Eastern food and love to bring those flavors into the food we make."
Like many mobile kitchens in wine country, The Peacock roams beyond tasting rooms to festivals and private parties — no two days are alike and that's the attraction for so many like-minded chefs. On a recent stop at Anam Cara Cellars, the truck was serving pork rillette crostini, lamb meatballs and pasta; and for dessert, cannoli, the Sicilian standby.
Diners and tourists can monitor The Peacock's whereabouts via Facebook, Twitter and its soon-to-be-completed website.
Across the valley in Carlton, Tim Elliot and Lori Pillsbury operate Farmers' Plate & Pantry. The eatery is open for three meals most days of the week, cooking what it describes as "locally focused comfort food." On Sundays, they serve homey suppers — a recent meal featured meatloaf and mashed potatoes.
The pantry is also armed with a food truck, which the couple readies for parties, art festivals and tasting rooms. "I like being able to bring my food out to people and having a vehicle that I can prepare each plate to-order makes everything as fresh as it can be," said Elliot.
The couple typically prepares an appetizer, main dish and large seasonal salad. On a recent stop at Winter's Hill in Dayton, the pantry served pork loin sandwiches with arugula and chimichurri, a blueberry salad, chips with a house summer squash salsa and a berry crépe for dessert.
Farmers' Plate & Pantry opened in March 2014 and specializes in approachable dishes and food favorites executed to perfection. Menu items like blueberry pancakes, spaghetti and meatballs, pizza, grilled cheese, and brownies and ice cream will be served when the pantry's cart visits ArtBurst NorthWest in early August as well as a winery or two later in the month.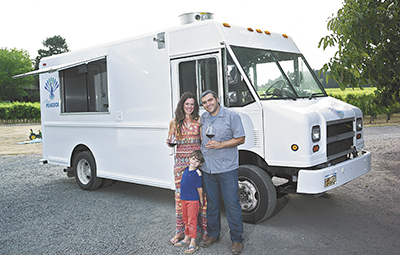 A handful of other food carts and trucks will be moving in and out of wine country this summer. Red Hills Market deploys its portable wood-fired oven via a 1949 retro-fitted farm truck quite often, with weekly stops at Domain Drouhin Oregon as part of the "wood-fired Wednesdays" series — guests can enjoy old fashioned pies and Pinot Noir from the winery's stunning deck.
Red Hills' home base is its deli-style shop in Dundee but features prominently at many of the Valley's tasting rooms, especially during harvest.
Also of the pizza ilk is Renaissance Catering of Newberg. Chef Kris Utz can be found slinging dough and manning his wood-fired trailer at wine country weddings, farmers markets and vineyards in the area. As the name implies, Renaissance has a rustic bent to its menu, with special attention to fresh seafood.
This is to say nothing of the many metro area carts and mobile food operations venturing into wine country, particularly during the busier summer months. Certainly, there are restaurant options adjacent to vineyards throughout the state, but the convenience of the cart and the freshness of ingredients greatly appeals to hungry day-tripping tasters.
Mark Stock, a Gonzaga grad, is a Portland-based freelance writer and photographer with a knack for all things Oregon. He currently works at Vista Hills Winery.