Tool of the Trade
Musician Maynard James Keenan sounds off with OWP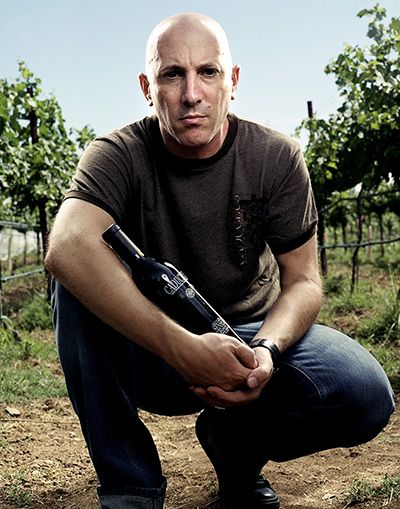 Born in 1964, musician/winery owner Maynard James Keenan grew up in Ravenna, Ohio. In the 10th grade, he moved to Michigan to live with his father; he graduated high school in 1982 in Scottville.
Keenan attended the United States Military Academy, West Point's prep school, from 1983 to 1984. Upon completing his term of enlistment, he studied art at Kendall College of Art and Design in Grand Rapids, Michigan. In 1988, he relocated to Los Angeles where his love of animals led him to practice interior design for pet stores.
In 1990, he formed the multi-platinum band TOOL with guitarist Adam Jones. Fronted by Keenan, the lineup also included Keenan's neighbor, drummer Danny Carey, and bassist Paul D'Amour — who would later be replaced by Justin Chancellor. He is also known as the lead singer of A Perfect Circle, founded in 1999; in 2003, he created Puscifer.
Keenan, whose great-grandfather, "Spirito" Marzo, farmed vineyards and made wine in Venaus, Italy, just North of Turino in Piemonte, currently owns Caduceus (kuh DOO see uh s) Cellars and Merkin Vineyards in Jerome, Arizona. He co-founded Arizona Stronghold with Eric Glomski, but, as of April 2015, he and Keenan split; Glomski has retained the winery and brand, while Keenan is keeping the southern Arizona vineyard.
Besides appearing in a 2010 documentary, "Blood into Wine," which explores Keenan's winery beginnings, he has also performed improvisational sketch comedy and ventured into acting. Among other business ventures, he is a partner in the L.A. restaurant Cobras & Matadors.
Keenan and his wife, Lei Li, live in Sedona with their baby girl, Lei Li Agostina Maria.
How did you first become interested in wine?
The unconscious education occurred in Boston around 1987 to 1989. The focus was, of course, friends, food and wonderful weekend gatherings. In hindsight, wine was an integral part of those dinners. Kurt worked at an Italian wine shop in the North End and would bless the ignorant with his choices.
Later on, once exposed to more wine while traveling internationally, those earlier blurry experiences began to come into focus. I caught the bug. And, eventually, the bug caught or chose me.
Oregon winegrowers pride themselves on "growing on the edge," but in Arizona, this sentiment takes on much greater meaning. Can you tell OWP readers some of the obstacles you have faced growing grapes in Verde Valley?
We're farming at elevations between 3,800 to 5,000 feet. Our Southeastern growing region has much in common with Argentina, while Northern Arizona looks much more like Spain-meets-Rhône-meets-Italy/Mount Etna. Because of the elevation, we see late spring frost and, on occasion, some winter kill. Because we're in an arid region, we see monsoons. So in effect, we have more issues with cold and moisture than we do with heat. Many of these issues are circumnavigated by our farming practices. Mother Nature can be cruel, but if you know how she may act, you can better prepare. We just never really know when. We are absolutely living on the edge of her whims.
Through all your experimentation in the vineyard, which varietal(s) has been the most successful to cultivate and produce thus far? Which varietal would you like to add to your vineyard in the future?
That's difficult to answer. I think time will confirm we are far more like Italy than anywhere else since we've seen success with an extremely long list of vinifera. Rhône, Bordeaux, Iberian, a long, long list of Italian [varietals] all do very well here. It's now a matter of determining which region has the most unique desirable expression of Aglianico, Nebbiolo, Sangiovese, Mourvèdre, etc. These and many, many others do very well.
Malvasia Bianca is the one white grape we as a state have all agreed on as being a winner. I suspect that grapes like Albariño and Chenin Blanc will soon follow.
Assuming you have tasted Oregon wine, what is your opinion of it? Do you like Pinot Noir?
Pinot from Oregon is my preferred expression of the grape outside of the DRC (Domaine de la Romanée-Conti).
How does making music compare to making wine?
The process is extremely similar. General to specific. And patience is the catalyst.
Do any of your band members (Tool, A Perfect Circle, Puscifer, etc.) enjoy wine as well?
It's wine. Of course they do.