Deep Sea Striving
Winery at Manzanita owner sets sights high on the coast
By Dan Haag
Manzanita is the quintessential coastal town: quaint shops, fine dining, countless outdoor activities and a golden beach stretching seven miles longs. Nestled comfortably in the shadow of Nehakahnie Mountain — and located just over an hour west of Portland — this northern coastal community is soon to be home to one of Oregon's newest wineries: The Winery at Manzanita.
Set to open late summer, Mark Proden's latest winery project is a dream come true. He developed an early interest in winemaking while growing up on a dairy farm in Northwest Wisconsin. And like many winemakers, it started as just a hobby.
"After giving my first batch of wine as Christmas presents in 2006, friends and family encouraged me to enter the wine business," says Proden. "My family and I just planted a small vineyard on the farm with cold-tolerant French-American hybrids this past year."
Proden's journey into wine took flight during his time in the military.
"I became interested in wine through cooking during my 11 years in the Air Force as a pilot and engineer, visiting Napa and Sonoma and, eventually, Oregon as Pinot Noir grew in popularity here," he says.
That interest led Proden to attend Chemeteka Community College's Northwest Wine Studies program in Salem. There, he learned the craft, and in 2009, he founded Bodhichitta Winery while attending school. "I was making small batches of wine — 10 to 100 cases at a time — by hand in Salem," Proden explains.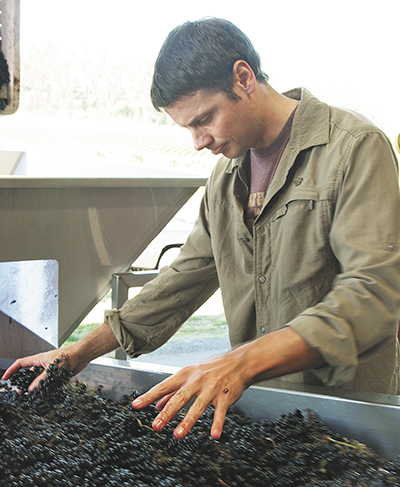 In addition to Chemeketa, Proden gained valuable experience working crush at Erath in Dundee, as well as tasting rooms at Cubanísmo and Orchard Heights in the Salem area.
In 2013, he opened his own tasting room, The Portland Wine Bar. Located downtown, just off Pioneer Courthouse Square, the small space carries Proden's wines, as well as other boutique labels from Oregon and Washington.
But the search for a new production space soon gained priority. The facility where he had been making his wine in Salem was up for sell due to mounting medical bills.
Proden says, "I began looking for a new building, a location inspired by nature that would allow for increased production while maintaining high quality."
Manzanita came to mind.
Over the years, Proden had made frequent trips to the town with his black lab, Pinot. He saw a sign on a vacant lot in the heart of town that said "Imagine the Possibilities!" So he did.
He met Charley Lostrom, a Manzanita-area real estate broker, landlord, developer and owner of the lot. They quickly became friends and a vision developed for a production facility and tasting room.
And the vision is ambitious: a cedar-shingled 500-square-foot tasting room, a 2,000-square-foot production facility, a courtyard with grapevines and romantic lighting, Adirondack chairs, fire pits, a glass roll-up garage door entrance and a second floor two-bedroom beach vacation rental with an ocean-view deck.
"We will serve local, hand-roasted coffee in the morning and offer wine tastings, flights, glasses and bottle service in the afternoon and evening," says Proden. "To accompany the wines, we will serve picnic lunches to go, hand-packed burgers, brats, sausages, hot dogs and panini at lunch and dinner. S'mores kits will be available over the fire pits.
"We'll welcome families, wine aficionados and their dogs," he adds.
With the lease signed, construction is underway with an opening planned for August 2015. Because a winery is a capital-intensive business, Proden sought creative ways to realize his goals. In June, he launched a Kickstarter crowdfunding campaign to help offset certain purchases. But most importantly, Proden sees the campaign as a way to connect with the local area, the wine business community and Oregon wine drinkers.
"Our goal is $55,000, which will help pay for a de-stemmer, press, one fermentation tank, barrels, a commercial dishwasher, tasting room bar, chairs and wine barrel fire pits," he says. "I want to involve the community, to make this winery, in part, their winery."
When the doors open, The Winery at Manzanita will produce Willamette Valley varietals such as Pinot Noir and Pinot Gris. Proden says he will also branch out and make less commonly found varietals such as Leon Millot, Cabernet Franc, Malbec and Marechal Foch.
"I've really enjoyed working with Marechal Foch," he says. "It has such a great inky purple color, like a Syrah, but the body and mouthfeel between a Pinot and Cab."
Proden added that small batches are the key.
"We'll stay small on the production, maximum of 2,000 cases, and focus on small batches of 200 cases," he says. "I firmly believe smaller batches make the difference in terms of wine quality."
With opening day nearing, Proden says he is looking forward to rolling up the double glass garage doors in the front of the tasting room, lighting the fire pits, and welcoming his first customers.
"I see the winery as a gathering place for the community and visitors to enjoy coffee, food and wine amongst friends," he says. "I see it as positive force in Manzanita, setting the bar in customer service and quality, both in terms of the wines and overall experience."