Meet the North Bank
Over the river and up I-5, to S.W. Washington wineries, we go
Story by Viki Eierdam | Photography by Del Munroe
In 1971, Linc and Joan Wolverton became the first to grow vinifera grapes in Western Washington. By successfully planting Pinot Noir, Chardonnay, Chenin Blanc, Gewürztraminer, Riesling, Cabernet Sauvignon and "a bit of Malbec" on 12 acres in La Center, the Wolvertons proved Clark County was, in fact, suitable for high-quality European grape varieties. The Wolvertons became pioneers.
Their Salishan Vineyards 1986 Pinot Noir garnered "Wine of the Year" in an edition of Pacific Northwest magazine, and an importer from as far away as Gloucestershire, England, made treks to purchase cases of their wines year after year.
Retirement closed their winery in 2006, but, by then, the Wolvertons had already passed the baton to Carl D. English, founder and winemaker at English Estate Winery — until his death in 2010. With cuttings from his friends at Salishan, English began planting and experimenting with winegrapes on the family homestead in east Vancouver in 1980 until he arrived at his top contenders: Pinot Noir, Sauvignon Blanc, Cabernet Sauvignon, Gewürztraminer and Sémillon.
From this early success, Maréchal Foch, Pinot Blanc, Siegerrebe (from Germany), Golubok (of Russian origin), Gamay Noir, Tempranillo, Orange Muscat and Pinot Meunièr were added to the list of grapes thriving throughout Clark County.
The North Bank currently stands at 15 wineries and two tasting rooms with more anticipating 2015 openings. From as little as 200 cases to a high of 5,000, Clark County wineries are still very much boutique, small-production facilities where it's commonplace for the winemaker to pour your tasting, welcome your reaction and share a fantastic nugget about the winemaking process.
Sourcing grapes from as near as Cawley Vineyards in Woodland, Washington, down through the Washington side of the Gorge, throughout Eastern Washington, south into Oregon and as far away as the Dry Creek Valley and Suisun Valley AVAs in California, Clark County wineries intend to put the highest quality grapes in every bottle. Here's a sampling of what to expect: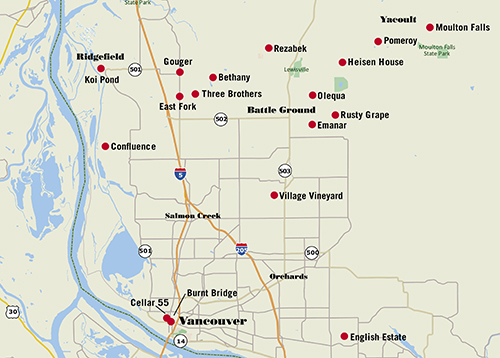 Bethany Vineyard & Winery
Open to the public since 2003, Bethany Vineyard is owner/winemaker Walt Houser's lifelong dream. Twenty-six of his stunningly landscaped acres are planted with winegrapes; another eight varietals are sourced from vineyards he owns on the Washington side of the Gorge. Affectionately nicknamed by his peers as "the Godfather of Clark County wine" for his extensive winemaking knowledge, Houser's earthy 2009 Pinot Noir is the most popular of his current 21-wine lineup and Bethany's Music in the Vines summer concert series draws a larger crowd every year to the picturesque grounds.
4115 N.E. 259th St., Ridgefield, WA
www.bethanyvineyards.com
Burnt Bridge Cellars
This urban winery is a partnership between engineer Mark Mahan and chemistry major David Smith and focuses on Southern Rhône- and Bordeaux-style wines. And a gold medal at this year's San Francisco Chronicle Wine Competition — for their 2012 Pont Brûlé (French for Burnt Bridge) — was recently added to a host of other awards. Spring releases include a Marsanne from Boushey Vineyard and a Grenache Rosé.
1500 Broadway St., Vancouver, WA
www.burntbridgecellars.com
Cellar 55 Tasting Room
Cellar 55 owner Michelle Brinning showcases four Eastern Washington wineries known for their handcrafted wines using Washington-sourced grapes from Five Star Cellars, Gordon Estate, Market Vineyards — the winemaker is Charlie Hoppes — and Purple Star — with Native Sun as the winemaker's label. Brinning and her staff are approachable and the space has a large wine-cellar feel with plenty of cozy seating to accommodate parties of all sizes.
1812 Washington St., Vancouver, WA
www.cellar55tastingroom.com
Confluence Vineyards & Winery
Along the pastoral roads of Ridgefield, above the 'confluence' of the Columbia and Lewis rivers, wine lovers will find Confluence Vineyards & Winery. Although their Bordeaux-style blend, Equilibrium, is a bestseller, winemaker Greg Weber is especially proud of his signature single-varietal Petit Verdot, aged 18 months in French oak. In fact, Petit Verdot makes an appearance in all his big reds. Weber apprenticed under retired research geologist, Norman Banks, who has nearly 50 years of winemaking experience.
19111 N.W. 67th Ave., Ridgefield, WA
www.confluencewinery.net
East Fork Cellars
Partnering with a local art gallery inside Jeff Waddell's gracious 1867 home — featured on the Travel Channel's "Haunted Destination of the Week" — East Fork Cellars is proud to support the arts. No surprise for Waddell, a musician-turned-winemaker who has toured with Tommy Tutone, Cheap Trick, Ted Nugent and REO Sweedwagon. Instead of guitar, he now focuses on producing Bordeaux- and Italian-style wines. East Fork's Cellar Rat Red — a blend of Cabernet Sauvignon, Merlot and Syrah — and estate-grown Pinot Noir are fan favorites.
605 Esther St., Vancouver, WA
www.eastforkcellars.com
Emanar Cellars
In the spirit of Spain, Madrid native Mar Meyerhoefer has a created a small version of home at Emanar Cellars in Battle Ground. Inside, along with the Spanish-style tapas and wine bar, she and her husband, Richard, feature three of their own wines — all of which have sold out. While they look forward to bottling what's in barrel, they proudly pour wines from nearby producers as well as Spanish imports. Local musicians, including flamenco guitarists, highlight weekend evenings, and the couple is escorting their first wine tour of Spain in September.
1113 S.E. Rasmussen Blvd., Battle Ground, WA
www.emanarcellars.com
English Estate Winery
Regarded as Clark County's oldest winery with farm buildings dating to 1915, English Estate is an original. After Carl D. English's passing in 2010, his son, Carl S. English, and daughter, Jennifer (English) Wallenberg, inherited the winemaking, with exciting results. Since more than 90 percent of their wines and fortified "nectars" — produced with their own Pinot Noir brandy — use estate-grown fruit, English Estate is the perfect place to taste the North Bank's unique terroir.
17806 S.E. First St., Vancouver, WA
www.englishestatewinery.com
Gougér Cellars Winery
Located in an old firehouse, Gougér Cellars takes full advantage of its setting with a roof-top patio overlooking the scenic countryside. The 2010 Petite Sirah recently won platinum at the San Diego International Wine Competition, making every still red wine at Gougér a medal winner. Winemaker Gary Gougér also makes non-alcoholic, no-sugar-added ice cream from his grape juice. Zinfandel chocolate chip and Muscat with toasted coconut are two of his creations.
26506 N.E. 10th Ave., Ridgefield, WA
www.gcwinery.com
Heisen House Vineyards
For the love of history, Chris Eckels and Michele Bloomquist purchased the Heisen property, registered as a National and State Historic Site. Soon after arriving, they planted grapes and set out to make wine. The winery and tasting room is located in a 1950s milking parlor and the circa 1890s restored Heisen Barn — listed on the Washington Heritage Barn register — is a stunning backdrop for their summer concert series and annual Barn Bash, Lavender, Sunflower and Crush festivals.
28005 N.E. 172nd Ave., Battle Ground, WA
www.heisenhousevineyards.com
Koi Pond Cellars
From raising koi to crafting wine might seem like a stretch, but for Koi Pond Cellars co-owner Wes Parker, who has always been around, having grown up in Sonoma County and working in the family business: NW Distribution & Storage, the largest wine storage facility in the Pacific Northwest. With his wife, Michelle, the two opened their tasting room in downtown Ridgefield, in a 1939 post office, showcasing chalk art by area artist Micah.
120 N. Third Ave., Ridgefield, WA
www.koipondcellars.com
Moulton Falls Winery
Owners Joe and Susan Millea showcase their bucolic location in the shadow of Mount St. Helens with a Northwest-themed tasting room and wine labels reflecting the history of the area — Cedar Creek, Railroad Red and Lucia Rosé. The winery plays host to Grammy-winning artists on the weekends and is the site of Clark County's Folk Festival. They also partner with the Chelatchie Prairie Railroad to conduct four wine trains along a scenic stretch of North County track throughout the year.
31101 N.E. Railroad Ave., Yacolt
www.moultonfallswinery.com
Olequa Cellars
With a chemistry background, Olequa Cellars winemaker Brian Tansy bought his North Bank property specifically to grow grapes and took the winery name from the U.S. Geological Society's name for the area's soil. Although his Riesling has been a best seller for several years, it's his estate-grown Maréchal Foch that's particularly intriguing. Tansy made rosé from approximately 1,200 pounds of Foch in 2014, which was just released this May.
24218 N.E. 142nd Ave., Battle Ground, WA
www.olequa.com
Pomeroy Cellars
On the grounds of the 115-year-old Pomeroy Farm, Pomeroy Cellars is the venture of Dan Brink, winemaker and great-great-grandson of the farm's founder, E.C. Pomeroy. Brink has honored his family's heritage by creating a tasting room in the style of a 1920s bar. Inviting outdoor seating, set in the midst of the vast 677-acre farm, takes full advantage of the sweeping vistas. Guests are even welcome to play a game of Bocce on the lawn.
20902 N.E. Lucia Falls Rd., Yacolt, WA
www.pomeroycellars.com
Rezabek Vineyards
Projecting an end-of-May tasting room opening, winemaker Roger Rezabek is eager to pour guests his selection of Pinot Meunièr, Pinot Noir and Chardonnay on a regular basis — word has it that he will add estate-grown sparkling to the list, too, a first for Clark County. Rezabek also believes the "minerally clay alluvial soils above the basalt bedrock" could be similar to those of the Marlborough area in New Zealand; he's planted Sauvignon Blanc to test that theory.
11700 N.E. 279th St., Battle Ground, WA
www.rezabekvineyards.com
Rusty Grape Vineyards
Since 2006, owners Jeremy and Heather Brown have created a welcoming Cheers-esque winery. Rusty Grape hosts live music four nights a week and serves wood-fired pizzas to pair with the couple's Italian-style reds. Not to mention Thirsty Thursday — with wine and pizza discounts — repeats on Sunday afternoons. In addition, movies on the lawn play all summer, and their grounds feature festivals and craft fairs throughout the year. With current expansion underway, Jeremy predicts Rusty will soon be the largest area tasting room.
16712 N.E. 219th St., Battle Ground, WA
www.rustygrape.com
Three Brothers Vineyard & Winery
Named after winemaker Dan Andersen's three sons, this winery boasts a current lineup of 24 wines, many of which have garnered national and international awards, including Andersen's current favorite: a double-gold medal 2009 Tempranillo. He's able to bottle a considerable amount of estate wine with his vast plantings but continues to source from Eastern Washington, as well.
24018 N.E. 29th Ave., Ridgefield, WA
www.threebrotherswinery.com
Village Vineyard
This destination winery — two B&B rooms provide overnight accommodations — is a dream come true for 83-year-old owner Patti Kuni. The majestic butter-yellow home crowns a hillside with well-draining vineyard slopes. Planted in 2012, the vineyard will celebrate its first harvest this fall, but, for now, former Ankeny winemaker Andy Thomas has produced an eight-wine lineup, ranging from Chardonnay to Malbec.
9400 N.E. 134th St., Vancouver, WA
www.villagevineyard.com