All in Flavor, Say Wine
YCTC wine and food event shatters Auction record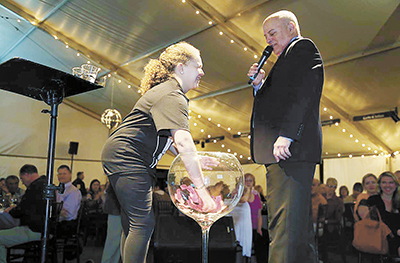 The 12th annual Flavors of Carlton, held April 19 at Ken Wright Cellars, proved a resounding success. It raised three times as much as any previous events for Yamhill-Carlton Together Cares, which provides numerous youth services in the neighboring communities.
Executive Director Amber Horne said the board decided to boost admission to $125 per person this year. Nonetheless, she noted, the event sold out two months in advance.
Yamhill and Carlton share a school district; the elementary and middle schools are in Carlton; the high school, in Yamhill. They also are served by a shared fire district operating out of a new main station just north of Carlton on Highway 47. Yamhill joining Carlton Together Cares represented just one more example of communities teaming up for mutual benefit.
Since its inception in 1998, the agency has embraced a mission of developing and implementing youth-focused community programs. And Learning for Life Preschool, Youth Work Experience, Lego Robotics, Code Club and the Carlton Community Pool, not to mention several athletic and after-school enrichment programs, attest to its success.
YCTC maintains a small paid staff, in order to keep year-round programs running effectively. But it relies mainly on volunteers.
When YCTC hosts its major annual fundraiser, volunteer coordinators assist with the logistics of wine, food, publicity and such. They also solicit hundreds of silent auction items; then invest countless hours in properly identifying, organizing and arranging them. They also handle payment and delivery afterward.
Not surprisingly, wine represented the largest single silent auction category. But everything from jewelry, to massages and plants, to paintings were up for bid.
Enough tables to seat 350 were set up in the mammoth main tent. After guests found their assigned seats, they sampled food from 10 different restaurants and caterers, and tasted wines from 20 wineries — they worked off a few of those calories simply making the rounds to see what was available.
Fare included roast salmon from Chez Vous, peach-infused meatballs from the Republic of Jam, sautéed prawns from Cuvée, crawfish with sweet fennel from Gem, seafood crêpes with asparagus from Farmers' Plate & Pantry, and beef stroganoff from The Joel Palmer House. Guests also enjoyed goat cheese, chocolate truffle and raspberry Cognac dessert offerings, served with tea and coffee.
The winery roster included Belle Pente, Torii Mor, Seven of Hearts, Carlton Cellars, Monks Gate, Kramer, Twelve, Ken Wright, Ghost Hill, Soter, Elk Cove, De Ponte, Marshall Davis, Scott Paul, Stag Hollow, Argyle and Bollinger. Fire Mountain Brew House offered a craft beer alternative.
The live auction netted $89,500; silent auction, $27,350; paddle raise, $95,000; ticket sales and sponsorships, $55,000; and raffles and donations, $33,200. The grand total, $300,050, exceeded the best previous year three times over.
Some 22 items were sold to the highest bidder by internationally known auctioneer Steve Talbot. The auction included: a croquet afternoon and dinner, a Walla Walla wine country getaway, a Napa Valley tour, a week in Hawaii, a 19-magnum wine lot, a collection of six 1990 Italian Denominazione di Origine wines and three original paintings.
Regarding the night's success, Karen Wright said more than once, it wasn't about adults, wine, food or auction items. In the end, it was the kids who were the big winners.