Flair for Fare
Artisan store offers flourish of finds
Downtown Newberg keeps getting better and better; the opening of Market Barrel is a testament to this. Owned by Alain and Tiffany Darwich, the new specialty food store contains the perfect balance of local and international products.
Formerly a web developer but forever a lover of fine food, Alain encourages customers to taste-test different items, so they can purchase with great assurance. Pasta, jams, spices, chocolates, charcuterie, artisan snacks, wines and more — including three brands of gourmet butter and a soon-to-expand selection of cheeses — fill the front of the charming space.
Gracing the back is Tiffany's boutique, DarLin Vintage, filled with eclectic clothing and accessories — combining food and apparel sounds odd, but it works.
Soon, the couple will add yet another venture to their plates with the opening of The Artisan Peacock, a food truck designed to serve local wineries featuring products from the store. Customers can find the "bird" by following the truck on social media (Facebook, Twitter, Instagram, etc.).
Or hungry patrons can always head to downtown Newberg, where Market Barrel has landed with similar fare and flair.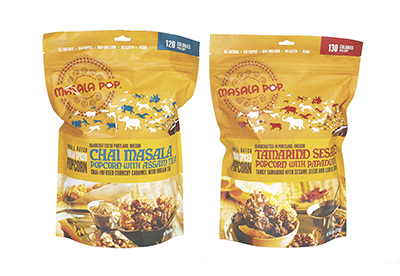 Masala Pop
Adorned with the exotic flavors and ingredients of India, Masala Pop is more than just a snack: It's a family tradition. Portlander Neha Patel was inspired by his mother who started spicing popcorn more than 30 years ago. OWP suggests: Chai Masala with Assam Tea; Saffron Rose with Oregon Sea Salt; Tamarind Sesame with Papadums; Hot Monkey Pineapple with Cardamom and Pepper Vodka; and more. www.eatmasalapop.com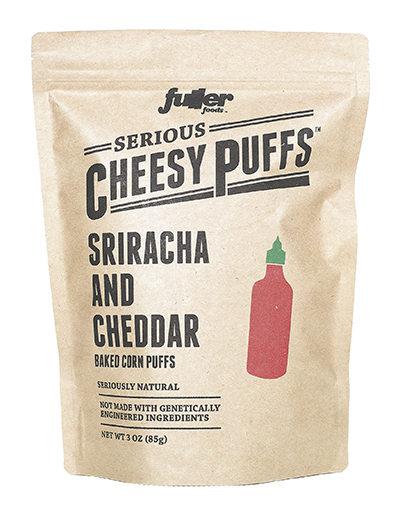 Fuller Foods Serious Cheesy Puffs
Fuller Foods crafts their highly addictive Serious Cheesy Puffs from only natural ingredients, infusing them with fun flavors for a most memorable munchie. Choose from Sriracha and Cheddar; Blue Cheese Jalapeño; India Pale Ale; and Maple Bacon. www.fullerfoods.com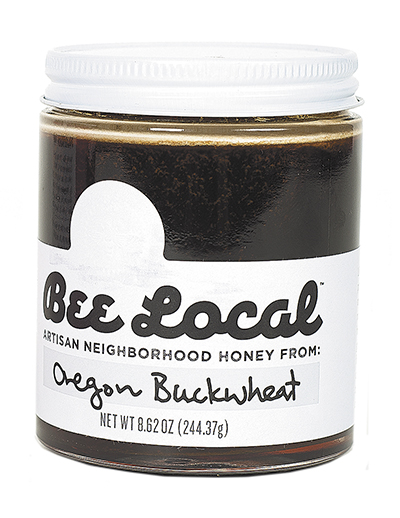 Bee Local Honey
Bee Local takes its name seriously; this honey is not only native to Portland, but to specific neighborhoods and locales outside the city. Owner Damian Magista's hives capture distinct flavors and textures that are never blended and always raw. www.beelocal.com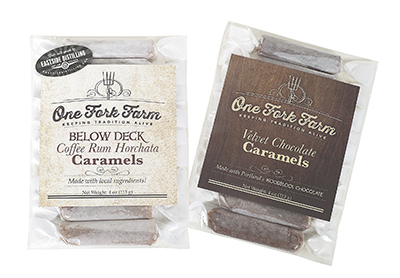 One Fork Farm Caramels
Jess and Dave Herzog of One Fork Farm began marketing their hand-cut caramels after realizing the Carlton family's need for a wintertime enterprise. All are made in small batches, using Willamette Valley dairy and honey, and feature ingredients from local artisan companies such as Jacobsen Salt, Eastside Distilling and Tea Chai Té. Varieties include: Wildflower Honey; Spiced Chai; Vanilla Bean; and Coffee Rum Horchata. www.oneforkfarm.com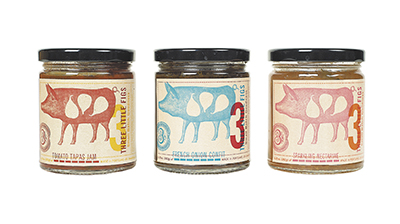 Three Little Figs Jam
At Three Little Figs in Portland, jam-maker Liz Cowan is reviving the age-old art of preserving while innovating with eclectic concoctions made with real ingredients. Pig out on: Tomato Tapas Jam; Sparkling Nectarine (made with Riesling and Prosecco); French Onion Confit; and many other flavors. www.threelittlefigsjam.com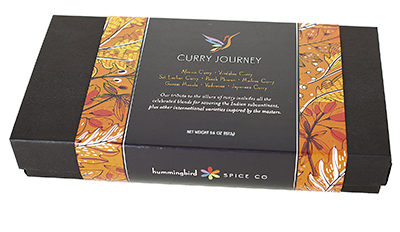 Hummingbird Spice Co.
After decades of trekking to some of the most colorful markets in the world, Judy Henninger landed in Oregon wine country and Hummingbird Spice Company took flight. The McMinnville merchant procures small-batch spices, seasonings and salts into themed culinary collections, including: Curry Journey; Nectar; Global Migration; Love Is in the Air; and others. www.hummingbirdspice.com
Market Barrel
Address: 602 E. First St., Ste. A, Newberg
Hours: Mon–Wed: 11 a.m.–6 p.m.; Thurs–Sat: 11 a.m.–7 p.m.; Sun: 11 a.m.–5 p.m.
Website: www.marketbarrel.com